The last frontier is home to stunning landscapes, unique wildlife, and unforgettable adventures. And one of the best ways to see everything Alaska has to offer is by water. From whitewater kayaking to remote river trips, there are numerous kayaking destinations for every explorer. 
Here are the best Alaska kayaking trips: 
Resurrection Bay
South of Anchorage is the city of Seward, a gateway to some of the most magnificent glaciers and fjords. The town is nestled on Resurrection Bay, a turquoise-blue inlet surrounding by towering peaks. The paddling trip will get you up close and personal to millions of years old glaciers and the surrounding snowy scenery. 
This leisurely trip offers breathtaking sights and encounters with Alaska's abundant wildlife. You'll likely see otters, eagles, salmon, and seals along the way. Resurrection Bay is also one of the top spots for whale watching so that you can get a front seat to one of the greatest shows. 
Kachemak Bay State Park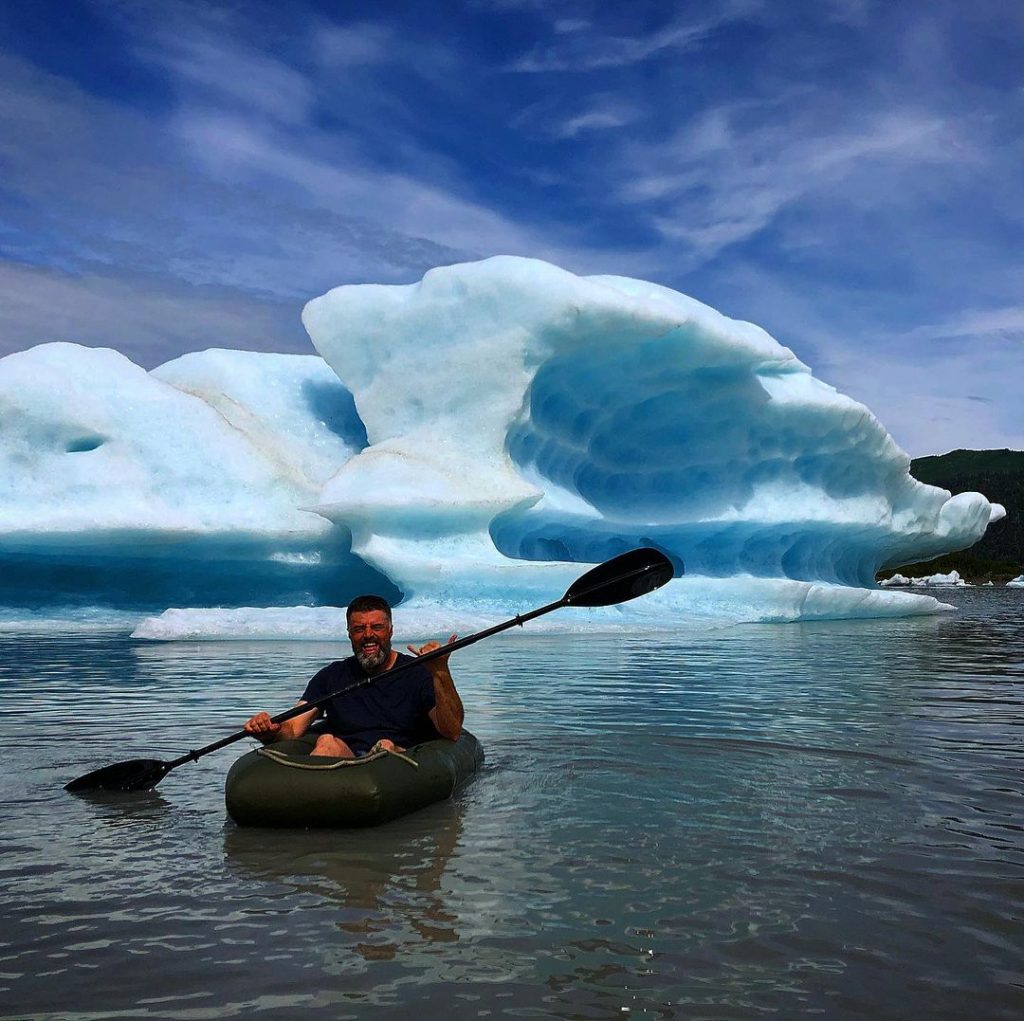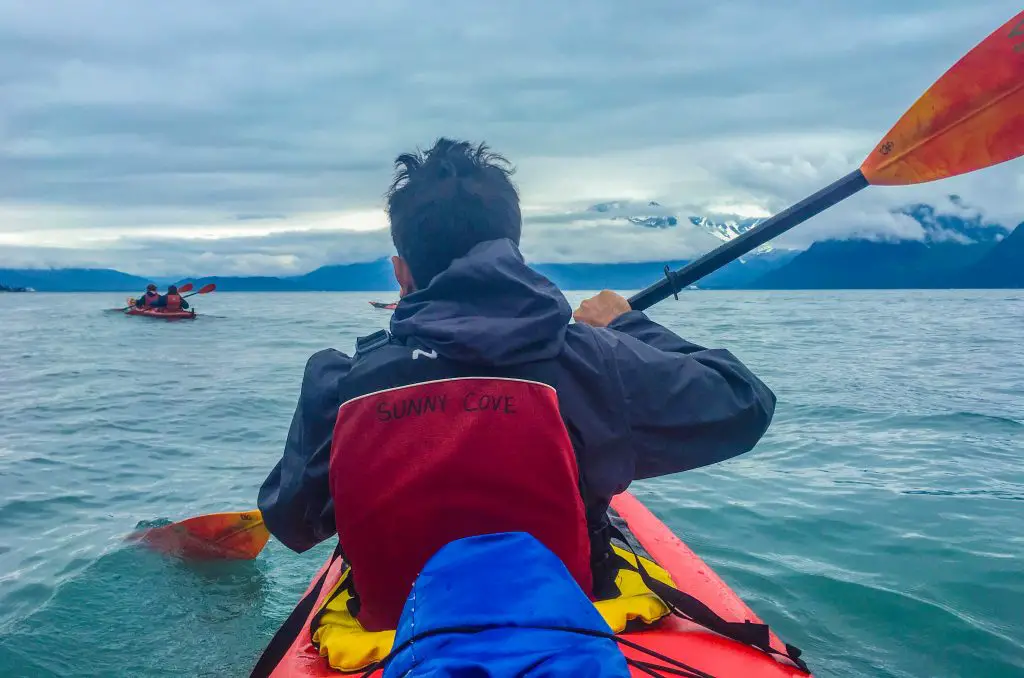 Just southwest of the Kenai Fjords National Park is Kachemak Bay State Park, another Alaskan landscape known for stunning scenery and diverse wildlife. It's also one of the most accessible spots for easy and exciting kayaking trips. 
You'll take off on your adventure from the city of Homer, a quaint region known for its seafood and art galleries. From there, you can take a guided tour or rent kayaks for a half or full day to explore on your own. Take a trek over to Yukon Island and revel in the majesty of Elephant Rock, or steer around floating icebergs in Glacier Lake.
Cook Inlet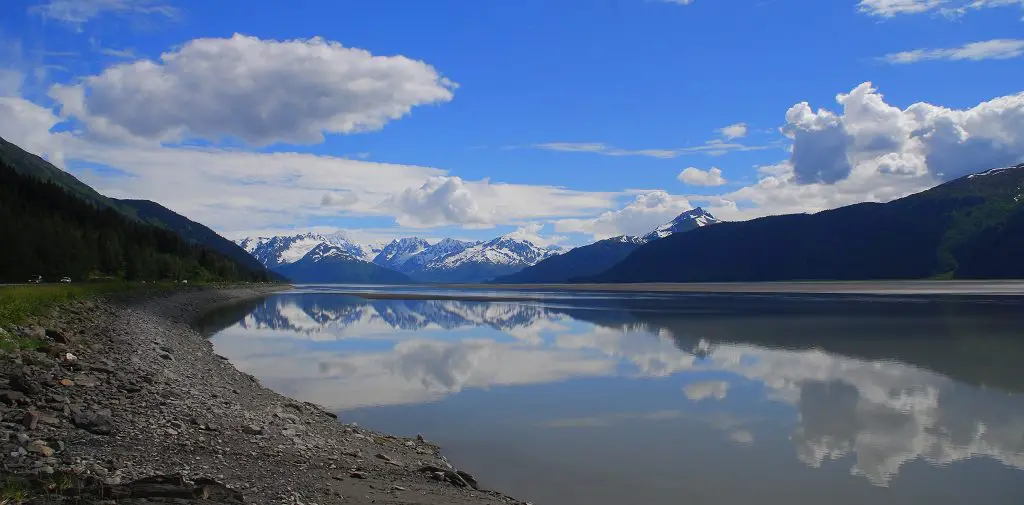 If you're new to paddling or not quite ready to head out to Alaska's frontier, Cook Inlet offers kayaking opportunities in Anchorage. You can glide your way around the inlet with the city's skyline always in your view. There are also some beluga whales you might encounter!
Launch your boat at Kincaid Park and paddle your way around Fire Island or north to the Knik River, where the waters are calm and serene. The striking mountains among the city skyline are a unique and unforgettable sight. 
Prince William Sound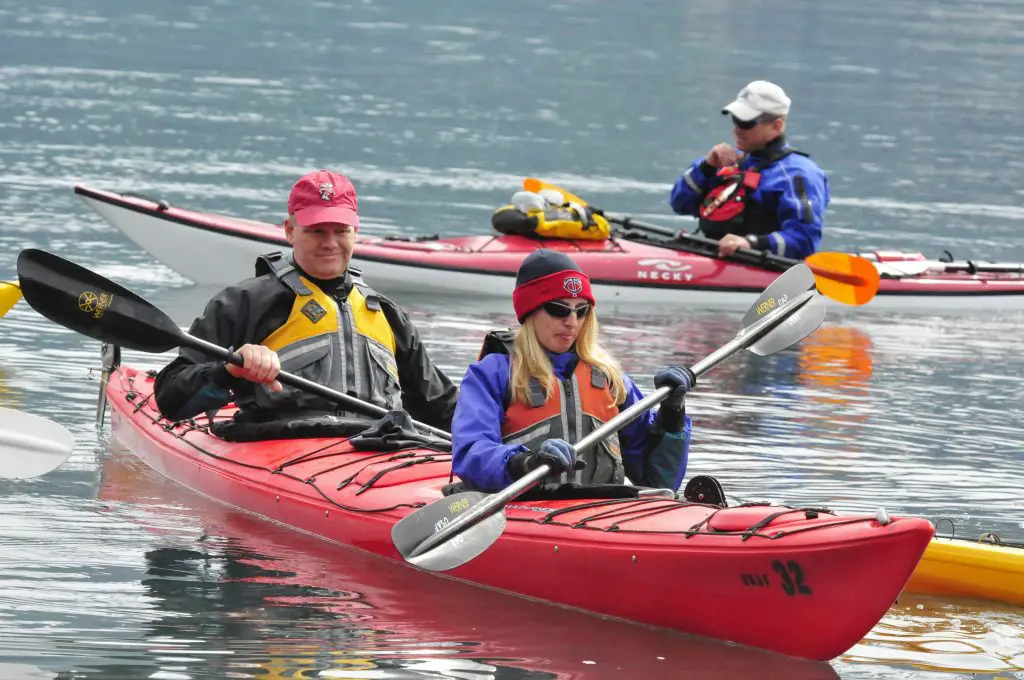 Whittier and Valdez are the two options to head out to the Prince William Sound, where you can encounter hundreds of glaciers while paddling through calm waters. The surrounding Chugach Mountains tower overhead as you go on your journey. There are several guided tour options available, ranging in length and skill level, so you can find something that will fit what you're looking for. 
Don't forget about the abundant wildlife, either. If you head on your trip during the right time of year, you can encounter various species of whales. There's nothing like watching these creatures splash through the water from a kayak!
Aialik Bay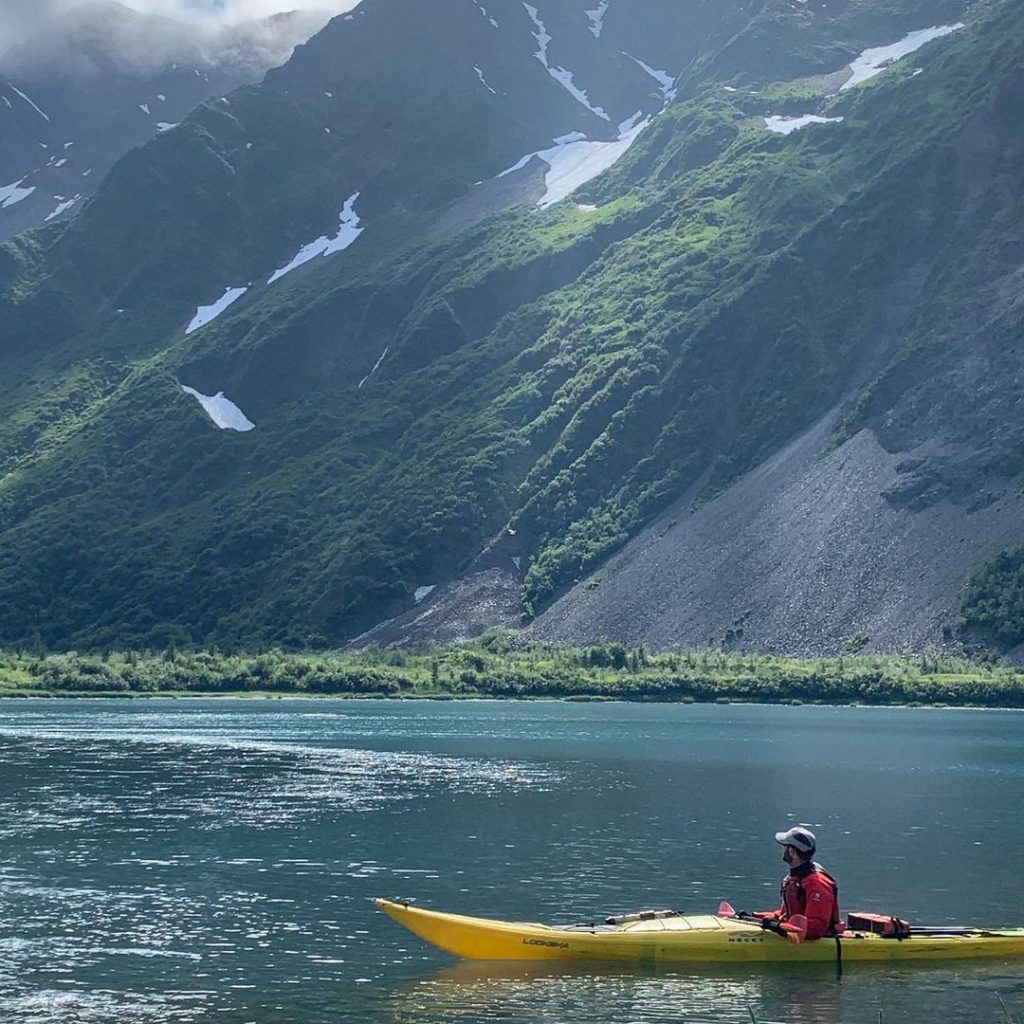 Aialik Bay is one of the best spots to encounter glaciers right from your kayak. You can access the bay from the Kenai Fjords National Park, where the famous Harding and Sargent icefields dominate the landscape. 
As you paddle your way through the bay, you'll likely encounter tidewater glaciers floating alongside you. Charter tours will take you out to areas you've never seen before. The trips are longer and harder to access, but they're well worth the effort. You'll even encounter seals, otters, and other Alaskan wildlife!
Bear Glacier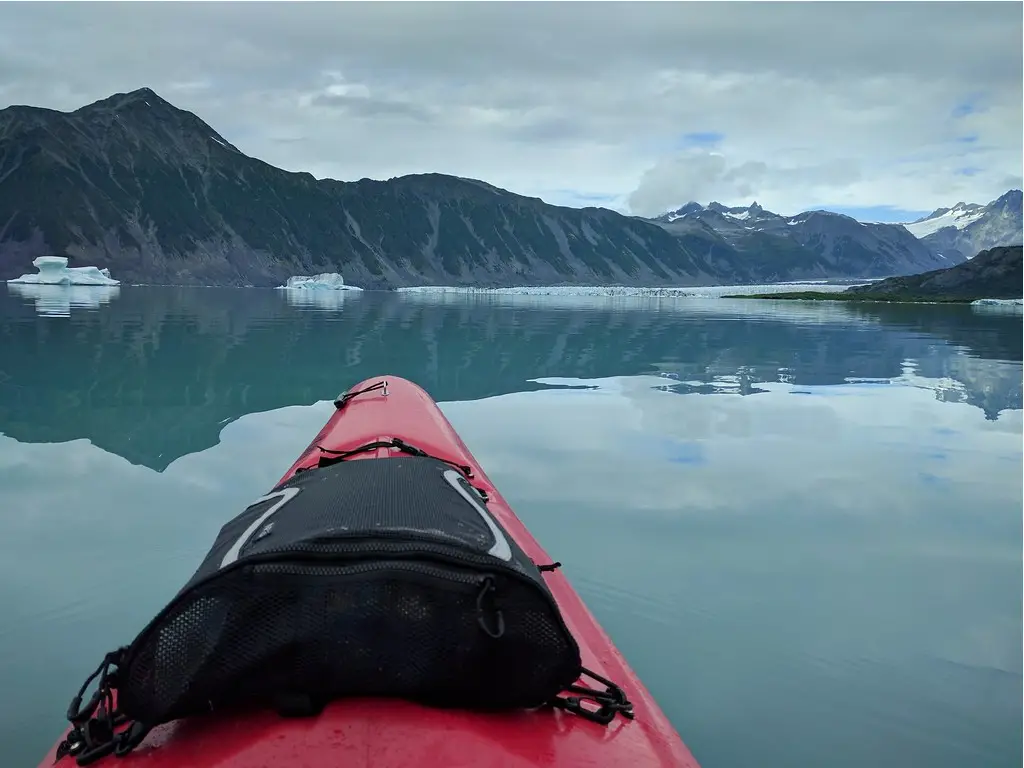 Nearby Aialik Bay is Bear Glacier, one of the best places to go iceberg kayaking. However, this trip is not easy to access. The only way to get to this lagoon is by helicopter or high-speed jet boat. While it'll cost more money, this trip is once in a lifetime. The waters are calmer than many other paddling destinations in Alaska, and the close encounters with icebergs are out of this world. 
There's nothing like experiencing one of the world's largest glaciers up close, and the charter tours that help you get there offer various packages ranging in price and difficulty. 
Mendenhall Ice Caves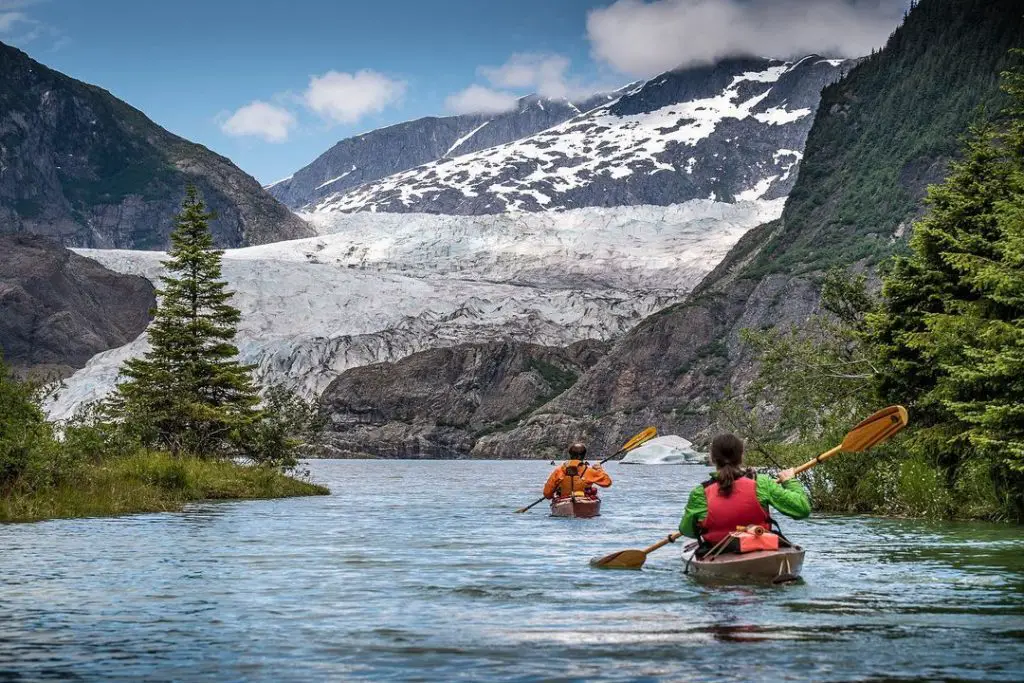 The Mendenhall Ice Caves are a famous series of caves beneath a hollow glacier, but did you know that you can kayak to them? While many people go by foot to this Juneau attraction, there's nothing like paddling your way to the cave's opening. 
You'll kayak across the iceberg-filled Mendenhall Lake, where you can get unique views of the glacier from the water. You'll learn more about the glacier's history and how the unique cave system formed on a guided tour. From there, you'll disembark to explore the cave's interior by foot to take in the magnificent blue formations. 
Spencer Glacier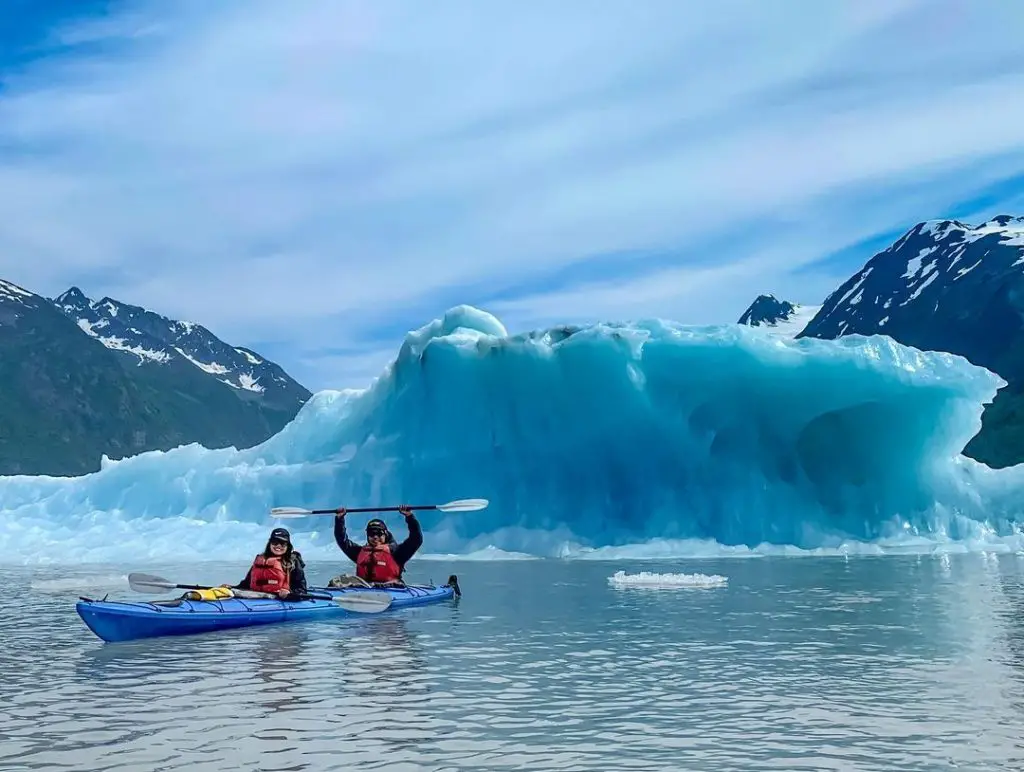 A kayaking trip to Spencer Glacier not only involves viewing Alaska's wondrous nature and wildlife but traversing the landscape in various means. Most guided kayak tours to this glacier will take you on a drive or train ride from Anchorage along the coast and through the Kenai Mountains. 
From there, you'll embark on a waterlogged journey past sturdy icebergs, many of which tower over the scenery. You'll paddle up to the edge of the glacier, where you can ice climb your way up to explore the icy scenes from above. 
Kodiak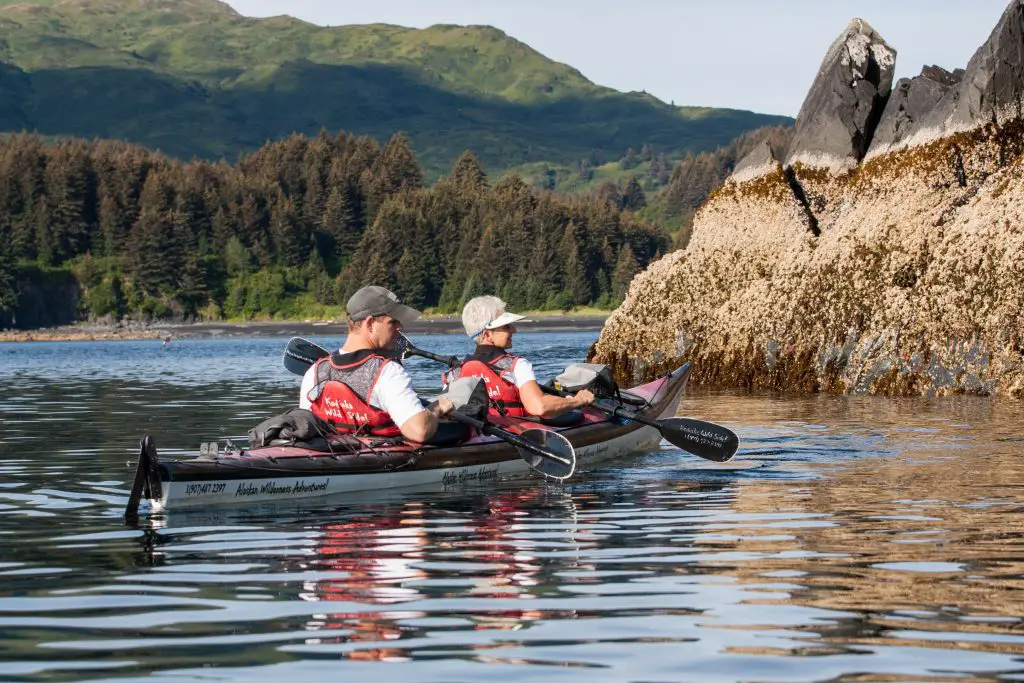 If you're looking for one of the most remote and exciting kayaking adventures that Alaska has to offer, make an excursion to Kodiak Island. This fisherman's island paradise is home to some of the best whale watching opportunities in the state, and you can do it from the seat of your kayak. 
Take a guided tour or rent a kayak for your journey. As you paddle past towering mountain peaks and below soaring eagles, you'll discover quiet beaches and calm, serene water throughout the Emerald Isle. Some tours offer kayak and fishing trips, so you can catch a few fish while paddling among stunning scenery.
Kenai Peninsula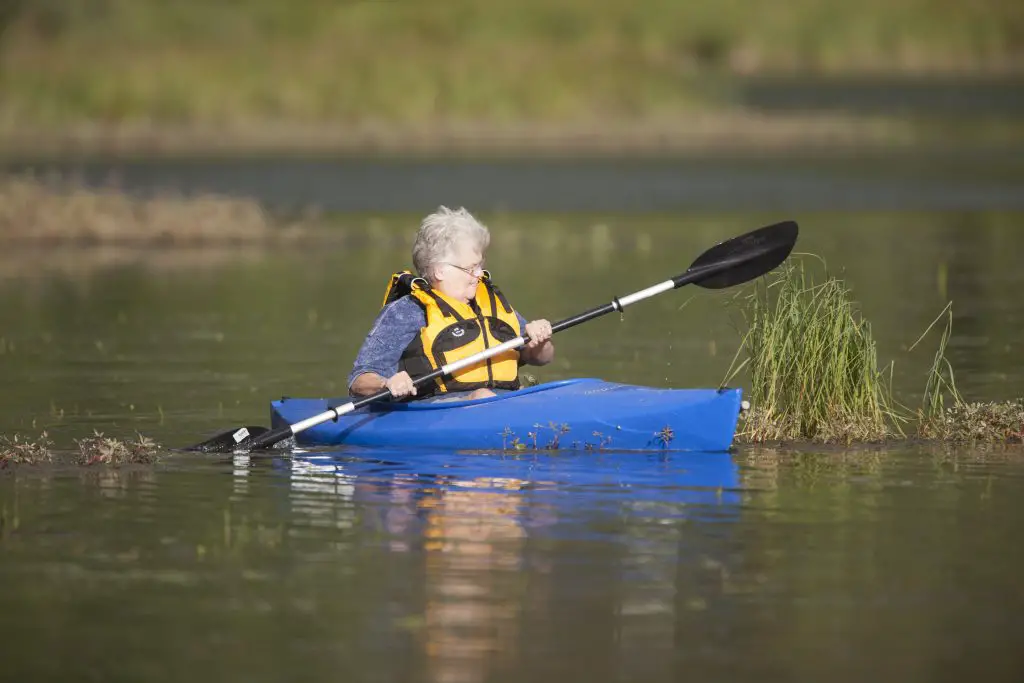 Suppose you haven't caught on from many other destinations on this list. In that case, the Kenai Peninsula is arguably the best place for beginner and advanced kayakers to have the ultimate journey on the water. You can go on easy or challenging trips ranging from half or full days to a multi-day camping adventure. 
The Kenai Peninsula is a hotspot for adventurers of all types. You can paddle through calm waters, navigate floating icebergs, or head down rushing waters for a more action-packed experience. 
Inside Passage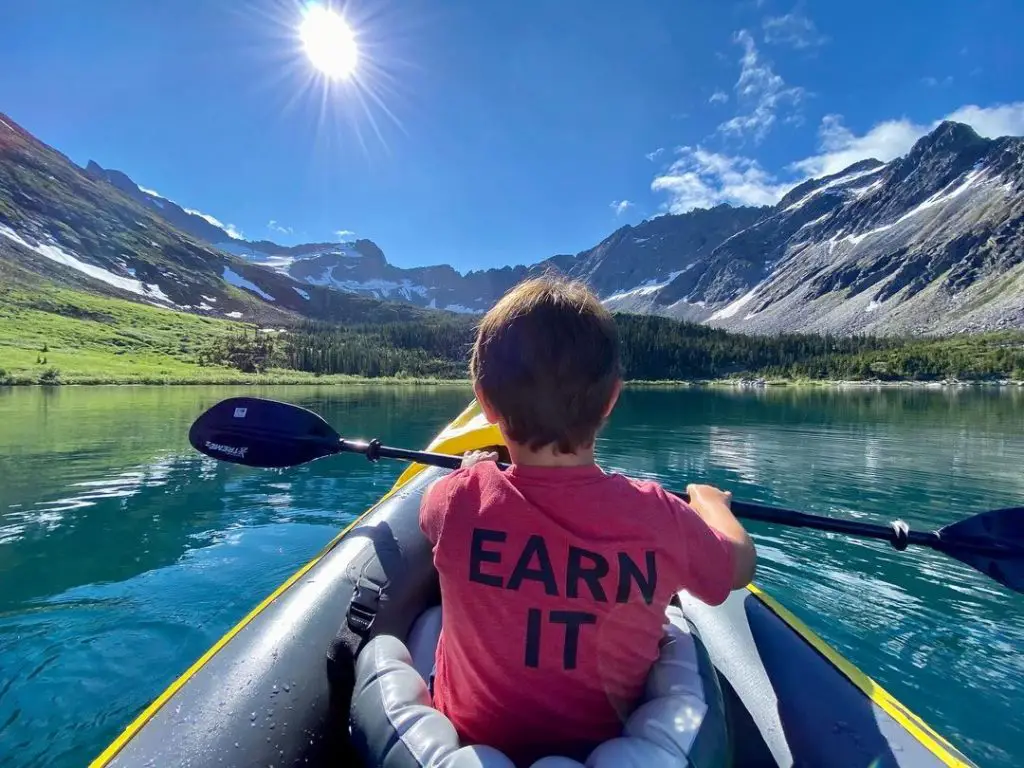 If you're an experienced kayaker looking for the trip of a lifetime, head out to the Inside Passage and journey over 990 miles between the Gulf of Alaska and the Puget Sound. Keep in mind that this trip is not for the faint of heart — it can take between 60 and 80 days to complete.
This trip features all sorts of water conditions, from calm, smooth waters to rough ocean waves. You'll head past waterfalls, forests, and towering glaciers to complete the journey. If you're not ready for a month(s)-long excursion, tour guides in Skagway, Alaska, offer shorter trips in the area. 
Sitka Harbor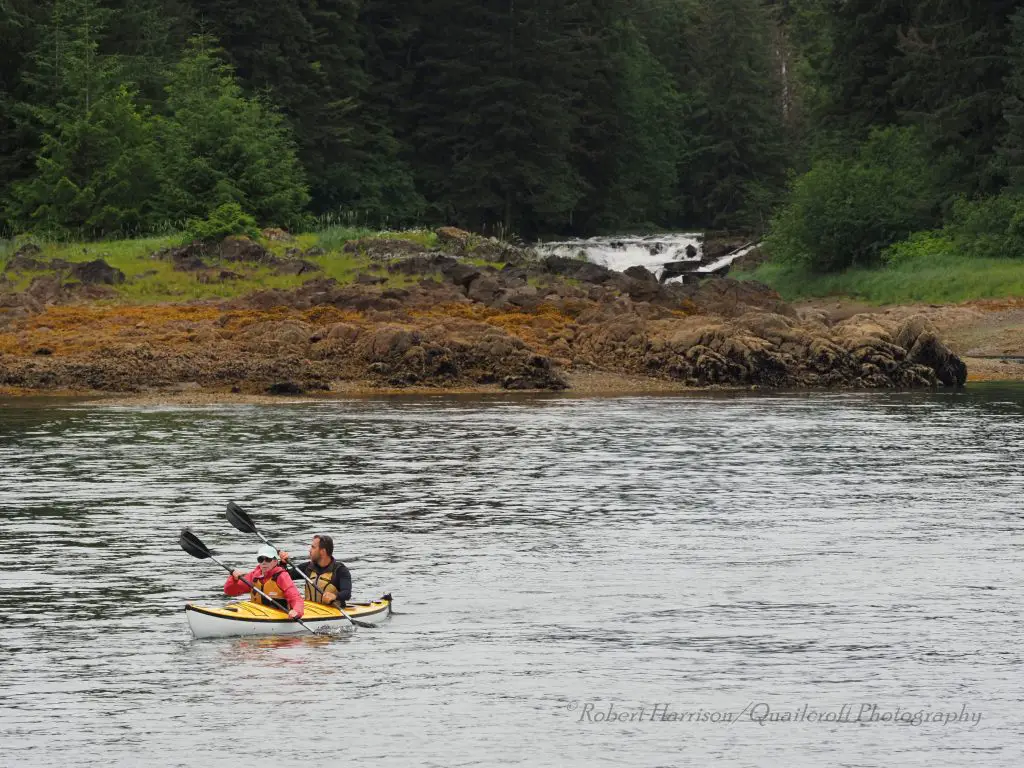 A more remote Alaskan kayaking experience is located in Sitka, a fishing town located on Baranof Island. There's nothing like exploring this region and the surrounding islands by water! The quiet town is an optimal spot to embark on a half or full-day trip to view Pacific Northwest landscapes and find your chance to encounter some jumping salmon. 
You can take guided paddling tours around Sitka Harbor or rent a kayak for a more customized journey. On a tour, experienced guides will help you with equipment, teach you the area's history, and point out exciting wildlife or natural landmarks you won't want to miss. 
Ketchikan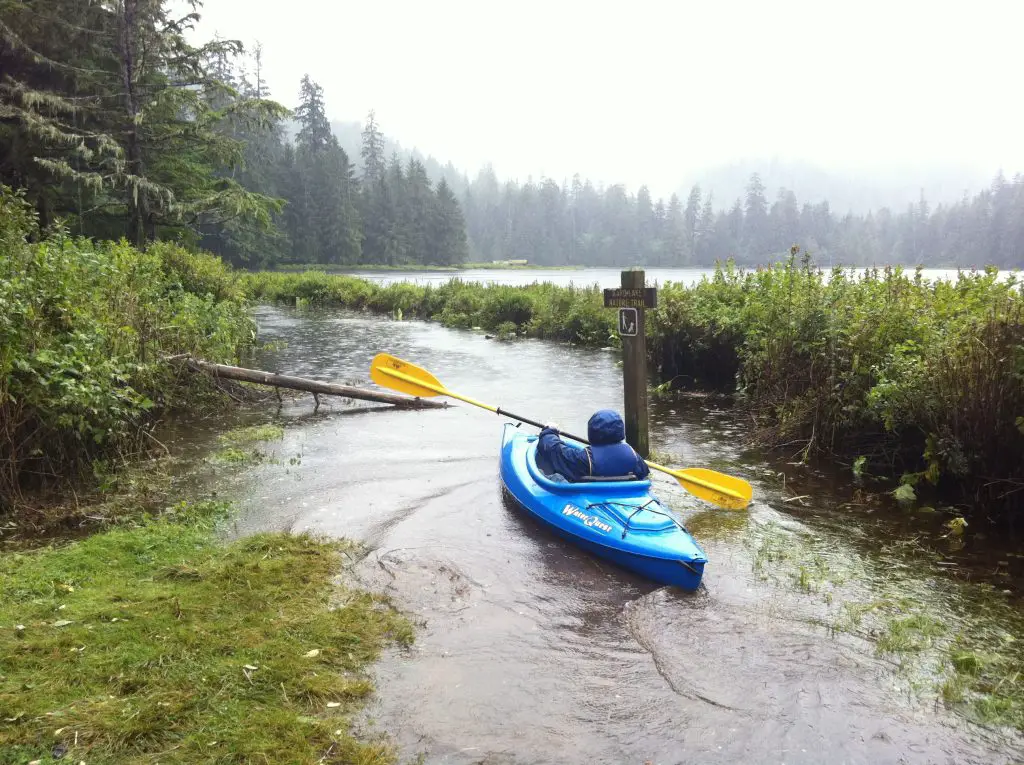 Ketchikan, Alaska, is another small fishing town in the southern part of the state known for amazing views and abundant wildlife. Various charter tours will take you on a short journey to Eagle Island, a remote spot known for its abundance of bald eagles. 
You'll also paddle around Clover Island while your tour guide teaches you the history of the area and helps you be on the lookout for jumping salmon, seals, and sea stars. 
Haines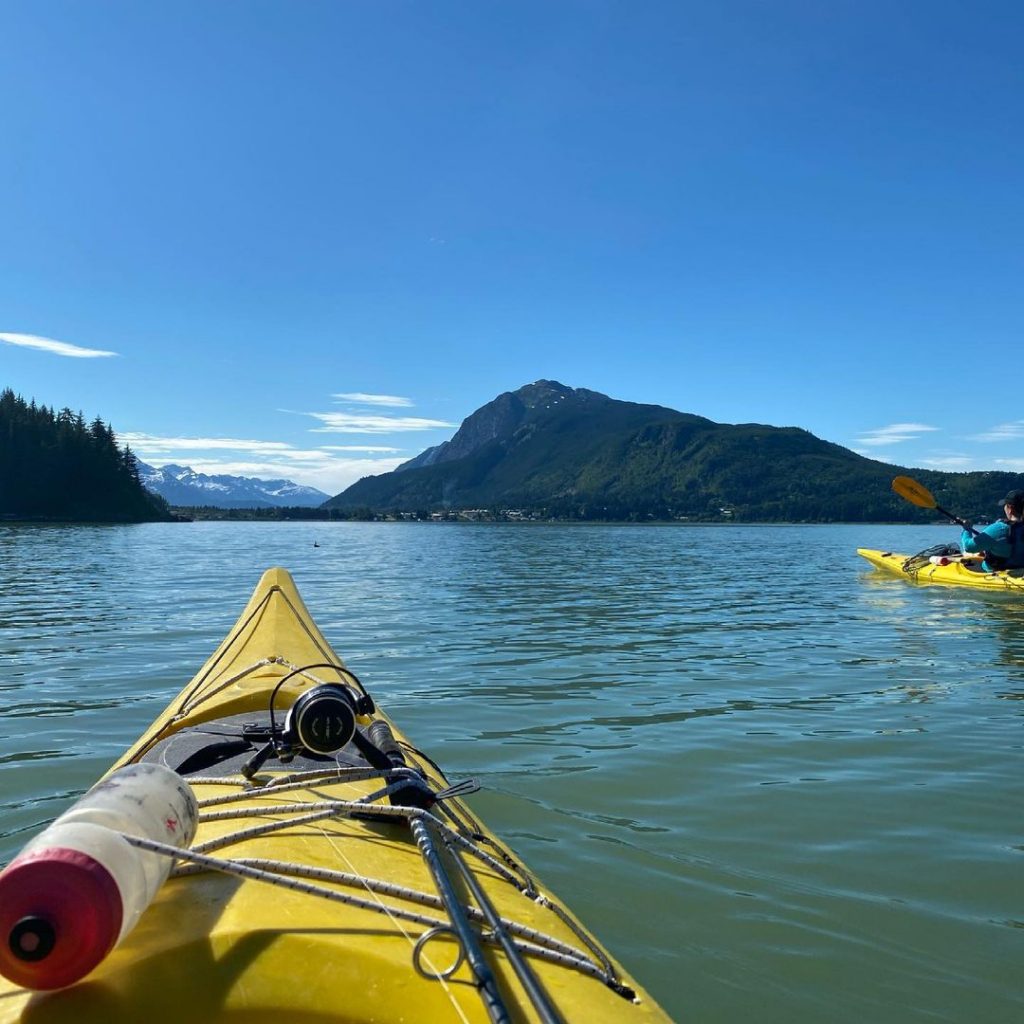 Located near Glacier Bay National Park is the town of Haines, where you can take off on a memorable sea kayaking experience. You'll kayak past beautiful glaciers, snowcapped mountains, and more magnificent scenery. 
You'll paddle past seals, otters, salmon, and other incredible wildlife while taking in the forests surrounding the water. The waters on these sea kayaking excursions through the Inside Passage are relatively calm, but be prepared for waves and whitewater! 
Caines Head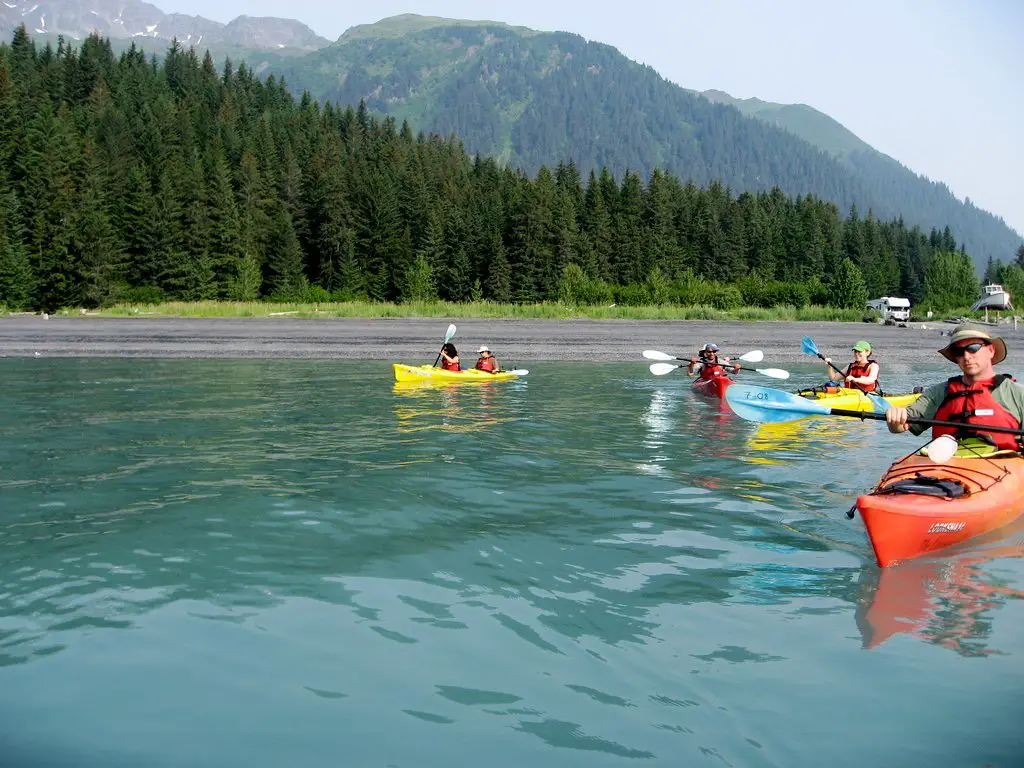 If you want an exciting and strenuous Resurrection Bay excursion, look no further than Caines Head. It's a ten-mile paddle to the recreation area, where you will disembark for a five-mile hike. It's an ideal trip for those who want to see Alaska by boat and foot! 
As you paddle through Resurrection Bay, your tour guide will point out wildlife like seals, otters, and eagles, while telling you the area's history. The hike will take you along ages-old trails where you'll learn more about the WWII military presence in the region and geological history important to the area.
Photo Credit: Cale Green via Flickr CC2.0