A kayaking day trip makes for a delightful experience, but all that time in the sun and on the water can leave you thirsty. To improve your outdoor adventures, you'll want constant access to ice-cold drinks while you're paddling, and ice packs don't always cut it. By purchasing the best cooler for kayak, you can enjoy refreshing food and drink all day long.
Since kayaks lack ample storage, you will want a compact cooler. Getting a kayak cooler that is well-insulated and spacious enough for your belongings creates a winning combo for your kayaking trip.
Best Kayak Coolers
Below we have compiled several of the best coolers for kayaks currently available. After, we will delve into a buying guide to discern the highest quality products' necessary features.
YETI Hopper TWO Portable Cooler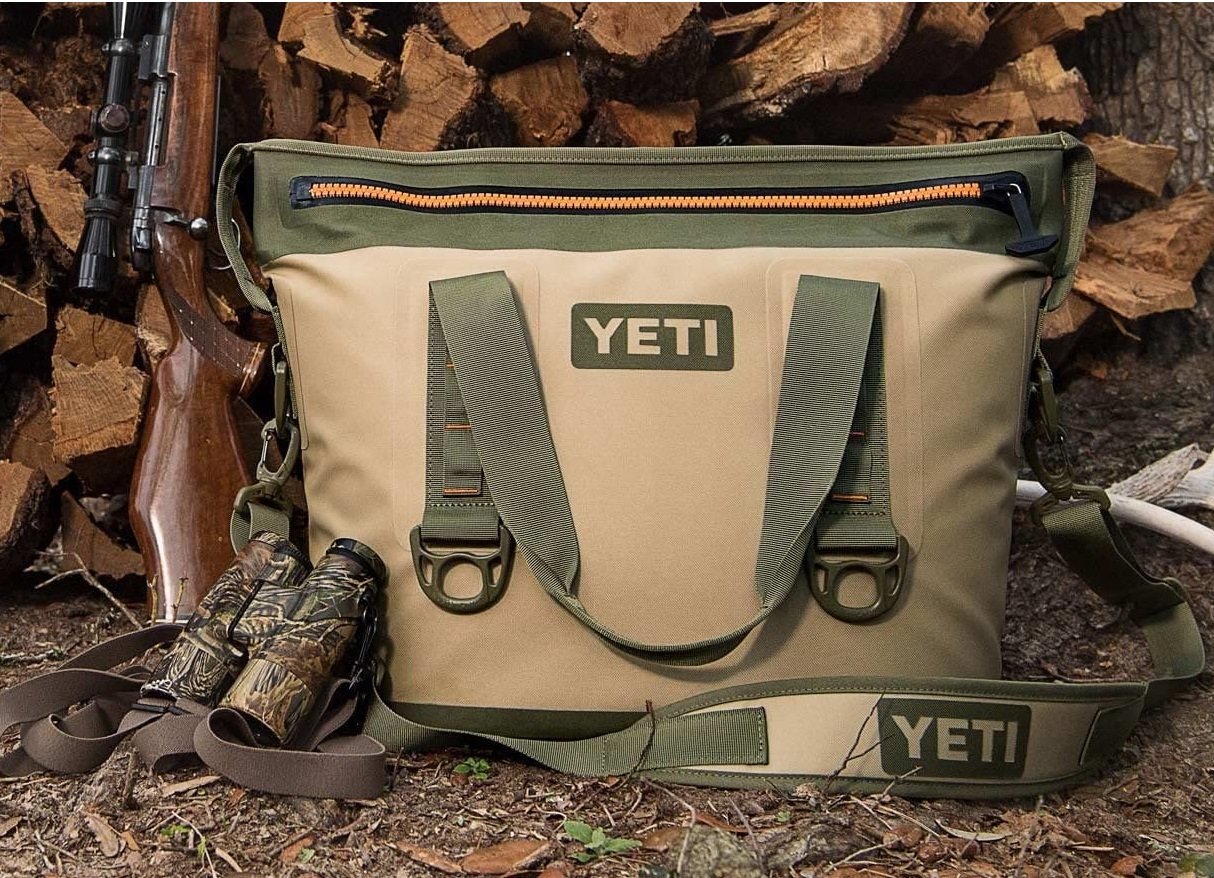 The YETI Hopper TWO Portable Cooler has a compact size, excellent insulation, and durability in the form of a soft cooler. It is leakproof and can retain ice for days. The DryHide Shell is waterproof, and the shoulder straps can withstand most wear-and-tear.
The Hopper employs high-density polyurethane fabric that resists mildew and ultraviolet rays. The liner has been FDA-approved for food safety. It has closed-cell foam insulation to maintain the temperature for longer than most soft-sided coolers. Hydrolok zippers and a hitch point grid make it secure and multifunctional as you can attach accessories like bottle openers and drain plugs. 
The Hopper TWO 30 weighs 5.5 pounds and has dimensions of 25 x 12 x 18 inches. Its design utilizes a tan body with orange accents. The Hopper TWO 40 weighs 6.1 pounds with dimensions of 26 x 13 x 19.5 inches.
Pros:
Durable construction
Excellent insulation
Waterproof, leakproof, mildew-resistant, and UV-resistant
Can carry accessories
Compact size and convenient soft material
Ice can remain cold for a couple of days
Cons:
Some buyers received knockoffs
Hydrolok zipper requires lubrication to avoid getting stuck
Not the most visually appealing
CreekKooler Floating Cooler
For kayakers who prefer a floating cooler that tows behind the boat, you may be interested in the CreekKooler. It has a 30-quart capacity and can fit up to 30 12-ounce cans with 20 pounds of ice. This rugged floating cooler keeps ice cold overnight, sometimes up to a few days.
The CreekKooler Floating Cooler implements two inches of insulation in the deck and hull for 48-hour ice retention. The lid is watertight and secure with an O-ring design to store your items in water or snow. CreekKooler patented the dual-wall construction with four drink holders on the deck.
This product comes in beige, blue, red, white, and yellow. It is a heftier model at 17 pounds, and its dimensions are 39.5 x 21 x 12 inches. While less compact than many of the other coolers, it is more spacious and towable, so you won't have to worry about it taking up the kayak storage area.
Pros:
One of the most spacious coolers available
Comes in various attractive colors
Well-insulated with excellent ice retention
Waterproof and secure lid
Cons:
Heavier than most coolers
Difficult to open the lid while on your kayak, making it better for storage until you land
IceMule Pro Cooler
The IceMule Pro is a soft backpack cooler that doubles as a dry bag. It can carry up to 18 cans with room for enough ice to last a day. The designers created it for high-impact, outdoor performance, and portability.
The backpack-style kayak cooler bag uses padded mesh straps to leave your arms free. You can access the interior through the wide roll-top design. The front face features bungee cords to store accessories, and the cooler collapses entirely for easy storage.
Its durable construction makes use of Muleskin and PolarLayer insulation for strength, ice retention, and toughness. It is waterproof, leakproof, and buoyant, meaning it can float beside your kayak. The cooler weighs 3.2 pounds and has dimensions of 14 x 11 x 17 inches.
Pros:
Portable, durable, and convenient design
Excellent storage capacity
Waterproof and leakproof
Retains ice for up to two days
Cons:
Straps wear down quickly
The exterior can get wet
Engel 19 Quart Cooler/Dry Box
For a beautiful, multifunctional cooler and dry box, consider the Engel 19 Quart. You can keep your food and drinks cold all day while also protecting your items from water and dust. For anglers who love kayak fishing trips, you'll also benefit from the Engel's ability to carry your gear.
The Engel Cooler has an airtight EVA gasket sealing the lid for better insulation and waterproofing. You can carry it using the central handle on the cover or the adjustable shoulder strap. Its removable hanging tray lets you store dry items.
The dry box's fittings and front latches contain stainless steel, and the body and hinges have plastic material. It has polystyrene foam insulation. The surfaces are easy-to-clean and stain-resistant. It weighs five pounds and has dimensions of 16.6 x 11 x 13 inches. You can get it in blue, coral, pink, seafoam, and tan, all with white accents.
Pros:
Comes in tons of different colors
Eye-catching retro design
Multifunctional cooler and icebox
Several carrying straps to choose from
Securely fitted
5-year warranty
Cons:
Better for use as a dry box or lunchbox than a cooler
The plastic portions lack durability
K2 Coolers Summit 20 Cooler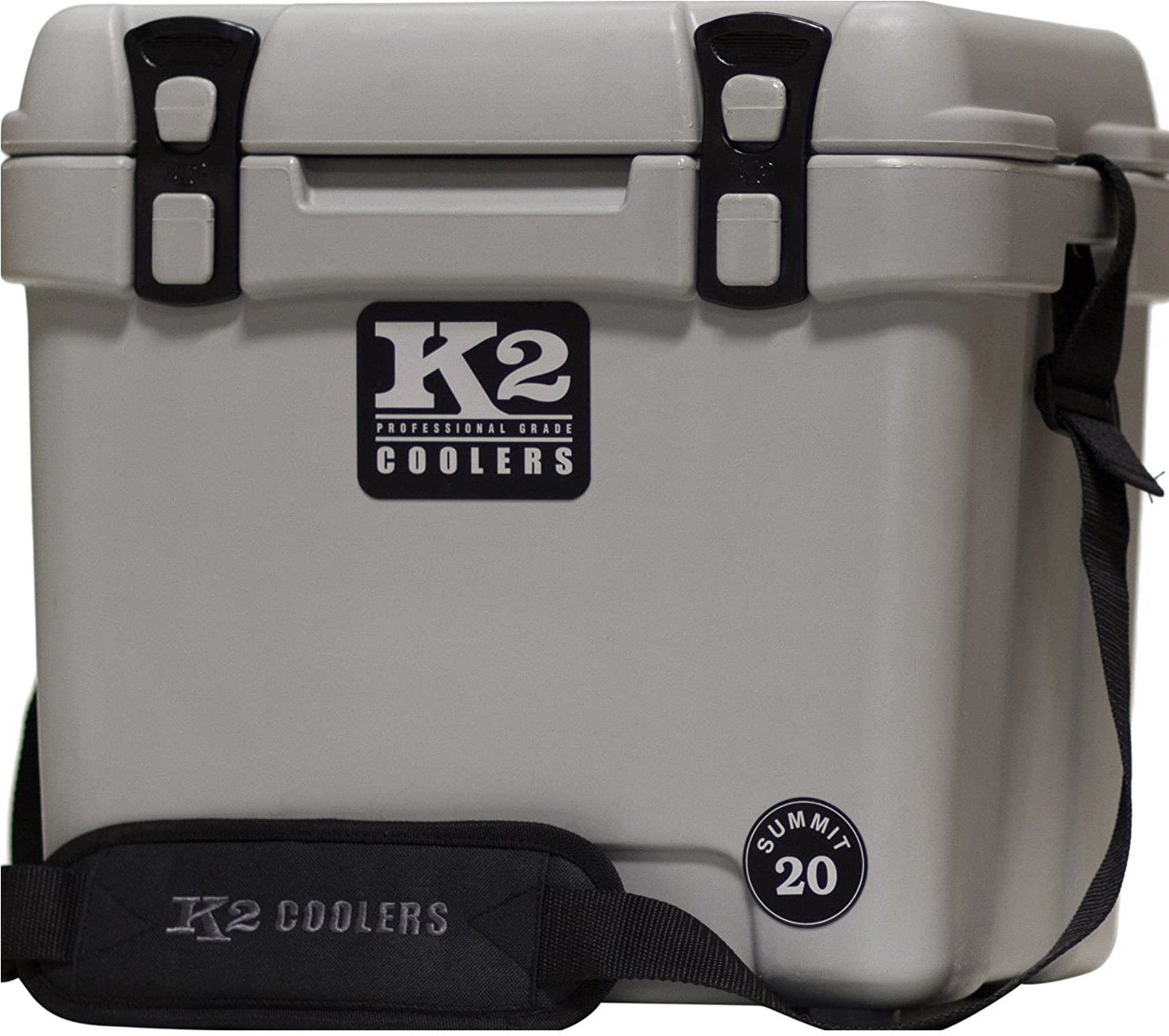 The K2 Coolers Summit 20 Cooler is a durable, thickly insulated, and professional-grade product designed for the outdoors. Its sturdy design, coupled with its 7-year warranty, makes it a worthy investment.
This cooler's durability comes from its single-piece rotomolded polyethylene body. It employs an ICEVAULT lid rubber gasket, an ENDURA integrated hinge system, a POSITRAC lid latches, a padded shoulder strap, and SURE Grip rubber feet. The extra-thick foam insulation contributes to its outstanding cold retention. Its stable feet let you keep it on your kayak without slipping or falling off.
The K2 weighs 14 pounds and has a 20-quart capacity. Its dimensions are 16.9 x 15.6 x 12.6 inches. You can get it in gray, green, or white. K2 offers some user-friendly accessories to improve the drainage speed, portability, and stability.
Pros:
Extraordinarily durable construction
7-year warranty
Thick insulation and superior ice retention
Features various patented components
Cons:
Costlier than its quality would suggest
Difficult to carry
Polar Bear Coolers Original Nylon Soft Cooler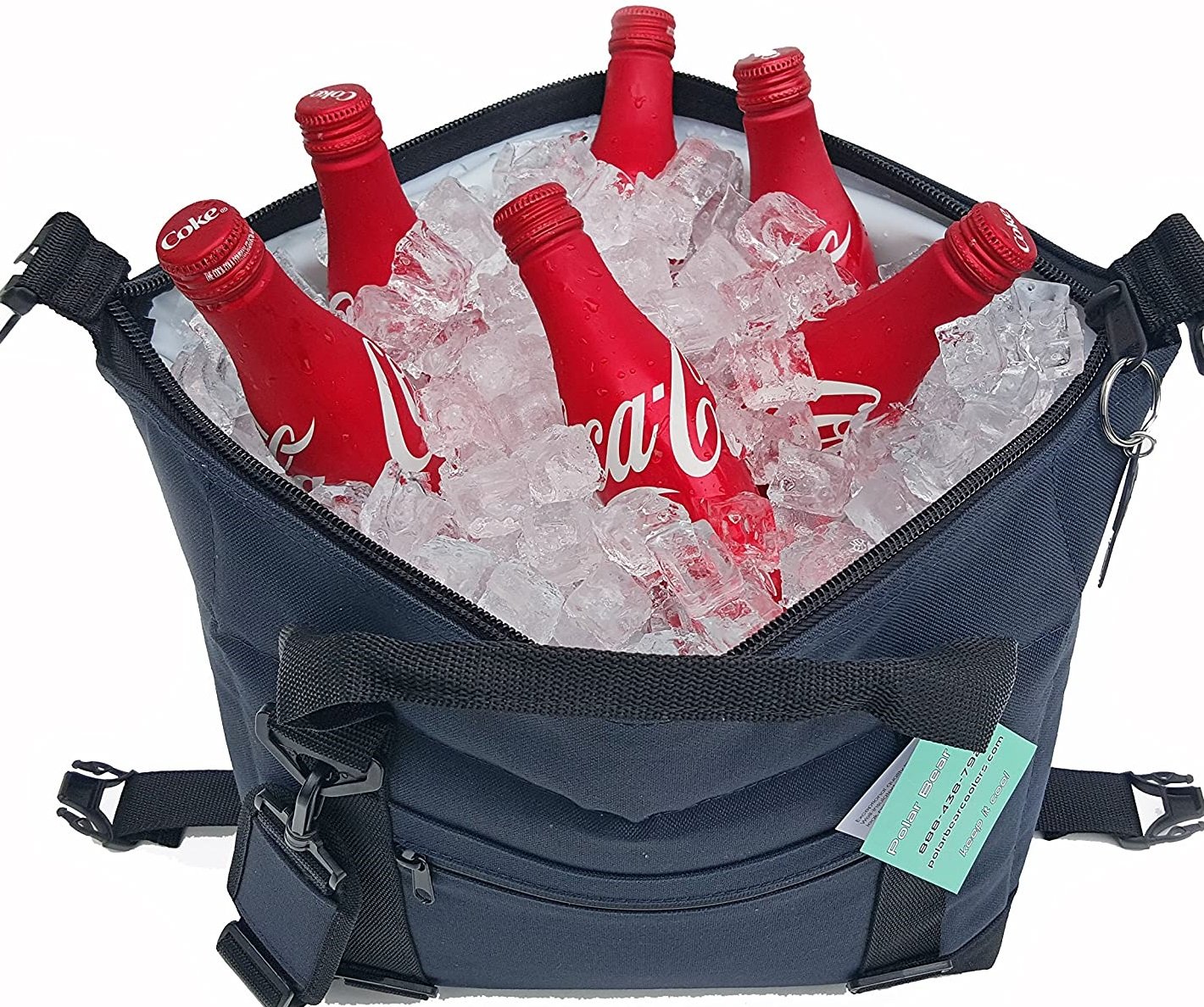 If you are on a budget, consider the Polar Bear. It has high-quality foam insulation, an antimicrobial liner, and a rugged outer shell for durability and performance.
This cooler features an FDA-approved TPU double-coated nylon liner to keep your food safe. It has a 1" thick, dense foam insulation and a luggage-grade nylon casing. The seams are anchor-stitched and double-hemmed for security. It is rustproof, leakproof, and waterproof with heavy-duty tie-downs and zippers; the adjustable shoulder strap offers portability. 
You can find the Polar Bear Original in navy, green, black, red, and silver. It weighs two pounds and can carry 12 12-ounce cans with five pounds of ice.
Pros:
High value for its affordable price
Extremely portable
Maintains temperature for 24 hours
Outside pocket for external storage
Cons:
Challenging to remove items from it
Not the most durable design
Buying Guide: How to Choose the Best Kayak Cooler
When buying a kayak cooler, try to keep a few crucial aspects in mind. You'll want something adequately insulated to maintain the temperature of your cold food and drinks. Some coolers offer dry boxes, bottle openers, and other accessories that provide additional ice chest benefits.
Hard or Soft
You can choose between hard-sided and soft-sided coolers, and the hardness impacts the performance. Soft-sided coolers have the benefit of lightness and portability. They can fit in tighter kayaks, and you can compress them to suit smaller spaces. Soft-sided products store inside most dry hatches, and they are cheaper than the harder ones. However, they pale in comparison to hard-sided coolers when it comes to performance.
Hard-sided coolers have more robust insulation and can keep drinks ice cold for days at a time. Nevertheless, they are heavier, take up more space, and cost more than the soft-sided alternatives. Since they do not fit in dry hatches, they work best with sit-on-top kayaks. Sit-in kayaks benefit from soft-sided coolers.
Check the Specs
You will want to check the specifications and features of the kayak cooler. Consider the capacity you will need to carry while kayaking. The more people you plan on traveling with, the larger cooler you will need, and you may benefit from a large or towable option. If you don't have to feed as many mouths, you might be okay with a more inexpensive and smaller choice.
Measure your kayak to see how big of a cooler you can get, and where you will be able to store it. Sit-in boats benefit from small, soft-sided coolers in the dry hatch storage space. Sit-on-top kayaks can handle larger sizes and hard-sided coolers, but the specifications are not that cut and dry. Ensure you measure the amount of space left in your boat when inside to see how big of a cooler you can fit.
Also, check out the weight. Try to choose a cooler of a reasonable weight for you to carry. Considering it will contain lots of food and drink, it may add a significant number of pounds to the boat. Make sure you can handle its size before buying it.
Insulation
Coolers should keep snacks and beverages chilly on a hot day, but they only work if they have thick, well-constructed insulation. Most brands design their insulation, but soft-sided coolers typically have low cold retention compared to the hard-sided ones.
Many brands utilize rubber foam and polystyrene in their insulation. Polystyrene is one of the best performing insulating materials available.
Portability
You have several options to transport your cooler on your boat. Smaller products can stay on the kayak in the dry hatch, day well, or on the deck. Some boats have room in the boat's bow or the cockpit. You may want one you can tow behind your kayak if you have many items to bring and no room on board. Backpack coolers can stay on your back as you paddle.
Consider the boat's size, your strength, and how much food you need to bring when kayaking to determine the optimal portability.