San Diego County in southern California is a treasure trove of kayaking opportunities, and the varied waterways of San Diego are known to delight kayakers through much of the year. From leisurely coastal tours to challenging expeditions at sea, kayakers of all skill levels are sure to find plenty of adventures along the coast of San Diego. 
When Should You Go Kayaking in San Diego? 
San Diego offers plenty of opportunities to go kayaking year-round. The summer and fall months present the best options to kayak, as the air and water temperatures are ideal for aquatic activities. During this time, most kayakers are most comfortable in their bathing suits or a light wetsuit top. 
The colder months of the winter and the breezy spring still present some great opportunities to go kayaking, although the conditions aren't as pleasant as they are in the spring and summer. Most novice kayakers tend to steer clear of the more challenging stretches of the San Diego coast during these months, as wind and waves can pick up at a moment's notice, making for treacherous conditions.
Where to Go Kayaking in San Diego
Below, you'll find a shortlist of the best spots to kayak in the San Diego area. Depending on the time of year and the weather conditions, some locations are bound to be safer and more pleasant than others. Speak with one of the local tour guides or the lifeguards in the area about where the best places to kayak that day are. 
Bahia Point (Mission Bay) 
Bahia Point is a calm and picturesque area that's ideal for novice kayakers. You can quickly launch your yak from the sandy beaches along the Bahia Hotel. Once you're in the water, you'll enjoy glass-like conditions that are ideal for flatwater workouts, stand-up paddleboards, and surf skiing, in addition to kayaking. 
Parking is tight and usually fills up quickly on weekends, so try and show up as early as possible to secure a spot. Be sure to keep out of the middle of the channel reserved for boat traffic and the cove's swimming area. 
Aqua Adventures Dock (Mission Bay)
Just south of Bahia Point at the west end of Mission Bay is the Aqua Adventures dock. Aqua Adventures is one of the leading kayak tour companies in the area, and they can rent you a boat, provide plenty of useful advice, and help you get started on the right foot. 
Parking in the area is ample, and you can launch your kayak right from the Aqua Adventures dock when the shop is open. Bathrooms are also available on-premises when the shop is open. 
South Shores (Mission Bay) 
Another picturesque location in Mission Bay, South Shores, is ideal for novice and experienced kayakers alike. The conditions are typically suitable for flatwater workouts and for new kayakers to get their bearings on the water. 
South Shores offers a large concrete ramp for launching your kayak, and there's ample parking in the lot adjacent to the boat ramp, and it's typically open all year. Kayakers will want to be vigilant on the water here, as South Shores is a popular part of Mission Bay to jet ski or engage in other watersports.
Shelter Island (San Diego Bay) 
Shelter Island is a superb spot for paddling, especially if you're experienced enough to traverse the varied conditions that are common in San Diego Bay. Shelter Island is located at the north end of the bay near Point Loma. 
Kayakers will find a boat ramp to launch from as well as a sandy beach that offers an optimal launch point, and there's plenty of parking in the lot across from the ramp (make sure you don't park in any of the boat trailer spots). The area and boat ramp are bustling on lovely days, so it's usually easier to launch from the beach and leave the boat ramp to the big boats. 
La Jolla Shores
La Jolla Shores is one of the most storied kayaking spots in San Diego, thanks to the beautiful sea caves and La Jolla Cove. It's also one of the best places to check out the sea lions who call La Jolla home, and it's also home to the La Jolla Ecological Reserve, which is one of the best scuba diving and snorkeling spots on the west coast for observing local marine life.
There's a sandy boat ramp at the beach for you to launch from, and there's street parking close to the launch as well as a large parking lot about ¼ mile away from the shore. 
La Jolla Shores is especially popular for boaters, swimmers, and kayakers, and several La Jolla kayak rental companies launch here. Parking is usually tricky, and the launch zone is usually somewhat congested, so you'll want to exercise caution. 
Ferry Landing (Coronado)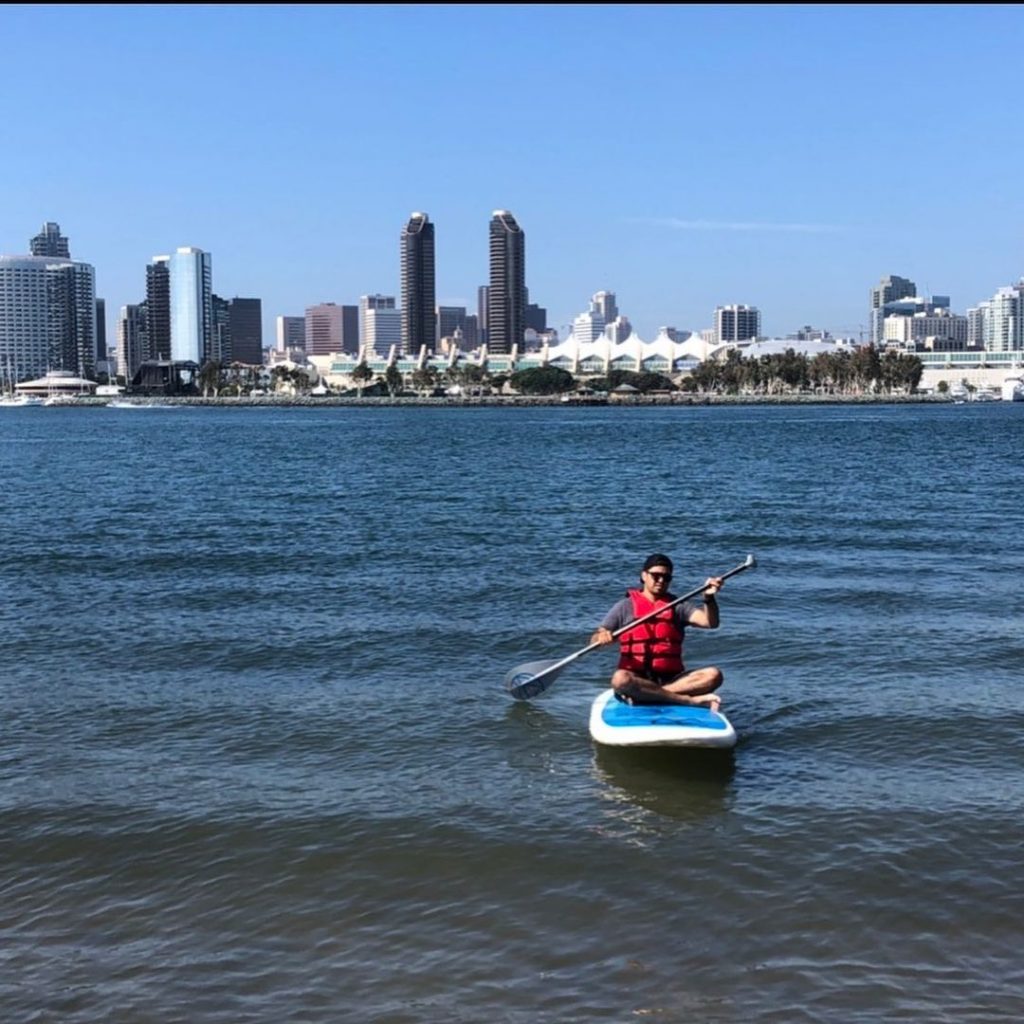 Coronado is another popular kayaking area, and it's a perfect spot to enjoy a morning on the water, followed by lunch and shopping at the stores near the launch point. The water is typically flat here, but there's plenty of wind, boat wakes, and occasional choppiness to contend with, making Ferry Landing an excellent spot for more experienced kayakers, SUP, and other crafts. 
You'll see plenty of large ships in the area, and there are no paddle zones near the Naval base and any Navy ships, so you'll want to keep your eyes peeled and stay away from restricted areas.
Oceanside Harbor 
Kayakers looking for an exciting offshore adventure are sure to gravitate towards Oceanside Harbor, which offers a calm and sheltered harbor and easy access to the open ocean. You'll find a ramp to launch from at the end of North Pacific Street, and there's a nearby parking lot for your car. It's usually easy to find parking there, but the lot does fill up on weekends when the weather is nice. 
San Onofre State Beach 
A picturesque ocean beach with access to the open ocean, Sean Onofre is a favorite spot among more experienced locals. You'll be able to launch your kayak from the beach quickly, and the dirt lot at the beach usually has ample parking, but it tends to fill up on summer weekends. 
Paddlers at San Onofre must be mindful of the signs which dictate the zone where you can paddle. One sign is a large "K" while the other is a large "O." From the water, these signs read as "OK" when you're within the proper boundaries. But, if you're outside the boundaries, they'll read as "KO," which indicates that you're past the limit and must paddle south to re-enter the safe zone. 
Final Word 
Kayaking in San Diego is some of the most fun you can have in southern California. From the flat water of Mission Bay to Diego Bay's varied conditions and the open ocean. In particular, La Jolla offers some once-in-a-lifetime views and access to some incredible caves and coves for kayakers to enjoy. 
Whether you're new to the sport or you're an experienced kayaker, be sure to get your yak in the clear, cool waters of San Diego's varied waterways. Keep in mind that beyond this list, there are plenty of other great locations to explore, including Harbor Island, Avenida De La Playa, and Carlsbad to the north. Get out there and enjoy them all!