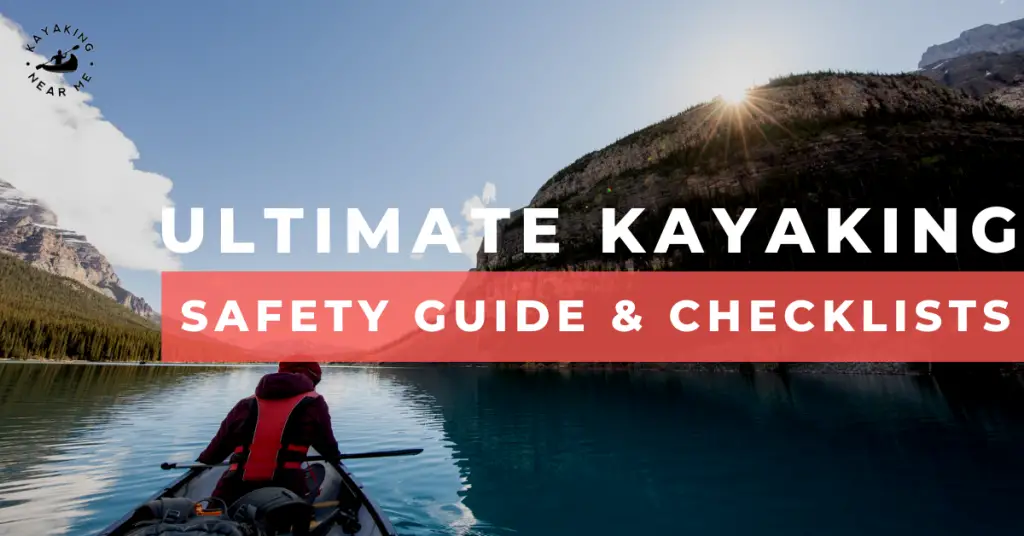 Kayaking is one of the most enjoyable sporting activities there is! While kayaking is a fun way to enjoy nature, spend time with friends and exercise, there's a lot you need to do to make sure that you stay safe out on the water. These safety tips are ideal to get you started on creating a kayak safety plan that's bulletproof. 
 Kayaking Can Be Dangerous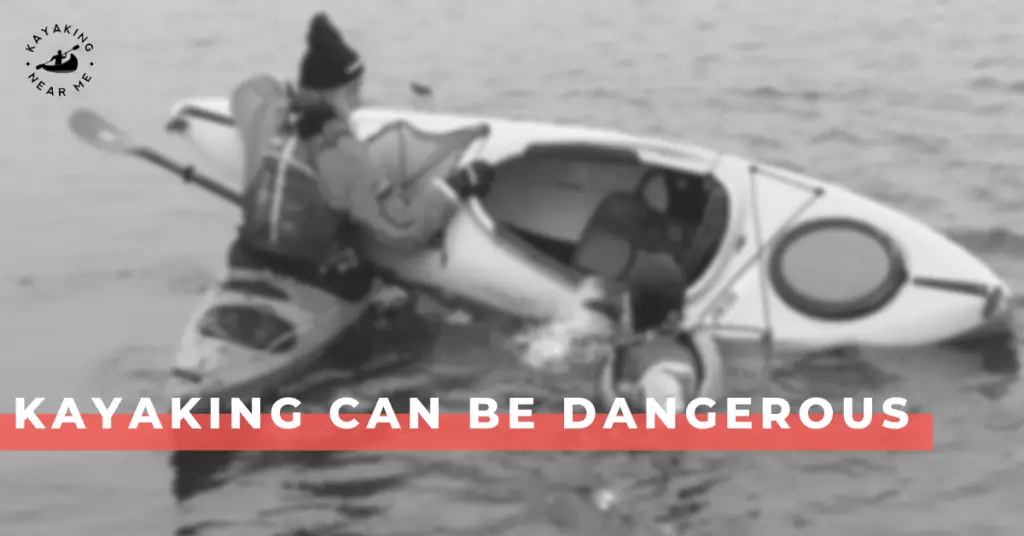 With all that said, kayaking, can, if proper safety rules are not followed, be dangerous. Even kayakers with years of know-how can make mistakes that can be costly.
According to the  U.S. Coast Guard, over 100 kayak accidents occur yearly, with roughly half of them fatal accidents resulting in drowning (yes – even in shallow water). 
This is a rather small number when compared to 10 million kayakers who engage in the sport each year, but never the less, many of these deaths from drowning can be eliminated with a little bit of common sense and pre-planning.
Essential Kayaking Safety Rules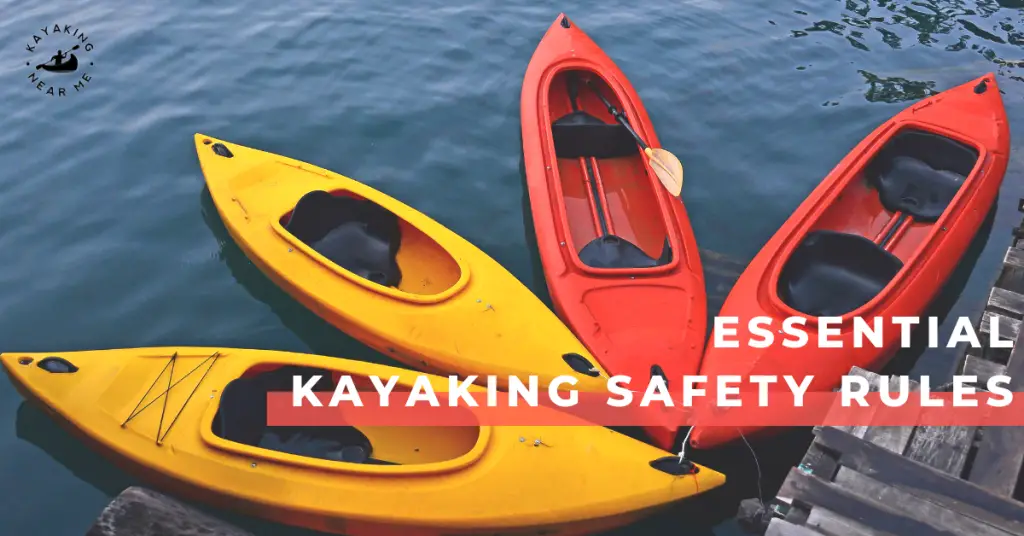 1. The number one safety rule is don't mix kayaking and alcohol – no matter your skill level. Whether you are ocean kayaking, or just doing a simple paddle float in a small, idyllic lake, alcohol and kayaking just don't mix. There are just too many variables when out on the water under your own power for your judgment to be clouded.
2. Wear a life preserver (also more commonly called a PFD or life jacket or life vest).  Boating rules in virtually every state require you to have a life preserver with on any boat, including a kayak. But by the time you've flipped your kayak over and hit your head on a rock, it's too late to react if you have a personal flotation device with you but aren't wearing it.
Many paddlers resist wearing a life preserver because they are generally uncomfortable and restrict movement. However, that doesn't have to be the case, which is why many professional kayakers/canoeists recommend purchasing a special kayaking PFD. 
Kayaking personal floating devices are life preservers that you can slip on or zip up and wear during your entire kayaking outing. Most of the floatation goes on your back, not around your neck like a regular life preserver,  while the remaining floatation design goes around your belly and lower back.
With a kayaker designed life preserver, your arms are unencumbered as you paddle, and the life preserver is much more comfortable to wear for several hours.
3. If you're kayaking or canoeing (the rules are the same) in rough water or whitewater, wear a helmet. Even if you don't drown, a hard collision between your head and a granite rock in the middle of a whitewater trip can permanently alter your brain function for the rest of your life. Don't chance it.
4. Dress appropriately. This means wearing bright clothes that can easily be seen when on the water with a lot of other boats. But far more importantly, it means you wear a wetsuit or drysuit when the water is cold.
Here, cold is defined as anytime the water temperature is 60 degrees or less.
You want to prepare for immersion in the water. The American Canoe Association (ACA) produces a Cold Water Survival Guide with essentials about preparing to kayak in cold water conditions, and anyone who is contemplating kayaking in cold water would be wise to review it.
Meanwhile, if you will be kayaking in warm conditions, consider wearing a long-sleeve shirt and a broad-brimmed hat to protect yourself from sunburn (after slathering on plenty of water-resistant SPF sunscreen.)
Bear in mind too, that water reflects the suns rays, so a good pair of UV resistant sunglasses are also recommended.
5. Finally, practice getting onto your kayak from the water.  Just as they tell a motorcycle driver is not if you will hit the ground while riding, but when, so too, it's not when you will capsize your kayak, but whether you can safely get aboard it from inside the water. You should practice on both a sit-on-top and sit inside kayak, as both require a unique approach to get back inside after a flip. 
If you think that's an easy trick, go ahead and try it on your own. Chances are, you will struggle immensely during your first few times.  There's an excellent "flipping" video on YouTube  What Happens if I Flip  that offers a short course in getting back from the water after a capsizing incident, and anyone who is serious about kayaking should learn this skill.
Must Have Requirements To Launch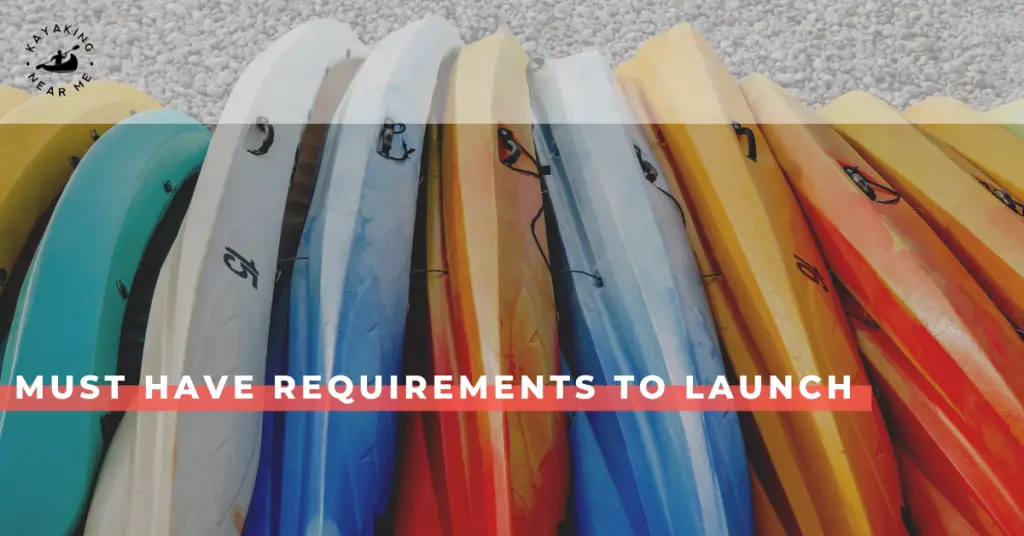 There are several  must-have  requirements for people paddling either out in the woods or on the ocean. These include:
Having a personal flotation device for every kayaker
Being appropriately dressed for the weather (always check the weather forecast the day before and day of launch)
Having a spare paddle. (Nothing is worse than to lose your paddle and then lose control of your kayak)
Attaching a whistle to your life preserver. If you need help, you can blow a whistle forever, whereas your voice will become hoarse after a few minutes – ideal so that boaters nearby can hear you
Having a flashlight to shine at other boats or potential rescuers
Having either a cell-phone, wrapped in a water-tight container or a VHF radio to call for help
Having made a pre-trip float plan with the area you plan to kayak, and for how long, and left with a friend or loved one so that if you are a few hours late, they can call the Coast Guard, National Park Service, or Sheriff's Department to report you missing.  Your checklist should also include the phone numbers of the most important rescue agencies for help.
Kayak Pre-Launch Checklist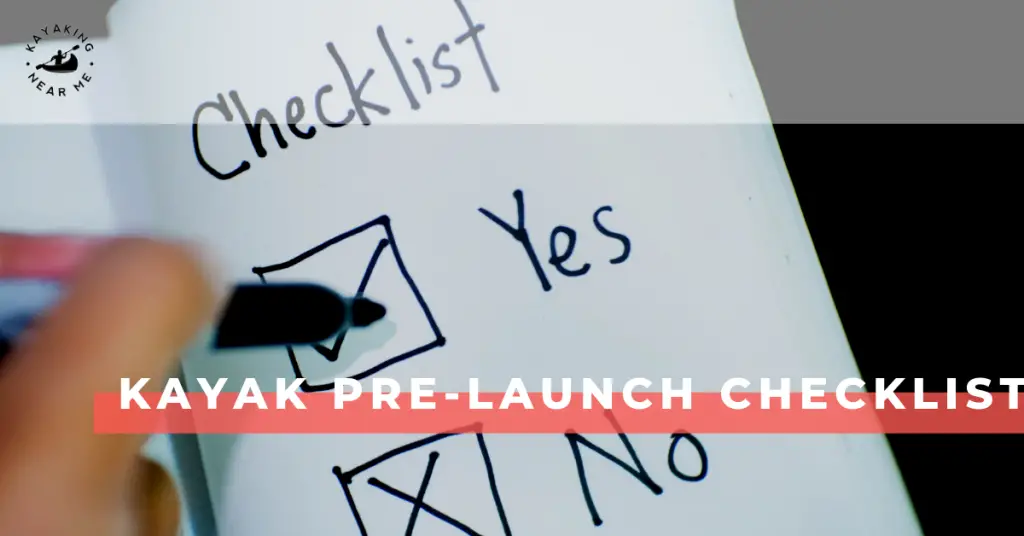 Prior to launch you should check the weather and water condition reports to be sure there are no storms, heavy surf, or other conditions that may present a possible kayaking hazard. Depending on the type of kayaking trip you're on (sea kayaking will require a more detailed checklist than a one-hour float on a lake). 
Be sure to leave your kayaking trip plan (or paddle plan) with a friend or family member, and check that you have other essentials such as water, or snacks besides your essentials such as wet or dry suits, appropriate clothing, helmets, whistles, extra paddles, water-communication devices and other key safety gear.
Conditions That Spell Trouble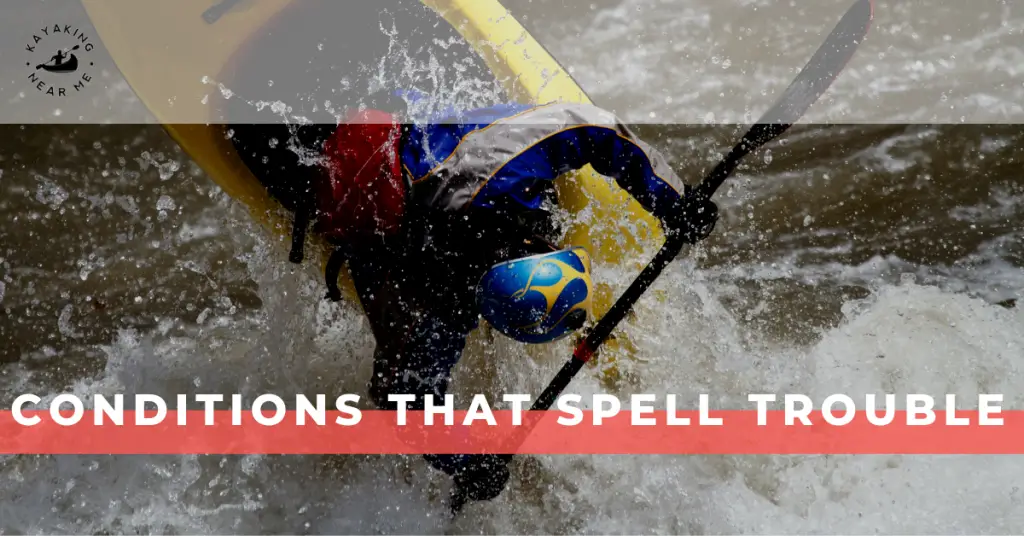 Excessively cold water, high surf and extreme rapids are all conditions that are challenging even for the most experienced of kayakers. Be extremely cautious about kayaking in extreme conditions beyond your expertise, and have a professional with you if there are any doubts.  
Weather conditions are the number one cause of kayaking death or issues, so you'll want to make sure you are prepared for the weather and can self-rescue if needed. It's more than just kayak safety – it's all about water safety when you are paddling out in poor weather. 
Above all, don't paddle alone – either with a buddy or share your paddle plan with a loved one nearby when weather is questionable. 
"Nice To Have" Items For Kayaking Comfort & Longer Trips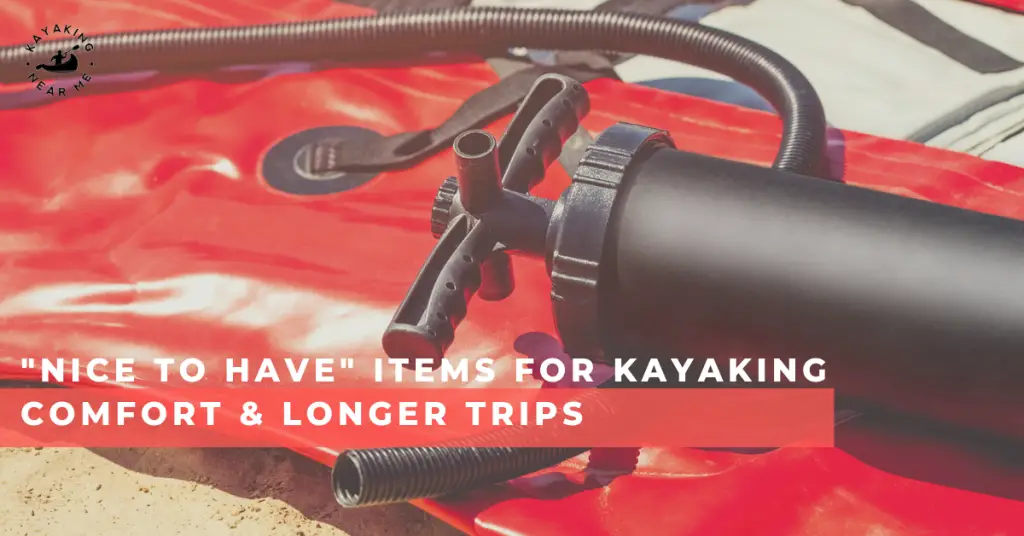 A bilge pump for eliminating water out of your recreational kayak or a sprayskirt are nice items to have, but following the other safety rules are essential.
Other nice to have items might include a more full featured first aid kit, dry bag with prepackaged food included and a backup personal flotation device too.