Tennessee may be the central hub of country music, but it's got plenty to offer naturewise with boating, kayak rentals, and rafting, among other outdoor activities.
Read on to discover some of the best places for Tennessee kayaking.
Duck River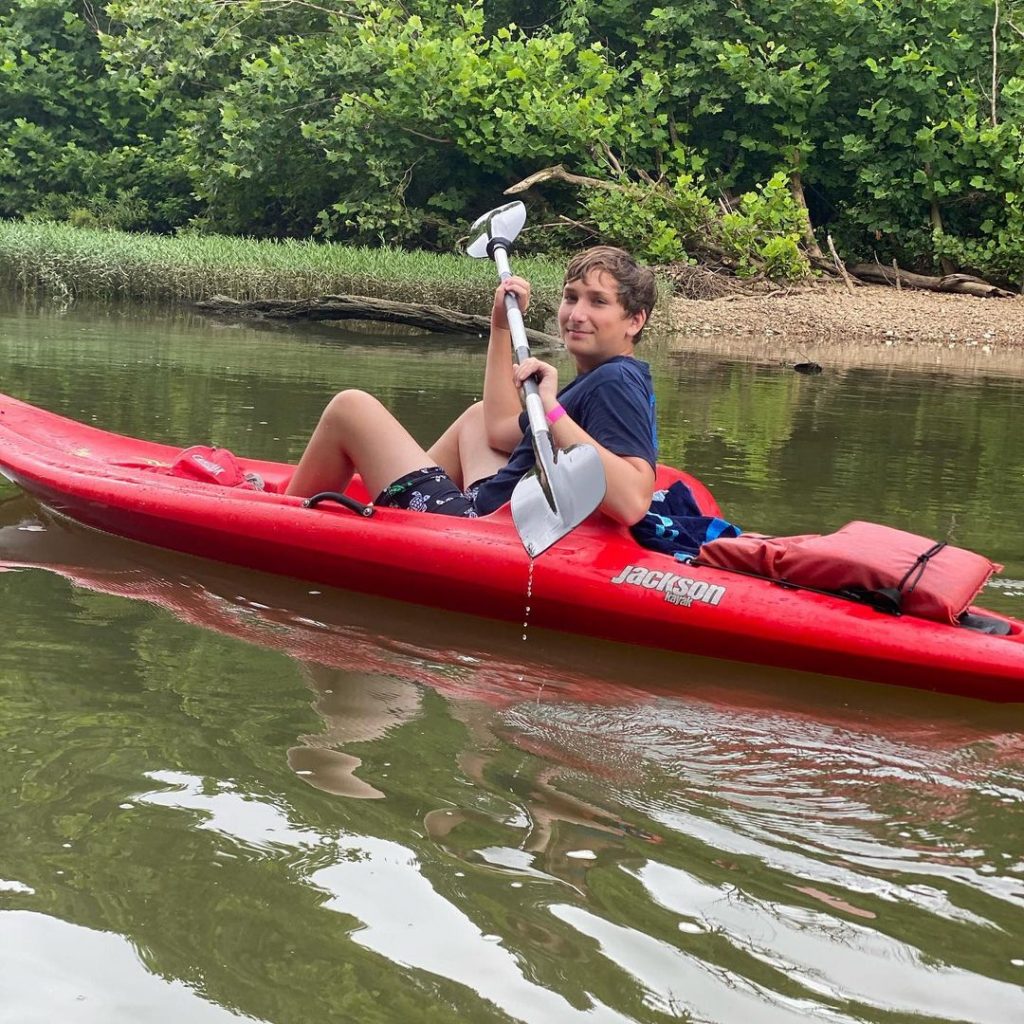 The Duck River is the longest in Tennessee, but it is a good place to get your feet wet (no pun intended). Plus, it's only a 50-minute trek from Nashville. The water only goes up to about Class II, with little to no rapids, so you can take it slow along the five-mile paddle. 
The Duck River contains some of the most diverse plant and animal life species in Tennessee, so who knows? You might spot a covey of turkeys, a few blue herons, or perhaps a few ducks lazing by the river's edge.
You can visit the Higher Pursuits outfitter for canoe rental, life jackets, paddleboards, and other kayaking accommodations. You can take canoeing or kayaking classes and even take guided tours of the Duck River Blueway. 
Hiwassee River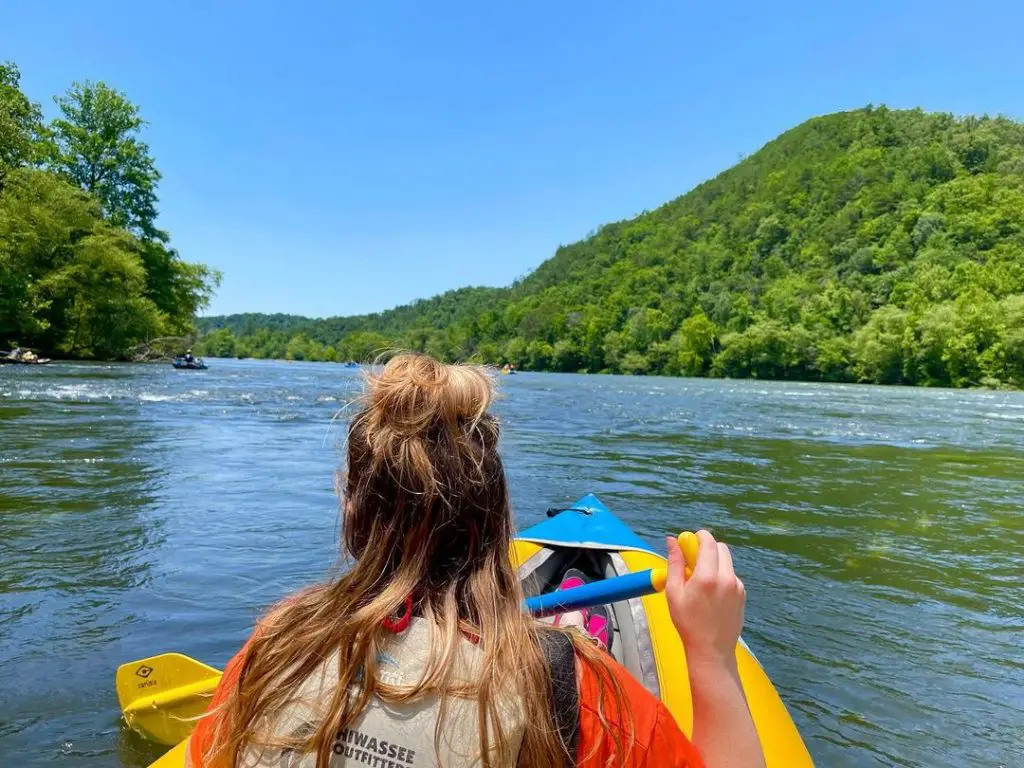 If you're looking to paddle past some mountains on more intermediate waters, Hiwassee River Is worth a try. The river runs through some high mountains and the cliffs of Gee Creek, both of which are remarkable sights. 
If you ever want to stop to picnic, there are plenty of access points along the river for taking a break to eat or swim in the shallows. 
There aren't usually many boaters on the river, so the water should be easy to navigate and safe to swim in. For tube or shuttle rentals, you can check out Webb Bros. Grocery. 
Caney Fork River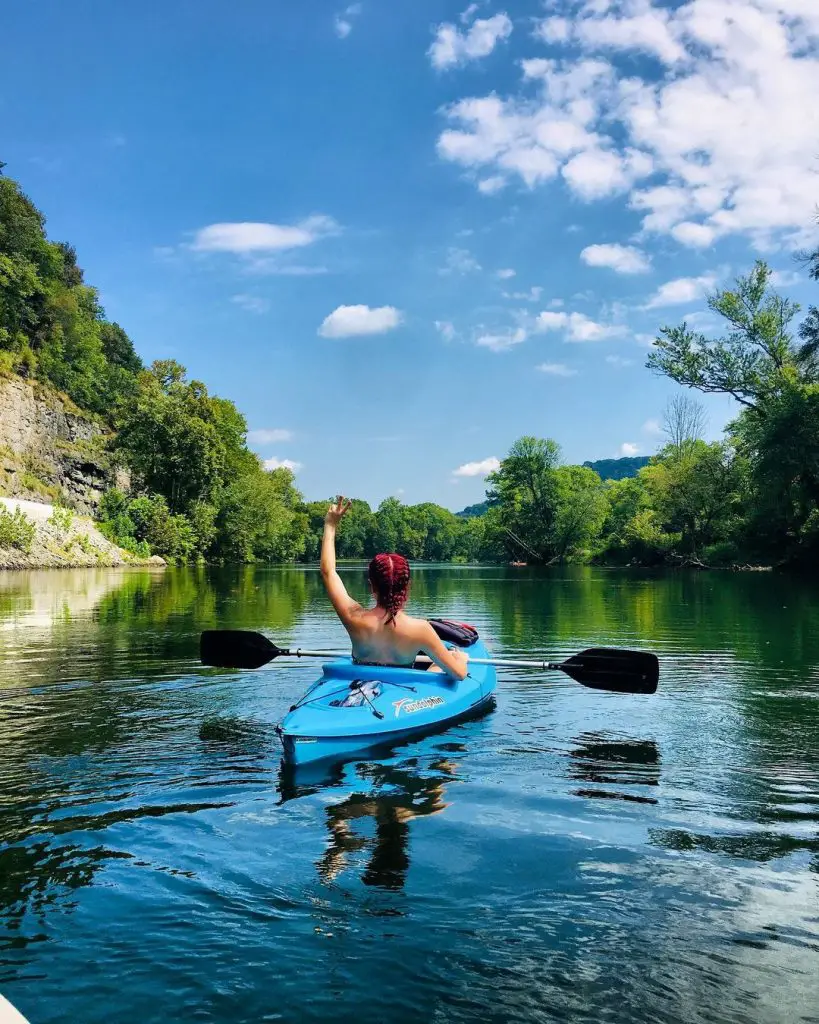 The Caney Fork River, located in middle Tennessee, is a huge draw for kayakers and paddlers. In fact, it's a great idea to reserve a spot since parking gets tight at the put-in on weekends. 
However, the river is only five and a half miles, and once you get past the start of the river, it should be an easy ride. You might run into a few fishermen if you kayak early in the morning since the Caney fork River is a major trout-fishing area. 
Be careful about the rising water level since, twice a day, water is released from a nearby dam. 
For a faster trip, time your paddling an hour after the release, but release schedules can change without warning, so keep your eye on the water. The water never runs low, so you won't have to worry about beaching while you watch the birds and fish.
Big South Fork of the Cumberland River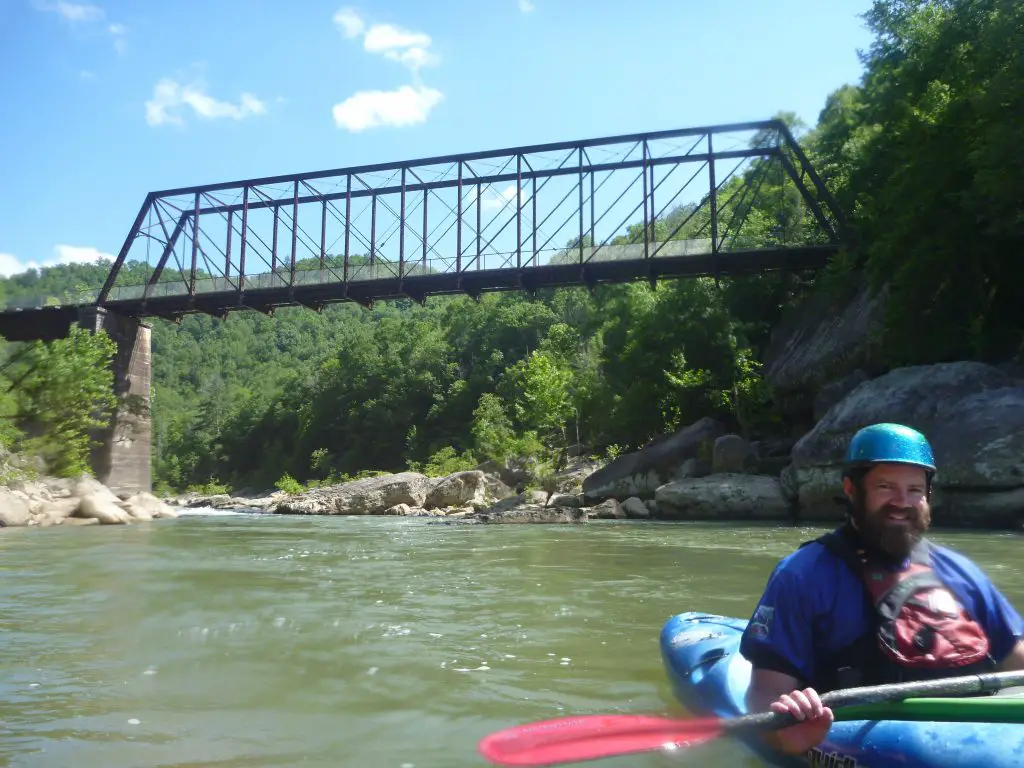 The Big South Fork of the Cumberland River, which flows along the Kentucky-Tennessee state line, is a scenic river full of archeological sites and the occasional black bear. 
The 27-mile trip between Leatherwood Ford and the Blue Heron Mine is the most commonly kayaked trip on this river, and the rapids don't usually go above a Class I or II. 
Mid-autumn is a great time of year for kayaking in Tennessee since you'll paddle along a gorge with plenty of beautiful foliage, and the water is sprinkled with different-colored leaves. 
If you anticipate taking a longer paddling trip, you can rent out a cabin or set up an outdoor camp along the river.
Tennessee River Blueway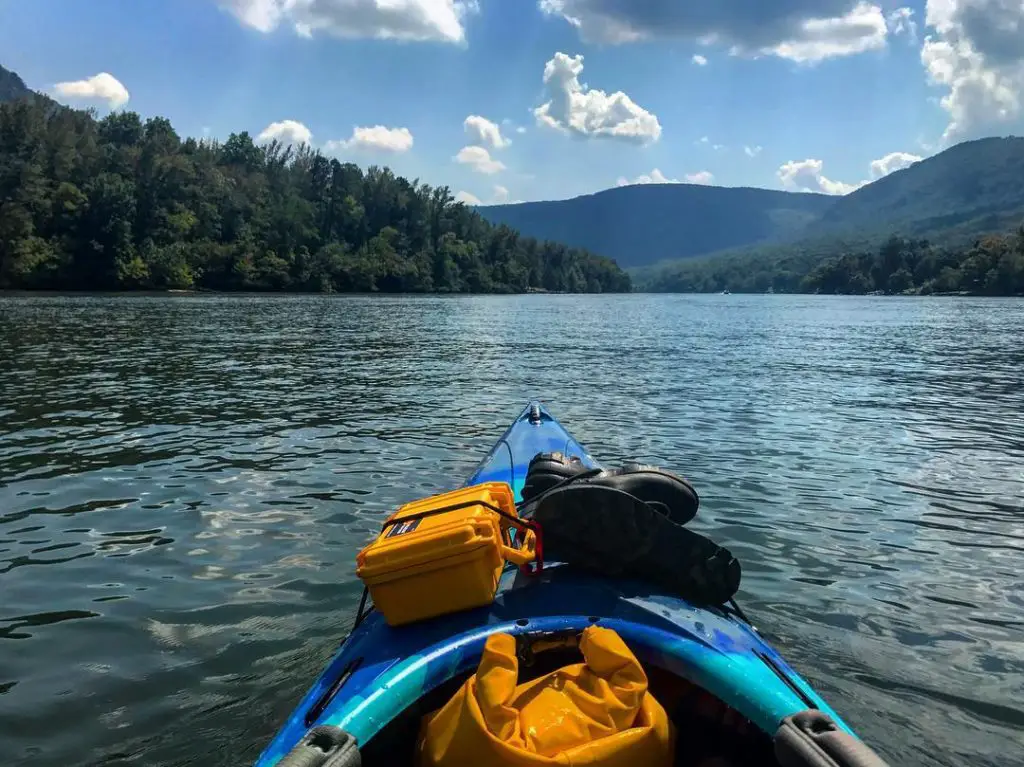 The Tennessee River Blueway is a bit of an extended trip, but it's full of great spots for swimming and watching wildlife. Most kayakers like to begin their trip at the Harrison Bay State Park in Chattanooga, a city which you can still enjoy further down the Tennessee River. 
You can pass by the Delta Queen boat, a permanently docked hotel with fountains spraying onto the river. Feel free to paddle underneath them in case you need to cool off a bit. 
Some wildlife you may spot can include osprey, herons, kingfisher, the occasional bald eagle, and deer. If you make it far enough to some campsites, you might enjoy some rope swinging just offshore, as well as some safe small cliffs to jump off into the water.
Nolichucky River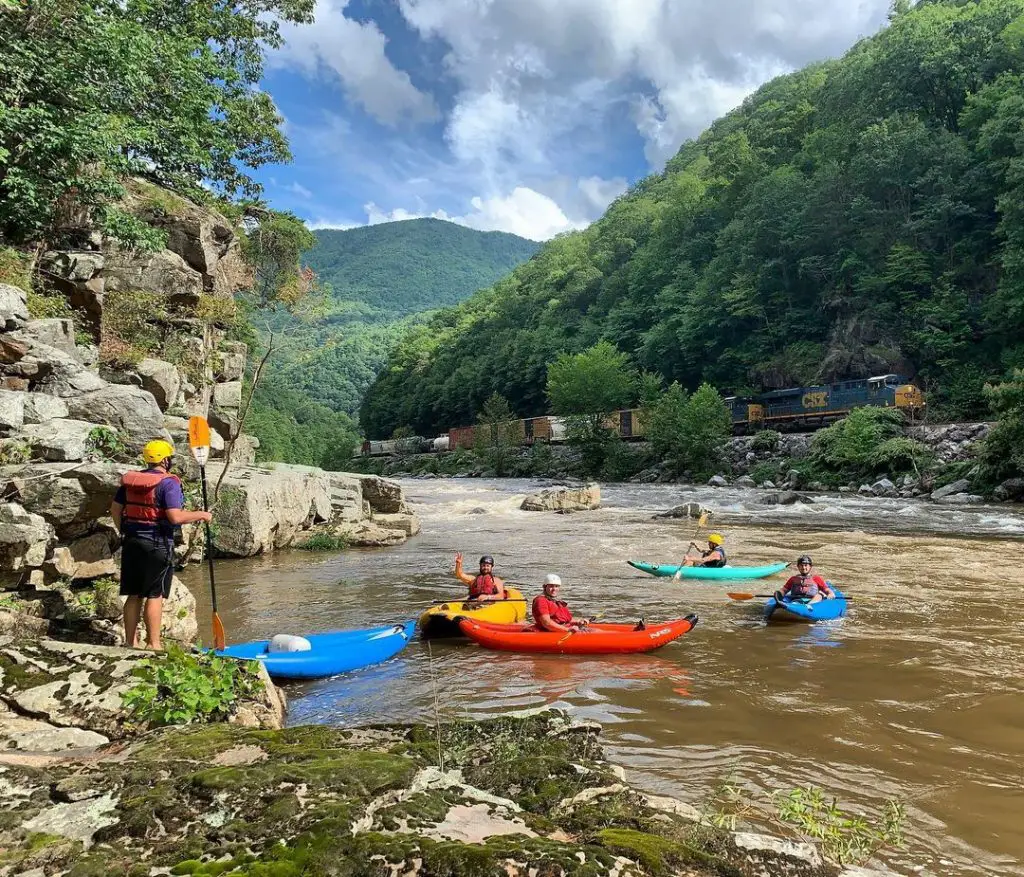 Located 20 minutes south of Johnson City, the Nolichucky River begins in North Carolina and then flows into Tennessee. The river has all kinds of access points to accommodate different experience levels. 
You can start above the gorge and reach the campground, or you can put in near Cherokee Adventures before disembarking at the site of the Chuckey Trading Company. 
While an average trip on the river takes two to four hours, Class III or Class IV rapids sometimes pop up. Keep in mind that most outfitters on the river pack up around August, so it's best to kayak in early spring or summertime when the river flows more slowly.
Ocoee River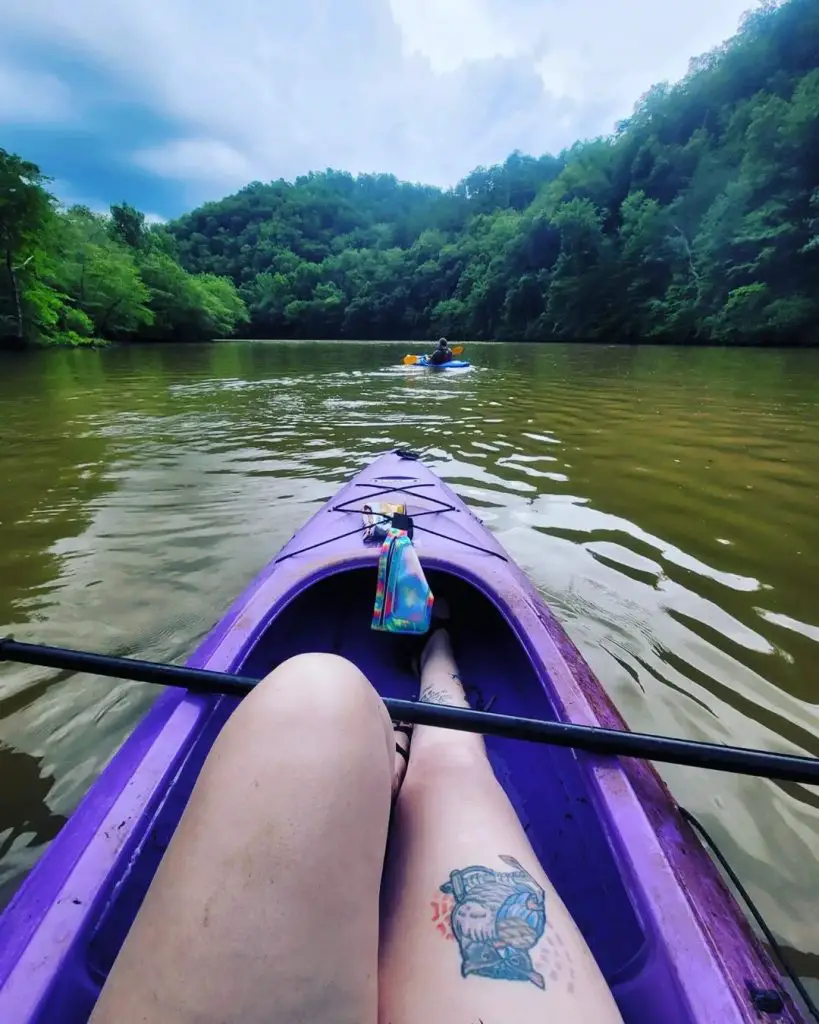 The Ocoee River, which flows toward the Hiwassee River, is a great place for history buffs and fishermen to visit. You'll have access to plenty of lodging and eateries, as well as other rivers, such as the Nantahala, the Tellico, the French Broad, and the Chattooga. 
The base of the Ocoee Dam is an excellent trout fishing area, though you do need a fishing license to use it. Besides trout, you might also encounter the Tennessee State fish, the smallmouth.
You can take out at the Reynolds Bridge or the Hwy 411 Bridge if you ever need to stop along the river. This particular bridge is also where you'll find the gravesite for Nancy Ward, who sheltered Cherokee Indians on their journey down the Trail of Tears.
Clear Creek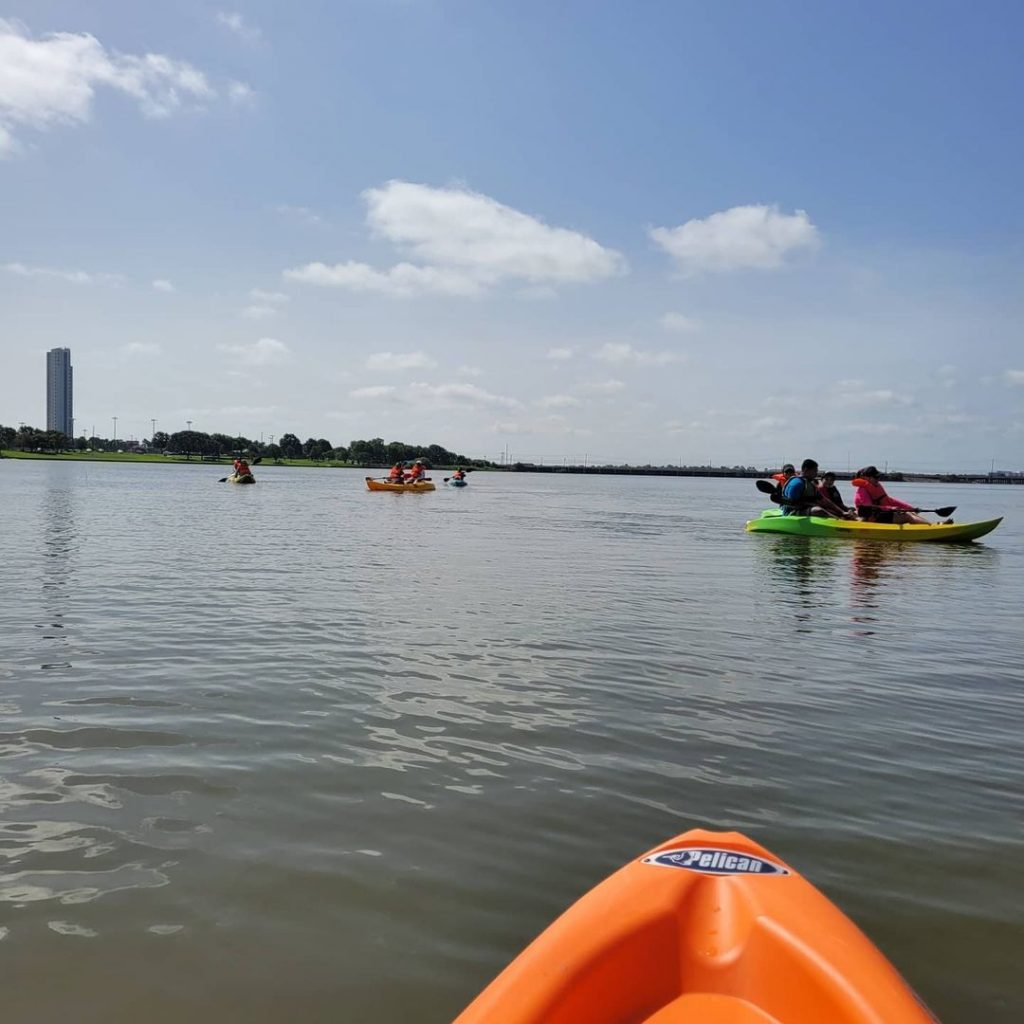 Several rivers in Tennessee are excellent for whitewater kayaking, but the Clear Creek, about an hour west of Knoxville, is one of the most popular.
 More experienced kayakers tend to take the route toward Jack's rock, an eight-foot drop in the river, before moving on to the Upper section, which has plenty of rock formations and caves to observe. 
The rapids don't typically go above Class I or II, but some Class III rapids pop up towards the end of the creek. You should also note that the creek flows best in the winter and spring, so be sure to bring plenty of cold-weather gear for inclement weather.
Harpeth River State Park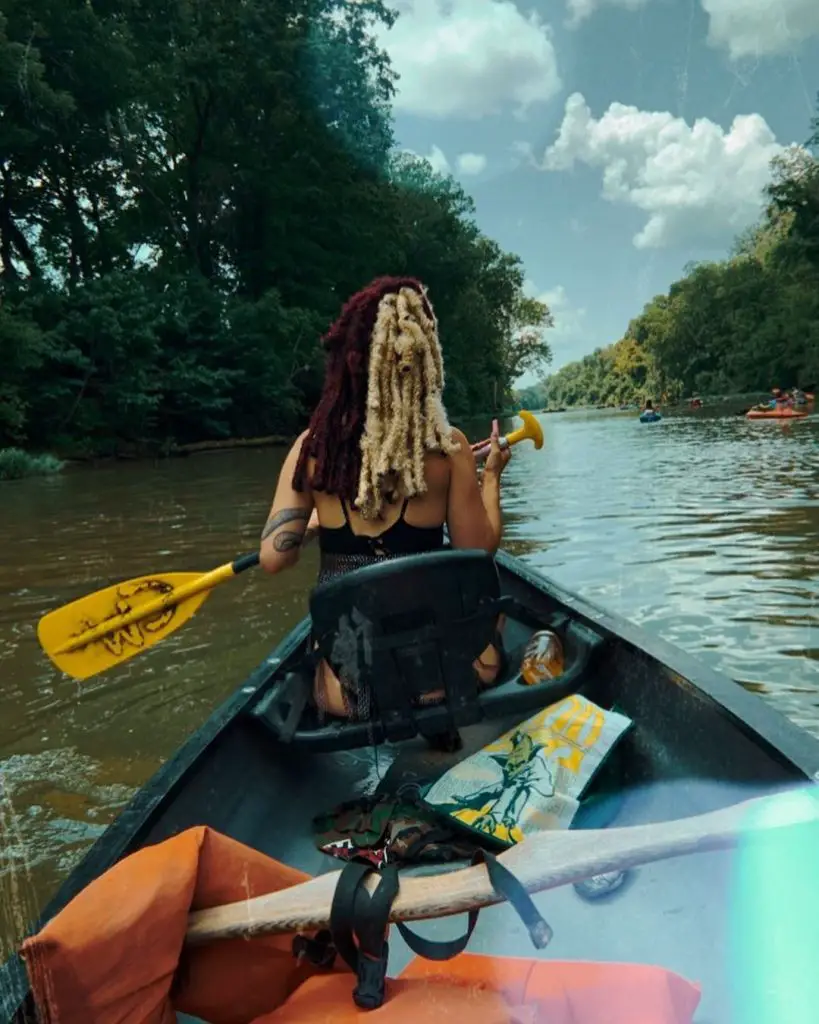 The Harpeth River is a Class I river for its entire length so that beginner kayakers might find it a great starting point. Besides enjoying the river itself with kayaking and fishing, you can enjoy activities at the state park, which manages several access points along 40 miles of the river.
Several events are held throughout the year at the park, including interactive activities with animals and archeological hikes. Keep in mind that there is no camping or overnight parking and some access points do close due to high water.
Elk River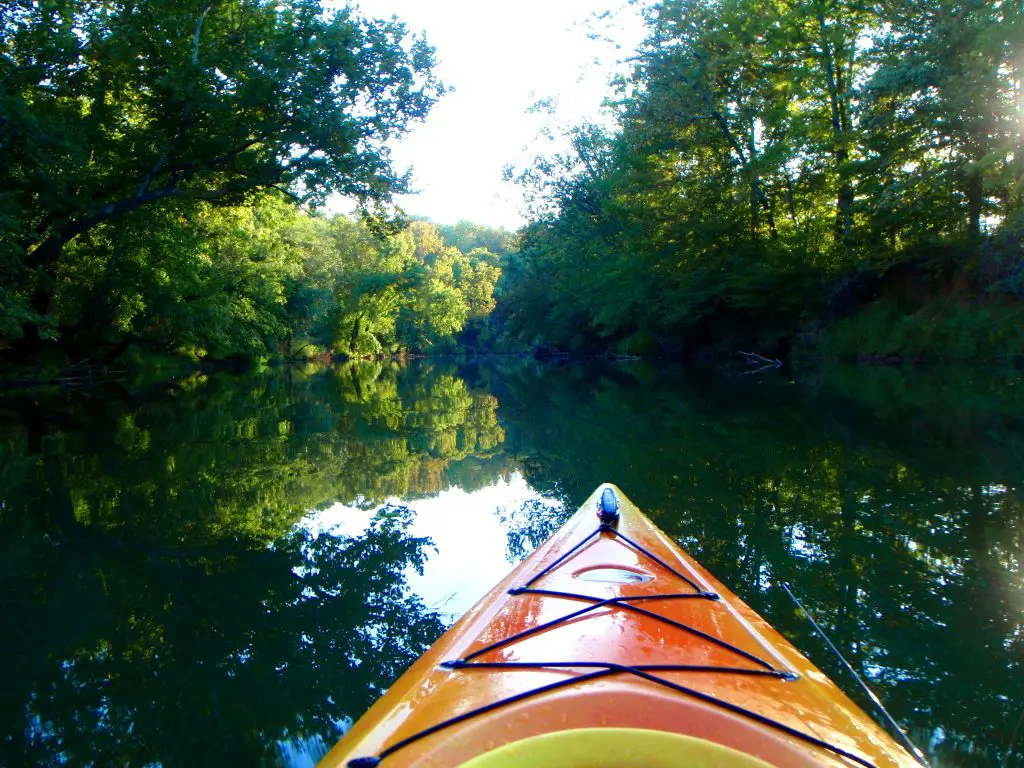 Located in South Central Tennessee, the Elk River is great for when you're in a fishing mood on a pretty gentle Class I river. The water right below the dam is cold and clear, so it's a good spot for fishing, especially rainbow, brown, brook trout, and small and largemouth bass. 
You can look online for a schedule when they'll release water from the dam, which raises the water levels substantially, so be careful. You might even see a blue heron, a bald eagle, or a turtle or two as you paddle along.
Tims Ford Lake and State Park are stationed nearby, with biking and hiking trails, campgrounds, and even a swimming pool. The Elk River Canoe Rental can get you set up for an afternoon of adventure for any kayaking needs.
David Crockett State Park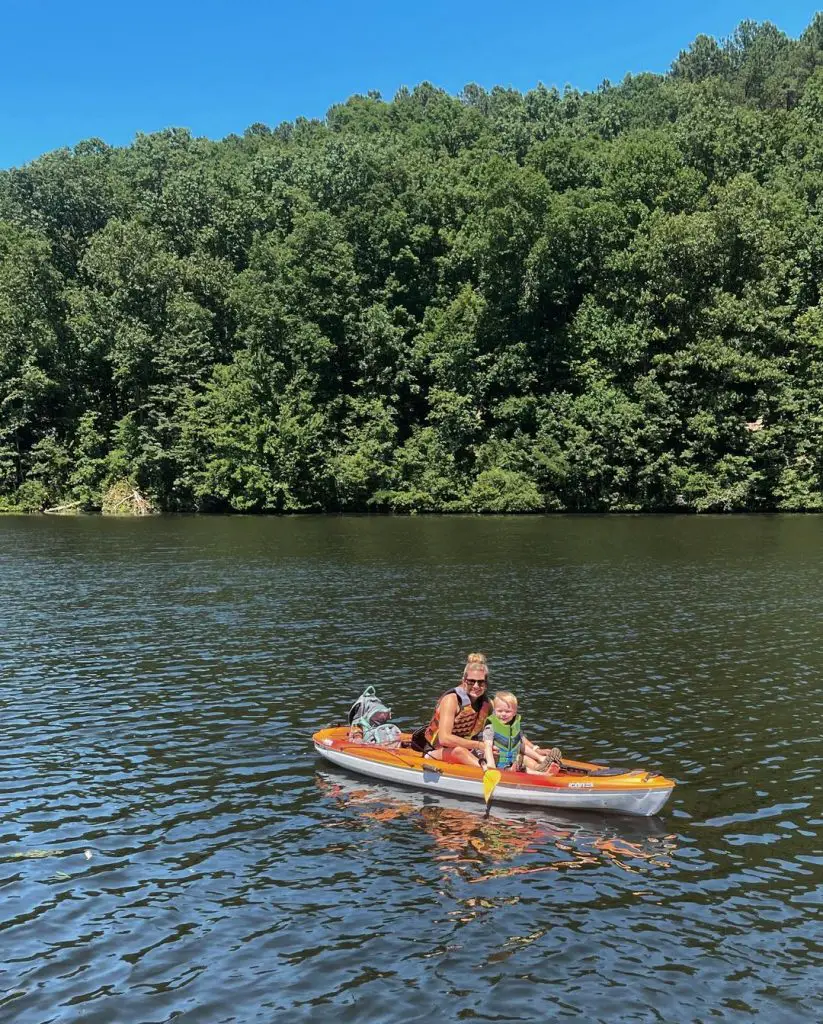 So far, we've seen plenty of rivers, but not that many lakes, like the one at David Crockett State Park. Lake Lindsey, the park's small 35-acre lake, is perfect for a small kayaking or boating adventure, where you can use your own equipment or rent some for cheap daily or hourly rates. 
If you're just starting, the lake is a good place to practice or show your family how to navigate the water. You might even catch a few fish in the lake too, which is open all year round.
There are plenty of camping accommodations onsite if you plan to spend the night at the park, including completely furnished cabins and traditional primitive campsites. If you happen to walk through the nearby woodlands, you might also see one of the hundreds of species of birds.
Long Hunter State Park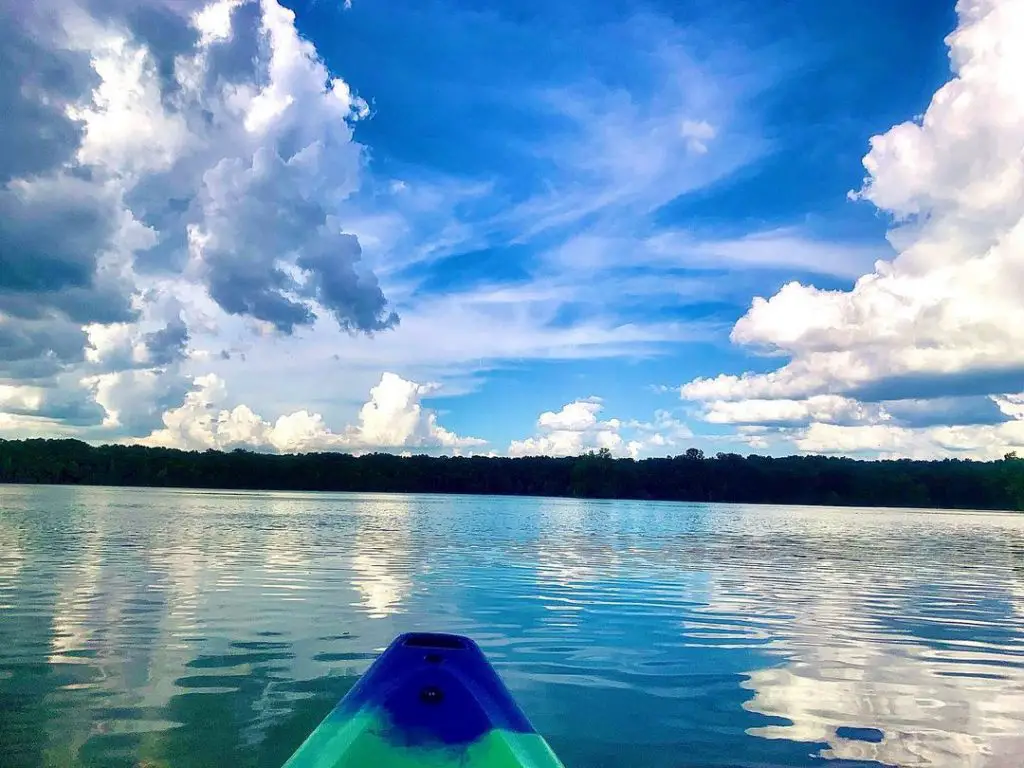 The 110-acre Couchville Lake is open year-round for paddling, fishing, and boating, but you can only rent equipment for those sports during the summer for reasonable hourly rates. Paddles and life jackets are provided since life jackets are required on the water.
J. Percy Priest Lake offers the same accommodations as Couchville Lake, in addition to two boat launch docks. 
Montgomery Bell State Park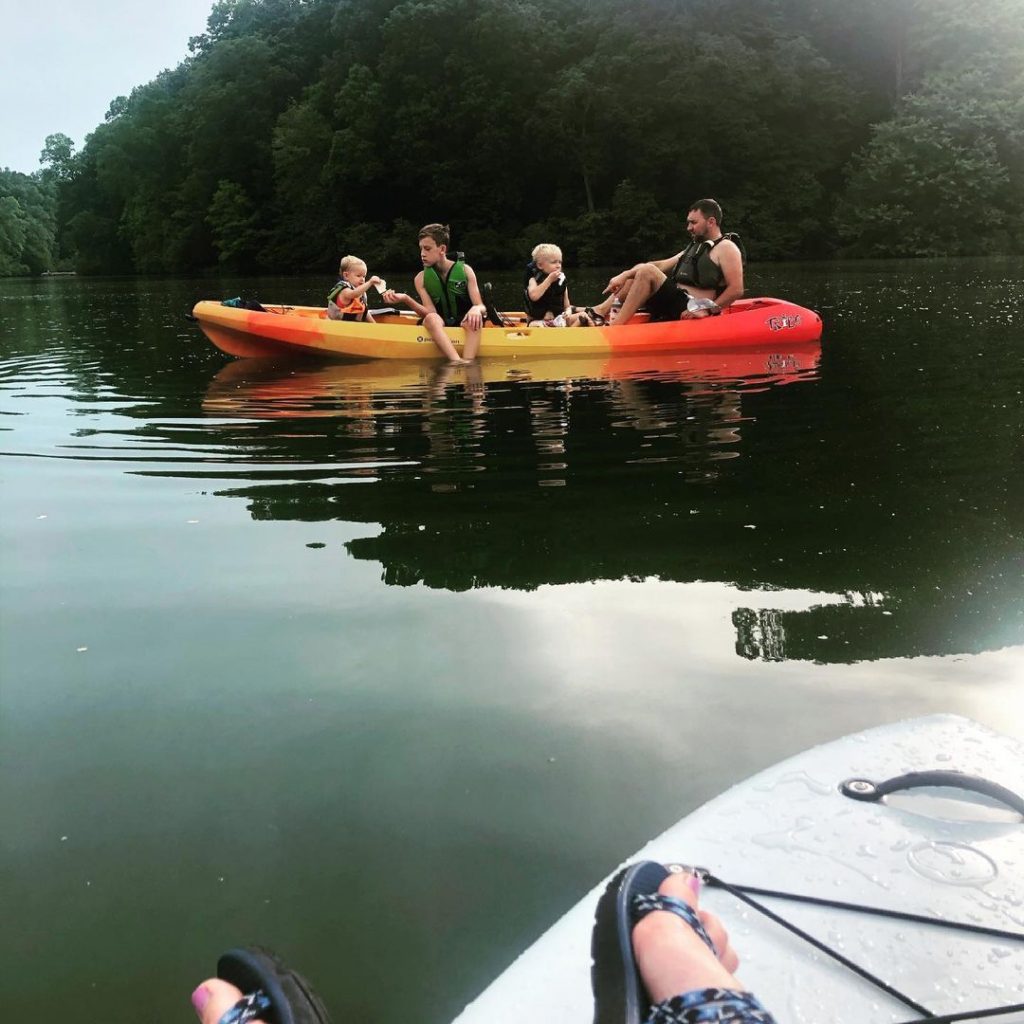 Montgomery Bell State Park houses three lakes, all of which have spacious beach space and are suitable for paddling. The newly remodeled Lodge is great for extended lakeside stays, plus cabins and campsites that accommodate pop-up campers and RVs.
Photo Credit: sk via Flickr CC2.0