Explore North Carolina's gorgeous creeks, rivers, and lakes during your next kayaking adventure! With whitewater rapids and calm lakes, North Carolina represents the ideal destination for paddlers of all skill levels. Enjoy your holiday while paddling through some of the most beautiful kayaking spots in the U.S.
Home to 17 river basins, North Carolina offers kayakers the chance to encounter nature in its truest form. The river banks play host to a wide variety of bird and other wildlife species. This North Carolina kayaking guide provides information on some of the best kayaking spots in the state to help you plan your next excursion deep into the Tar Heel State.
French Broad River, Asheville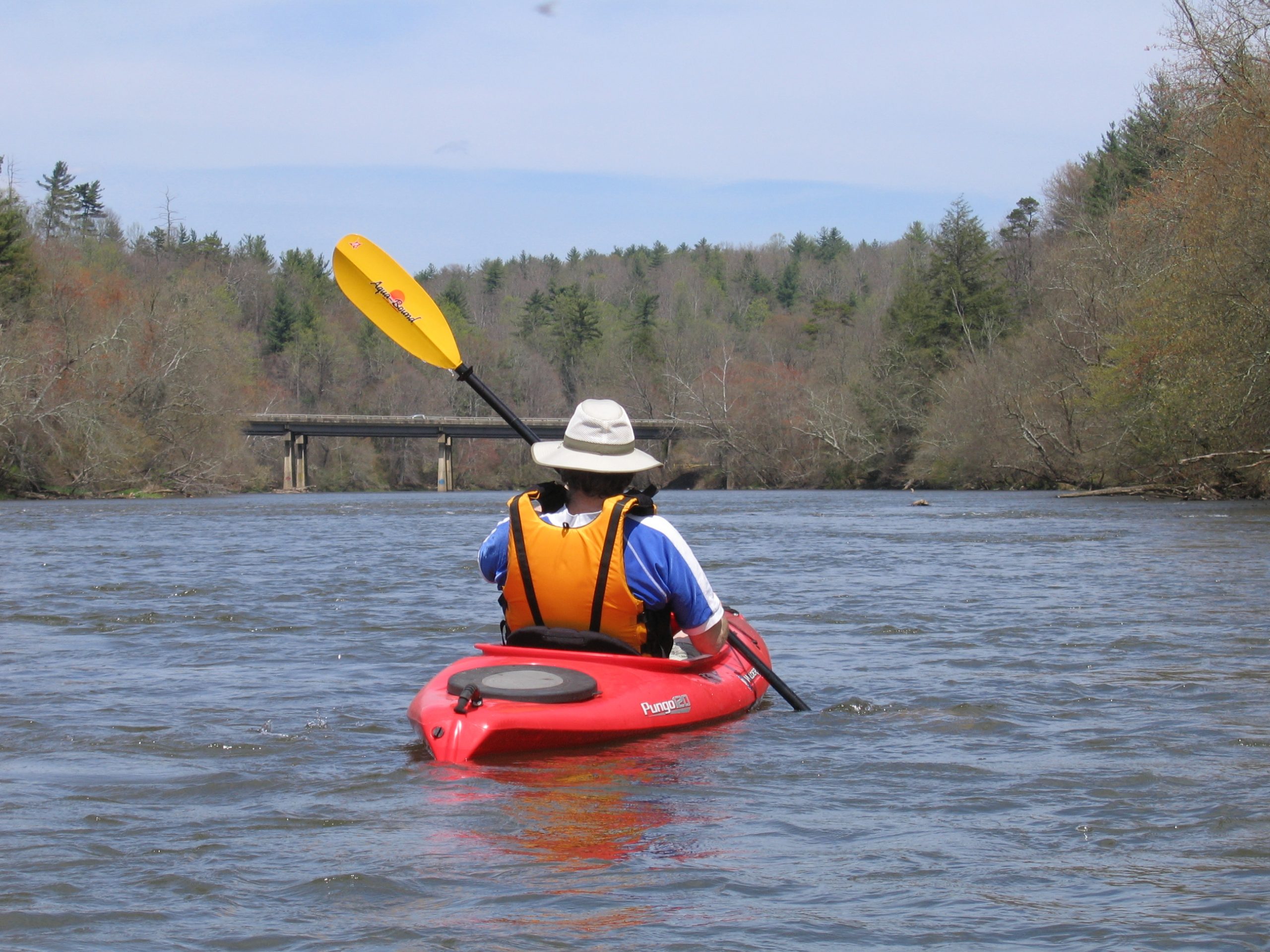 The French Broad River in Asheville boasts multiple whitewater and flatwater sections. Cruise the calm, wide sections that wind past the stately Biltmore Estate or conquer the French Broad's whitewater rapids, which range from Class I to IV.
You can rent kayaks from nearby outfitters, like the French Broad Outfitters, Biltmore Estate, Headwaters Outfitters, or the Nantahala Outdoor Center. Remember to check out Courthouse Falls, a 50-foot waterfall that marks the confluence of the north and west forks of the river.
US National Whitewater Center, Charlotte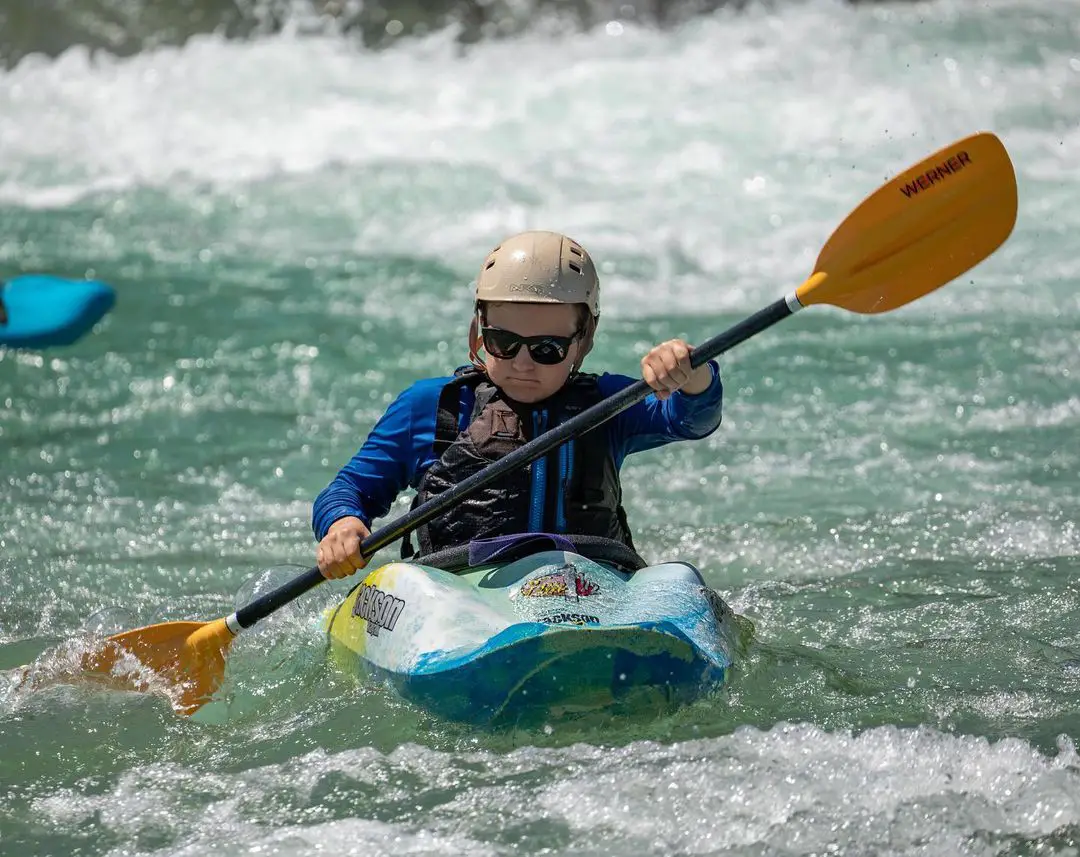 Stretching across 1,300 acres of land along the banks of the Catawba River, the US National Whitewater Center in Charlotte represents a fantastic kayaking spot for adventurous souls. Rush down Class III-IV rapids to test your skills or enjoy a leisurely paddle along the family-friendly flatwater sections. 
Rent out a kayak from Rockin' River Adventures or Destination Watersports. With plenty of quiet spots to explore and exciting rapids farther downriver, the US National Whitewater Center stands out as one of the most versatile kayaking destinations in the state. Locals often ride from Lake Wylie Dam to River Walk, a popular kayaking route.
Barnard's Creek, New Hanover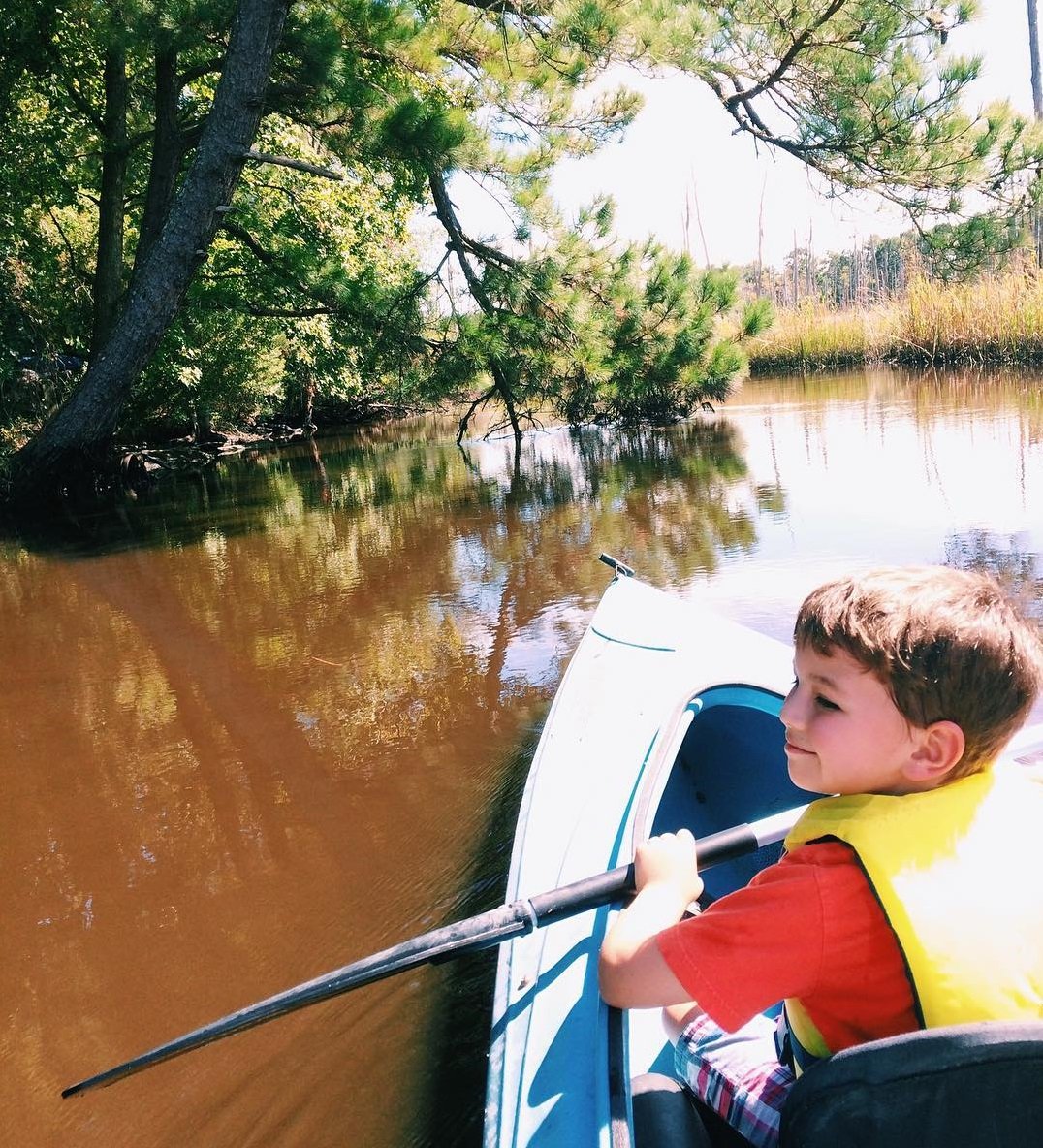 Located near the RiverLights community, Barnard's Creek offers kayakers a 3 mile-long stretch that connects to the Cape Fear River. Experienced kayakers can navigate this route with ease. However, remember to watch out for fallen trees or low-hanging branches at certain points along the river. Encounter several species of local flora and fauna that thrive along the riverbanks as you maneuver towards the Cape Fear River. 
If you need help deciding on where to go paddling in North Carolina, Barnard's Creek makes for an excellent kayaking trip. The public boat ramp at Wilmington serves as an ideal launch point and you can rent kayaks from the Cape Fear Adventure Company.
Three Sisters Swamp, Atkinson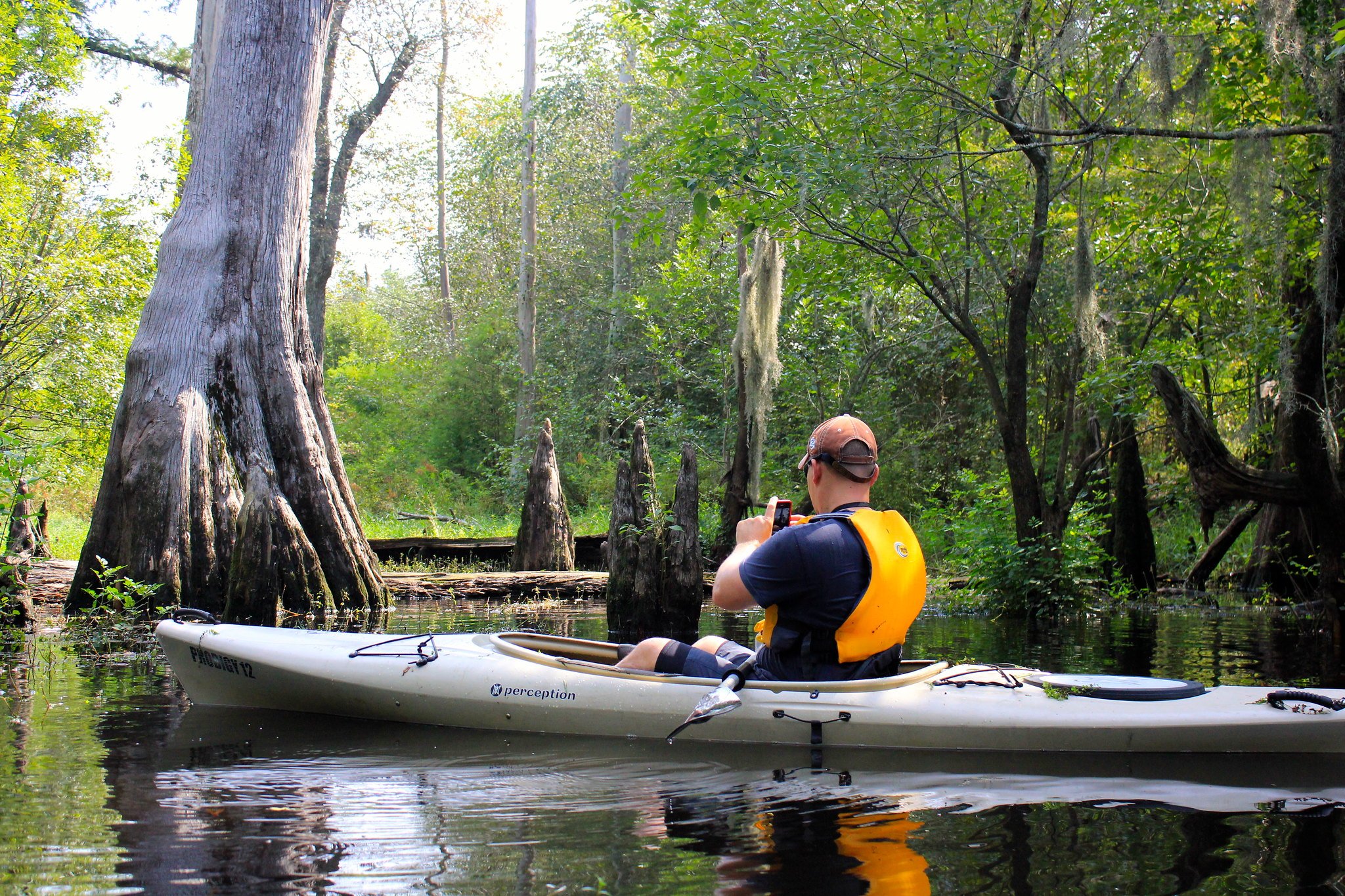 The Three Sisters Swamp in Atkinson takes kayakers on a route flanked by cypress trees that date back thousands of years. Located along the Black River, it provides multiple public access points. The changing water levels in this remote area present an interesting challenge for kayakers.
Kayakers can paddle upriver from the public boat landing at NC3 near Atkinson. You can also choose to launch at Beatty's Landing and paddle downriver to the public boat landing.  Ideal for both experienced kayakers and beginners, the swamp also houses the Methuselah, the oldest tree in Eastern America, which dates back to around 364 AD. 
Green River, Saluda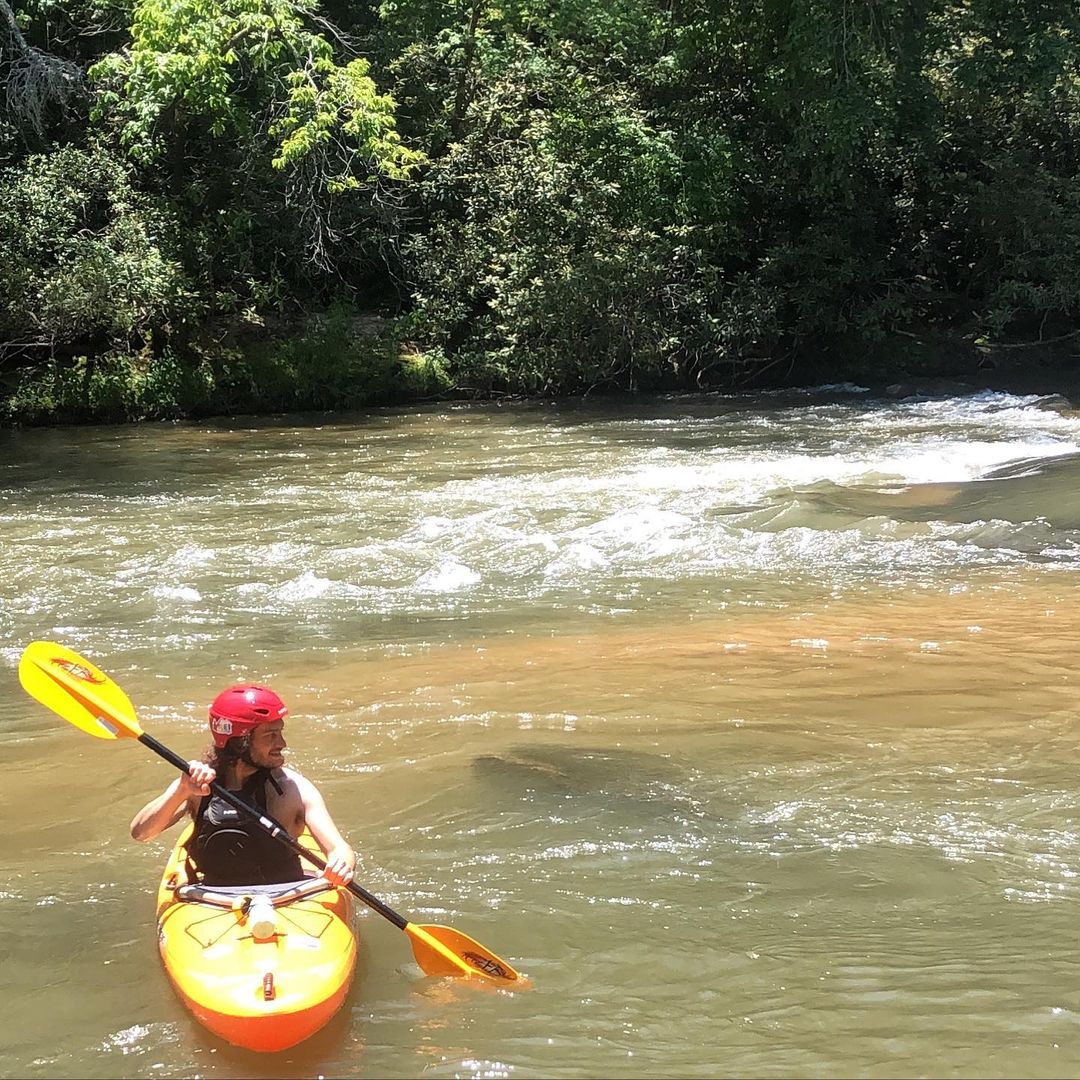 The Green River in Saluda represents a terrific paddling spot for kayakers who love the thrill of the rapids. It also offers moderately skilled kayakers a chance to develop their whitewater skills. Divided into three sections – Upper, Narrows, and Lower – the river possesses whitewater rapids ranging from Class II to V.
Test your mettle along the Class II to IV rapids of the Upper section before braving the expert Class V rapids of the Narrows. The Lower Section eases up a bit, with Class II rapids suitable for almost everyone. Paddlers can rent kayaks at Green River Adventures. 
Yadkin River, Wilkesboro/Elkin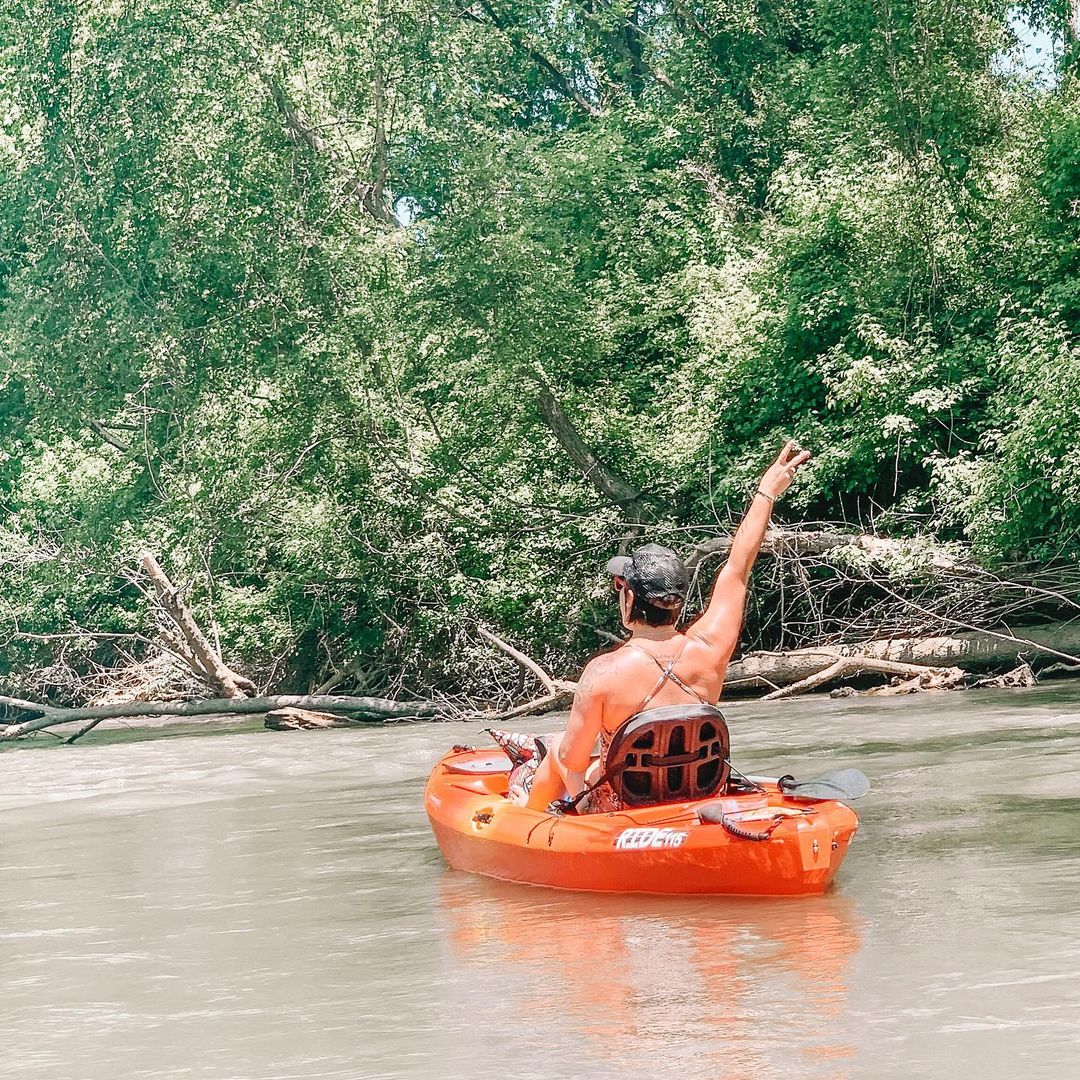 The Yadkin River flows through the farmlands of Wilkes, Yadkin, and Surrey Counties on its way south. The wide, easy-flowing river contains multiple access points for kayaking enthusiasts. Consider the sections of river between Ronda Access and Crater Park or Burch Station and Yadkin/Shore Access for a fulfilling kayaking experience. 
The Yadkin becomes pretty muddy at certain times of the year and the red-tinted soil prevents the river from serving as a suitable fishing destination. Yadkin River Adventures near the Rockford General Store provides kayaks for rent.
Rachel Carson Reserve, Beaufort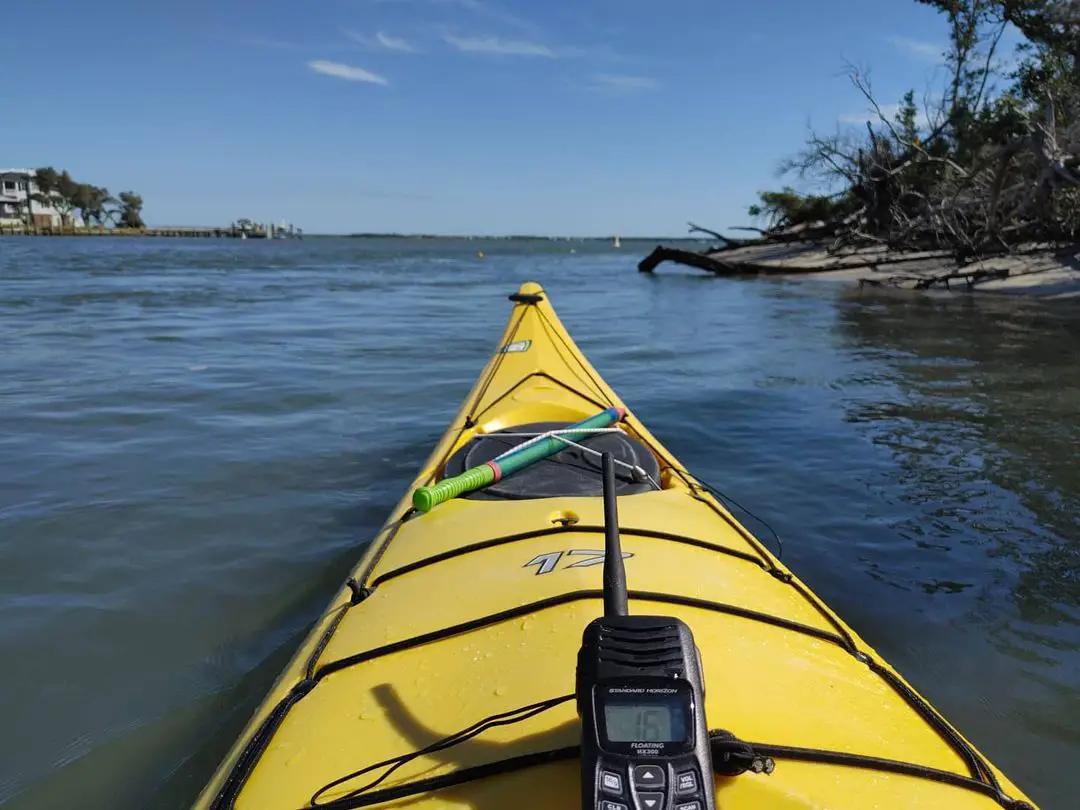 Located a short, 20-minute paddle away from Front Street in downtown Beaufort, the Rachel Carson Reserve hosts a wide variety of wildlife. After reaching the reserve, paddlers can follow a winding route through the marshes and shallow water trails. Enjoy watching the different bird species and wild horses that thrive in the area as you float past them.
The Rachel Carson Reserve also plays host to several beaches for kayakers to take out, as well as hiking trails for those inclined to explore by land. You can launch at Front Street or Beaufort Paddle, home to outfitters who provide kayaks for rent. They also deliver kayaks to other locations upon request.  
Nantahala River, Bryson City
The Nantahala River within the Nantahala National Forest offers a fun paddling experience for all comers. The river mostly consists of Class II rapids, but ends with the Class III Nantahala Falls. Several companies in the area offer kayaking classes to novice kayakers so they can develop their kayaking skills.
Veteran kayakers should head straight to Class IV to V rapids at the Cascades, a section that runs only when the Whiteoak Creek overflows during the rainy season or during one of the few scheduled releases per year. You can hire kayaks at the Nantahala Outdoor Center.
New River, West Jefferson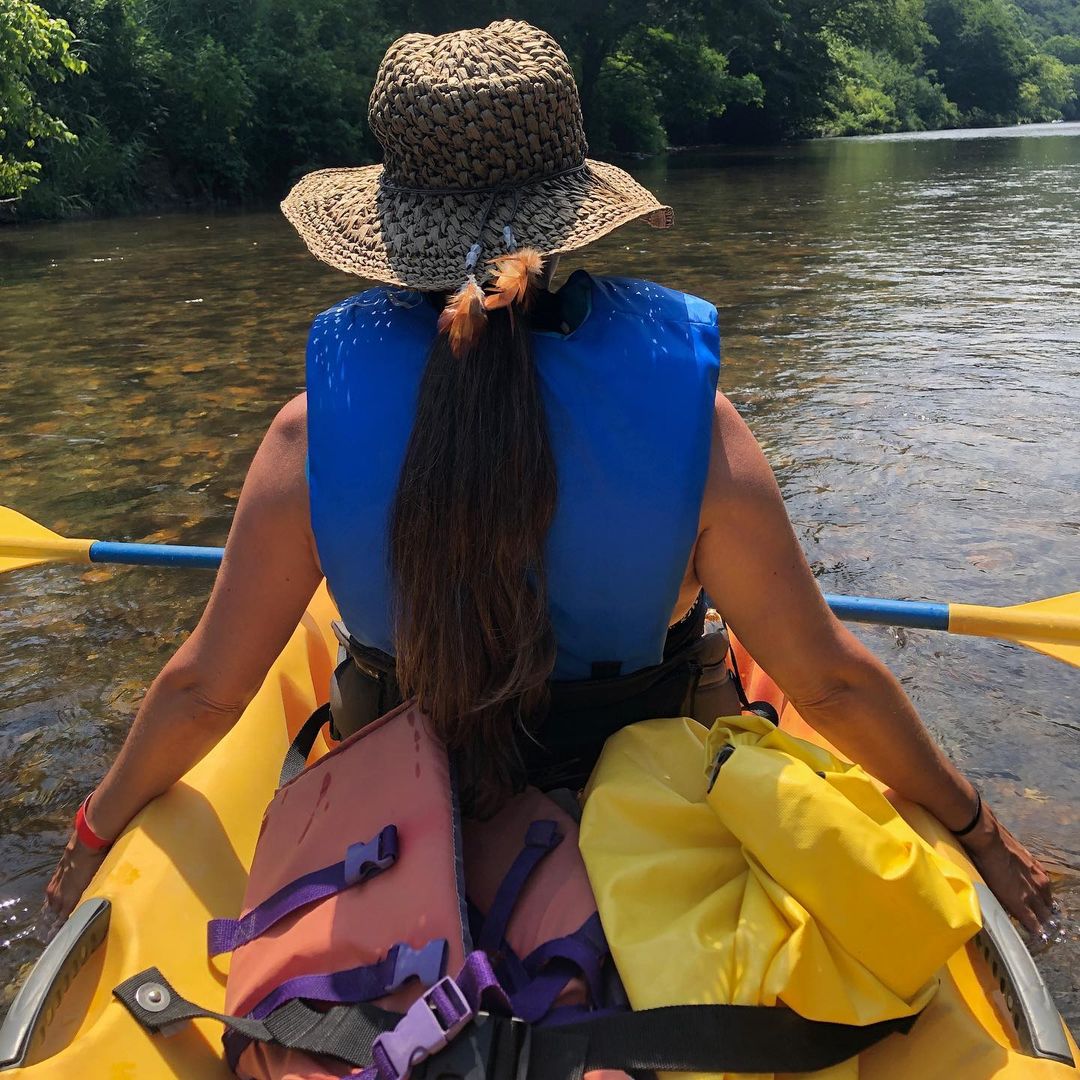 Ideal for kayak fishing, the New River in West Jefferson also provides excellent paddling experiences for kayakers of a moderate skill level. The more gentle stretches of the river, coupled with beautiful surroundings, make for a memorable trip. Along the way, you'll encounter Class II and III rapids, which require experience and aptitude.
Take Highway 88 to New River State Park on Wagnor Road. The State Park also rents camping sites for paddlers that lie right beside the river. You can rent kayaks from New River Outfitters.
Lumber River, Hoke/Columbus
The Lumber River in south-central North Carolina flows for over 130 miles and merges with the Pee Dee River in South Carolina. It offers multiple put-in points at various road crossings and hosts a variety of wildlife, like ducks, minks, deer, birds, and alligators. 
Divided into upper and lower sections, the river presents a challenge for both experienced and novice kayakers. Beginners can stick to the easier, lower sections, while experts can try their hand at navigating the upper sections. Keep an eye out for fallen logs and sandbars. You can rent a kayak at the Lumber River Outfitters or the Riverway Outfitters.
Cape Fear River, Raleigh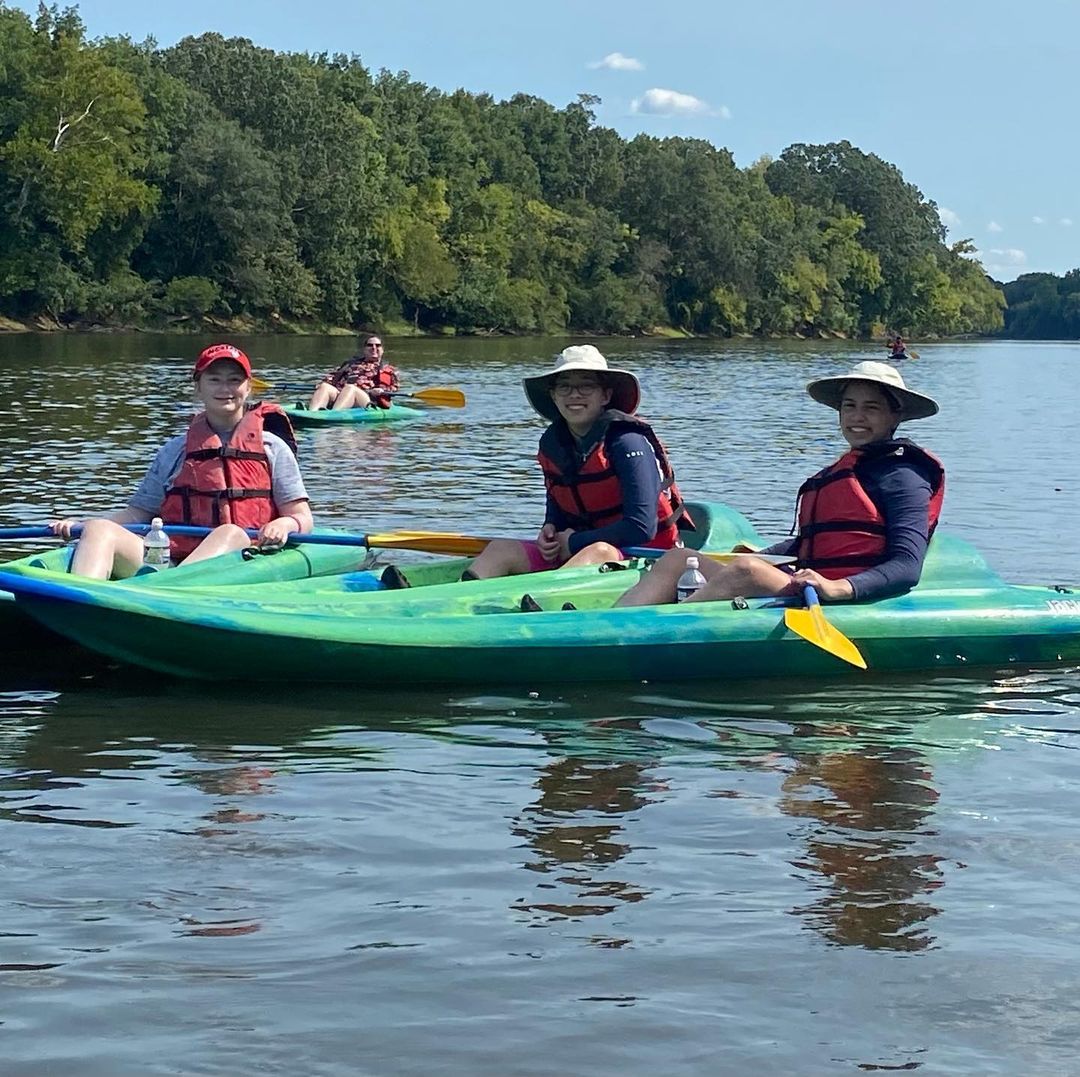 Located about 50 minutes southwest of Raleigh, Cape Fear River represents one of the most popular kayaking destinations in North Carolina. Suitable for paddlers of every skill level, the river delivers a care-free beautiful paddling experience despite its ominous name. 
The calm sections of Cape Fear River stretch for several miles, with Class II and III whitewater rapids towards the end of the run. You can opt for a guided tour or make the trip on your own. The river hosts a variety of wildlife and you can catch glimpses of bald eagles or great blue herons along its banks. Outfitters, like Cape Fear River Adventures, provide kayaks for rent. 
Merchants Millpond, Gatesville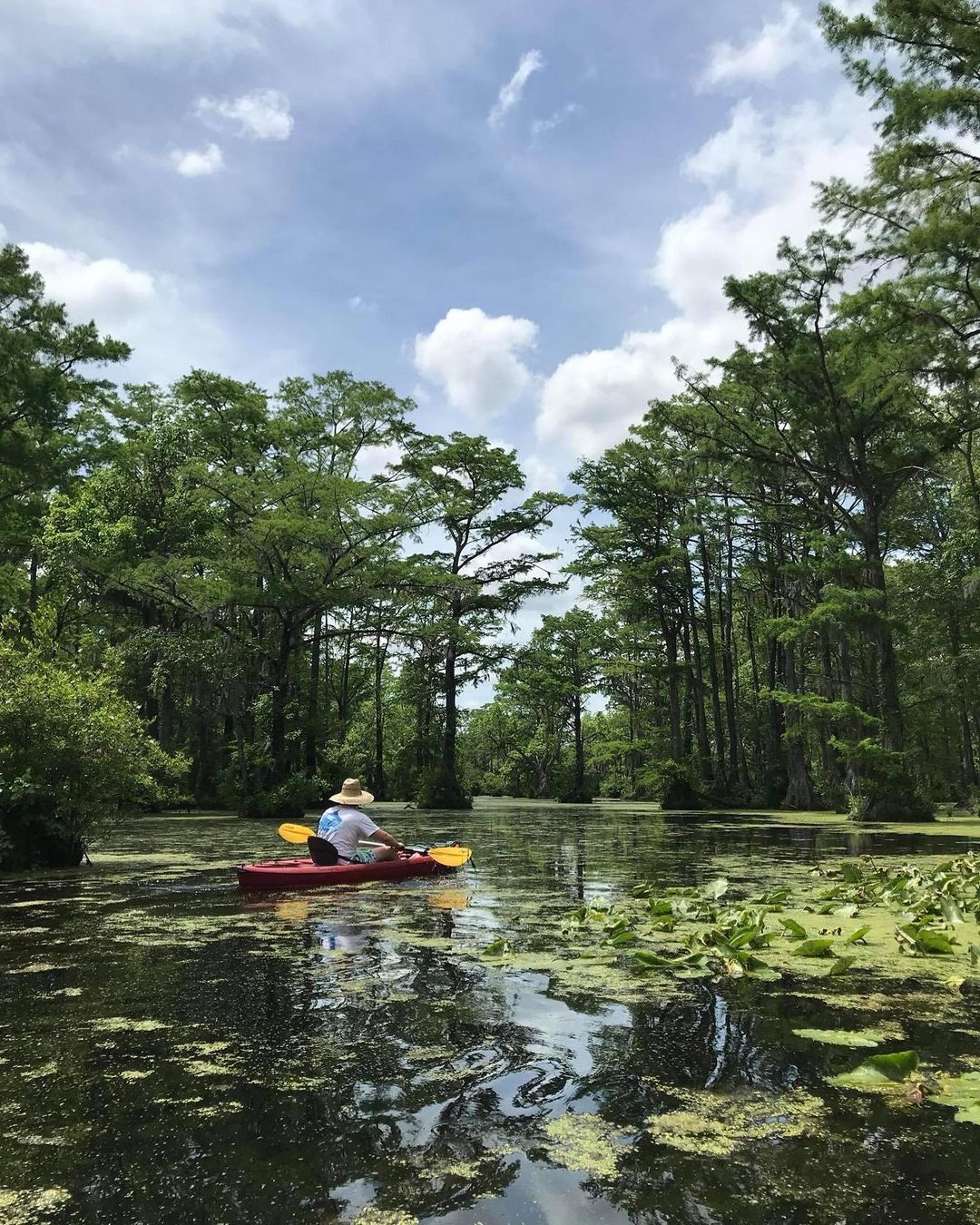 Part of the North Carolina State Park system near the border of North Carolina and Virginia, Merchants Millpond in Gatesville represents a terrific place for a kayaking adventure. You can follow the paddle trails shown on the State Park map or plan an overnight kayaking trip and sleep inside the campgrounds.
Merchants Millpond draws a fair number of kayak fishing enthusiasts. Besides kayaking, paddlers can explore the hiking trails in the park. The quiet campgrounds and spacious campsites allow kayakers a little extra privacy. You can rent kayaks from Adventure Kayak Tours.    
Sea Kayaking in North Carolina    
North Carolina offers plenty of kayaking options along the coast from Virginia to South Carolina. The town of Kitty Hawk offers scenic views and calm waters. Nags Head hosts a remarkable natural ecosystem. Beaufort, NC, also known as the Crystal Coast, provides a superb kayaking experience with plenty of scenery and wildlife. Further south, paddlers can take part in kayak fishing near Wilmington. 
Remember to try out the Roanoke Island Tours' bioluminescent kayaking or one of the available alligator kayaking tours. For those kayakers who love angling, the North Carolina Kayak Fishing Association offers plenty of information regarding the best place to kayak fish. Rent kayaks from Beaufort Paddle, Outer Banks Kayak Adventures, Coastal Adventures, or Hook, Line, and Paddle.
Where to Go Paddling in North Carolina?
The locations mentioned in this North Carolina kayaking guide represent some of the most ideal places to paddle around and shoot the rapids. If you find yourself planning a visit to North Carolina, consider taking a kayaking trip to experience the fun and excitement that the waterways provide. From experts to novices, North Carolina offers something for kayakers of every level.