From lakes and rivers to islands and the Atlantic shoreline, New Hampshire's waterways are ripe for exploration. The region's natural beauty and wildlife enhance the kayaking experience in the Granite State, making it a popular destination for kayakers of all levels. 
If you're considering a kayaking adventure in New England, kayaking in New Hampshire is a worthy addition to your list. In this guide, we introduce you to some of New Hampshire's best kayaking spots. 
The Contoocook River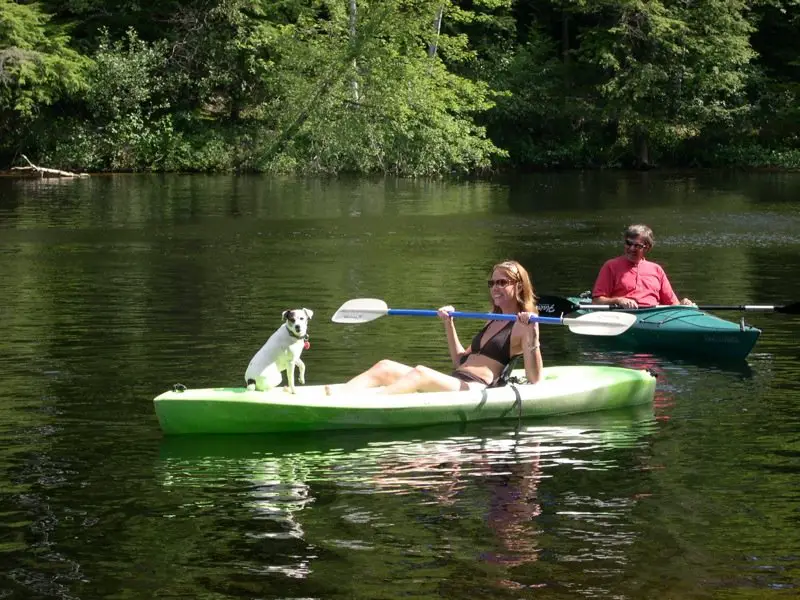 A favorite for paddlers looking to take on class III and IV whitewater rapids, the  Contoocook River runs from Poole Pond to Concorde. Be prepared for a fast-flowing river with serious rapids, especially from Hillsboro to West Henniker. Although expert kayakers will find the river challenges their skills, less experienced kayakers should not attempt this run. 
If you're new to kayaking, the Contoocook offers leisurely paddling on flat water near Concord. One of the best parts of kayaking along the Contoocook River is all of the nature and wildlife. Home to over 100 bird species, including the bald eagle, it's a perfect spot for birdwatching. Then, when you're ready to take a break, Daisy Beach is an excellent place for a picnic or swim. 
Grafton Pond
Located in the Grafton Pond Reservation, Grafton Pond's name is a bit deceiving. This pond is actually an immense 300-acre lake. Paddlers flock to this New Hampshire kayaking destination to explore its islands and undeveloped shoreline. Grafton Pond's calm waters make it a popular spot among amateur kayaking enthusiasts. 
If you're new to kayaking, Grafton Pond a great place to get started. In addition to kayaking, you can explore the islands. Hiking trails dot the landscape around Grafton Pond as well as the reservation. You'll see a lot of wildlife and bird species as you paddle around the lake, including loons and moose. 
Ammonoosuc River
Originating in the Lake of the Cloud's in Mount Washington, the slow-moving Ammonoosuc River offers paddlers views of small New Hampshire towns, historical sites, and wildlife as they travel along the river. Wildlife enthusiasts and nature lovers will appreciate the area's untainted beauty. 
You'll take in the diverse animal species as you kayak along the river, including the Peregrine Falcon, osprey, and the bald eagle. Located near the White Mountain National Forest, there's a lot to see and do when if you decide to take a break from the water.
Great Bay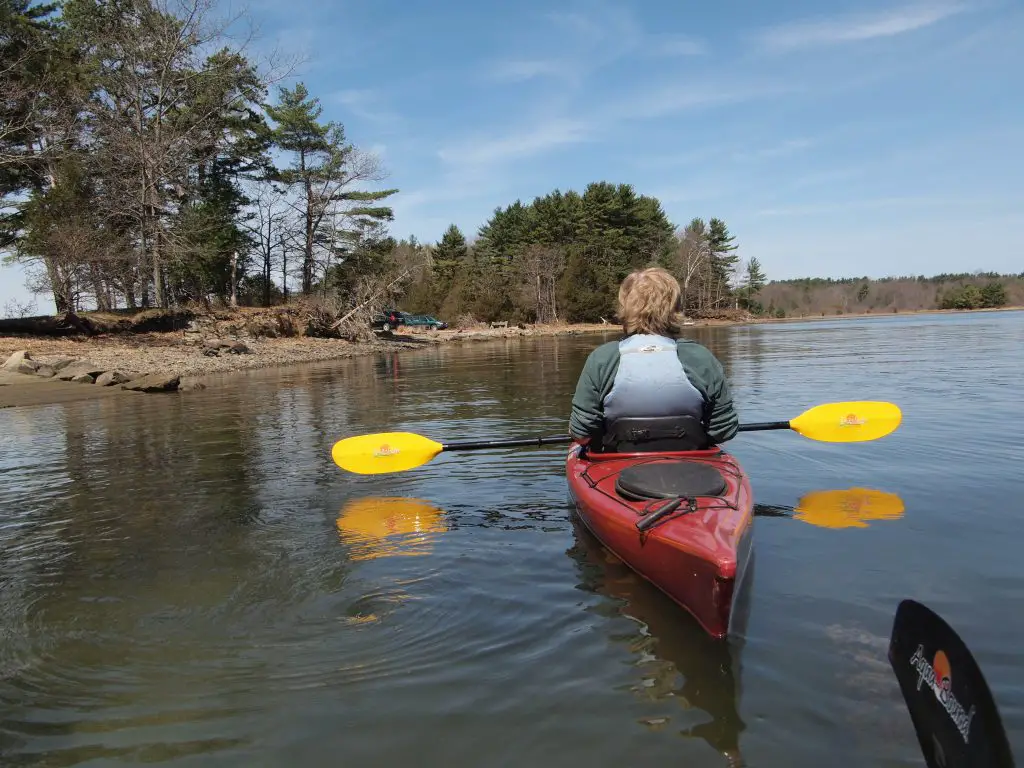 Veteran kayakers seeking strong currents flock to Great Bay to experience some of New England's best sea kayaking. If you enjoy paddling in challenging currents and saltwater, Great Bay should be on your list. As you paddle along Great Bay, you'll get to take in views of the rural countryside, rich marsh, and abundant wildlife. 
Great Bay is the East Coast's second-largest estuary, and kayakers of all levels can enjoy its coastline. If you want to learn more about the area, you can visit the Great Bay Discovery Center to go on a guided tour. 
The Androscoggin
Winding through various New Hampshire towns before reaching the White Mountains, the Androscoggin is a favorite of beginner and expert paddlers. Mostly the river is a smooth journey, although you'll encounter currents in some areas. 
There are many parks and hiking trails to explore along the river, including Mollidgewock State Park and the Appalachian National Scenic Trail. Whether you enjoy whitewater rapids or a leisurely padel, there's something for everyone at the Androscoggin. 
Lake Umbagog
The shallow lake has a stunning shoreline with various wildlife species, including bald eagles, moose, bears, coyotes, and wild turkeys. You can camp out in the wilderness at one of the 30 camping locations on the lakeshore. 
Belonging to the New Hampshire State Park System, Lake Umbagod straddles New Hampshire's border with Maine. If you enjoy outdoor adventures in the wilderness, you'll love paddling Lake Umbagog. The lake runs almost 11 miles from north to south, with long stretches of tranquil water for a leisurely day out paddling. 
The Pemigewasset River
Known as "Pemi" by locals, the Pemigewasset River originates in the scenic Franconia Notch State Park and continues 70 miles south until it meets the Merrimack River. The river's waters are mostly calm, making it a suitable paddling spot for new and experienced kayakers.
 If you're up for a challenge, you can take on the class II rapids along the popular 8-mile Ayer's Island run. If you don't have your own kayak, there are many agencies along the river where you can rent one. 
The Pemi doesn't get as busy as other rivers, so you can enjoy the tranquil water without many distractions.  When you're ready to take a break, you can relax on the sandy beaches, take a dip in the water, or have a picnic. 
Squam Lake
Squam Lake is ideal for paddlers looking for a relaxing day out on the lake, away from the hustle and bustle of the big city. The calm lake measures about 6.5 miles long and has a  stunning shoreline with a scenic mountain backdrop.
In addition to paddling, it's a great spot for swimming and fishing. You can also explore islands located about an hour from the launch point. 
Ellacoya State Park at Lake Winnipesaukee
Lake Winnipesaukee, located within Ellacoya State Park, is famous for its sandy beaches and scenic beauty. Paddling Winnipesaukee is ideal when you want to spend a day in nature relaxing in your kayak on calm waters.
After launching your kayak, follow the shoreline for as long as you want. When you're ready to take a break, you can go fishing or enjoy a picnic on the beach. The park has an RV campground with 37 hookups if you want to stay overnight. 
Saco River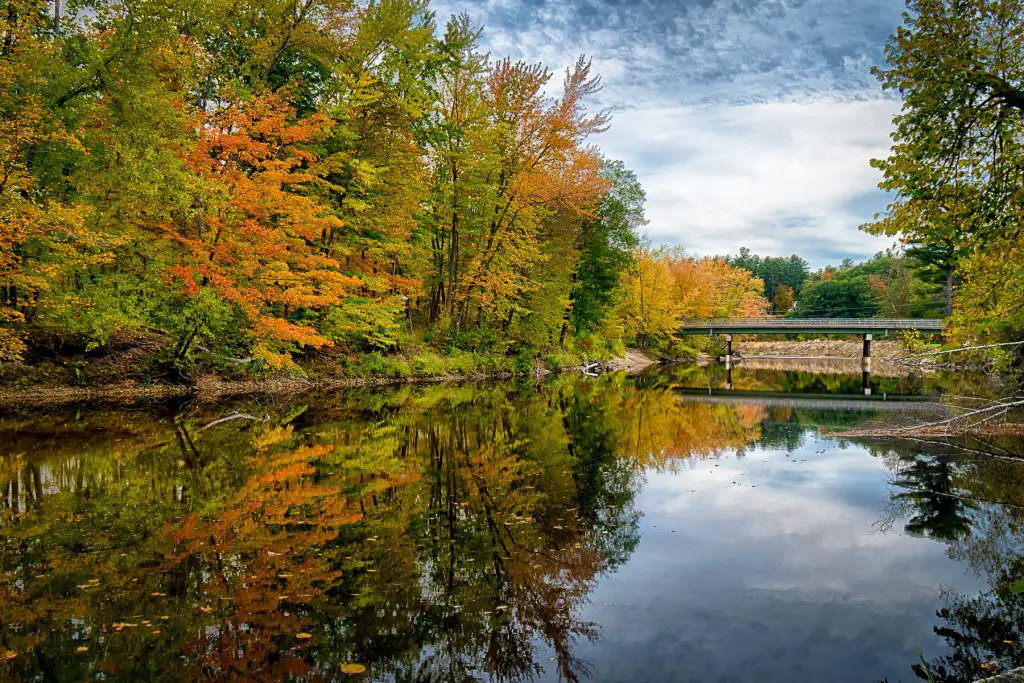 Ending in the Atlantic Ocean near Portland, the Saco River is a favorite New Hampshire kayaking destination. The river is calm and ideal for paddlers seeking a relaxing day out on the water, making it suitable for rookie kayakers. In addition, you'll often see people kayaking in groups along the river.
Photo Credit: Mark Bonica via Flickr CC2.0