Connecticut is another state in New England full of incredible natural beauty, not only in its forests but also in many rivers and lakes. Whether you go to Connecticut for paddling, kayaking, or other outdoor sports, you're sure to find someplace to fit your sense of adventure.
Read on to learn more about Connecticut kayaking and where you can go for your journey through the great outdoors.
Bigelow Hollow State Park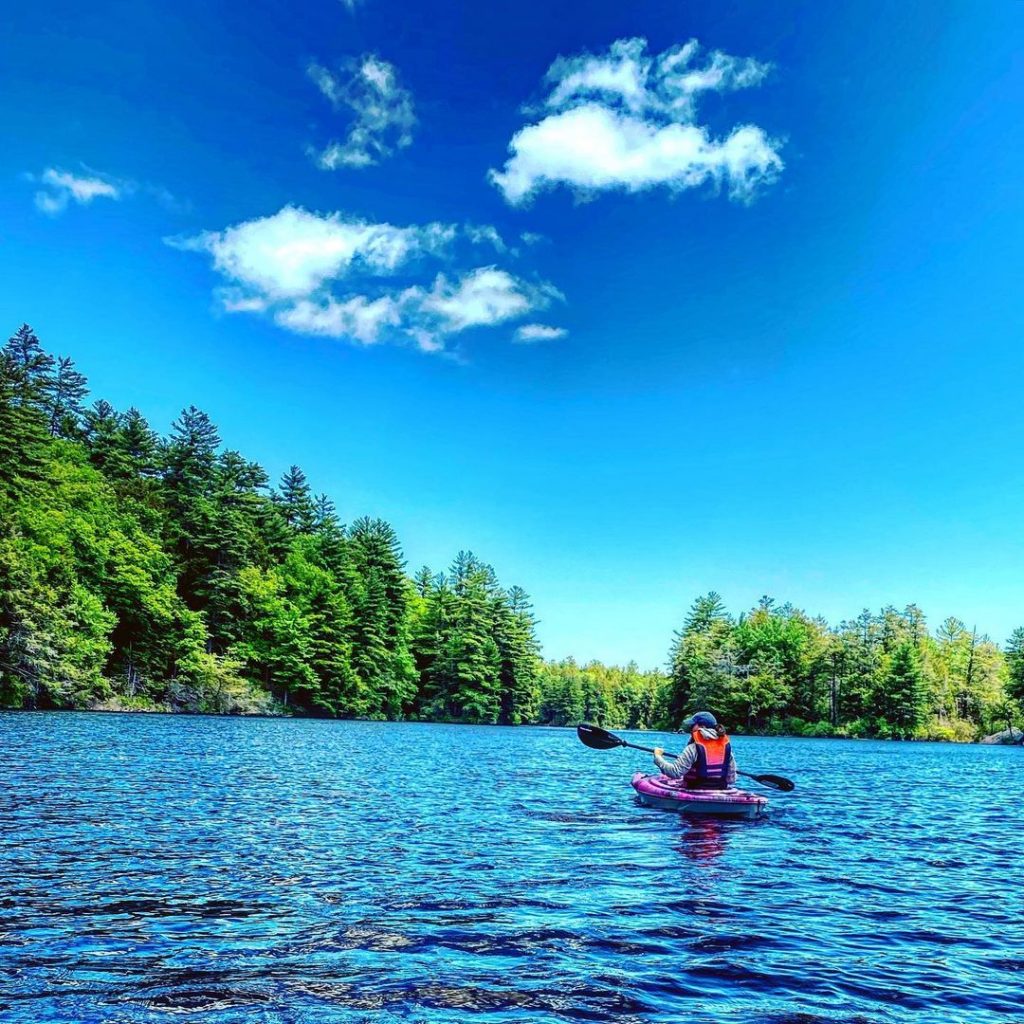 Bigelow Hollow State Park has it all: hiking, biking, swimming, but especially paddling and kayaking. The 2-mile wide lake sports all kinds of inlets and islands where you might consider stopping and setting up a picnic. 
If you row fast and don't experience choppy water (which you might get with high winds), you can go around the whole pond in 1.5 hours.
Note that there is another, smaller pond at the entrance to the park, which you can also take your kayak or paddleboard out on. You do have to pay a $7 fee to enter the whole park, but it's a great place for a quick day trip and fun in the sun.
Farmington River
For kayakers looking for a bit of a challenge, the Farmington River has sections of Class II and Class III rapids, though you'll only find the Class III rapids close to Satan's Kingdom. You can watch the start of these rapids from the Route 44 bridge, where the rapids alternate between Classes I and III until the Collinsville Dam.
The bottom of the dam has a wide variety of fish to catch. In fact, it's one of the best fishing destinations in New England since water flow has to be maintained year-round, and water comes out the bottom of the dam. 
The Collinsville Canoe & Kayak outfitter store can equip you for making some nice catches.
Mount Tom State Park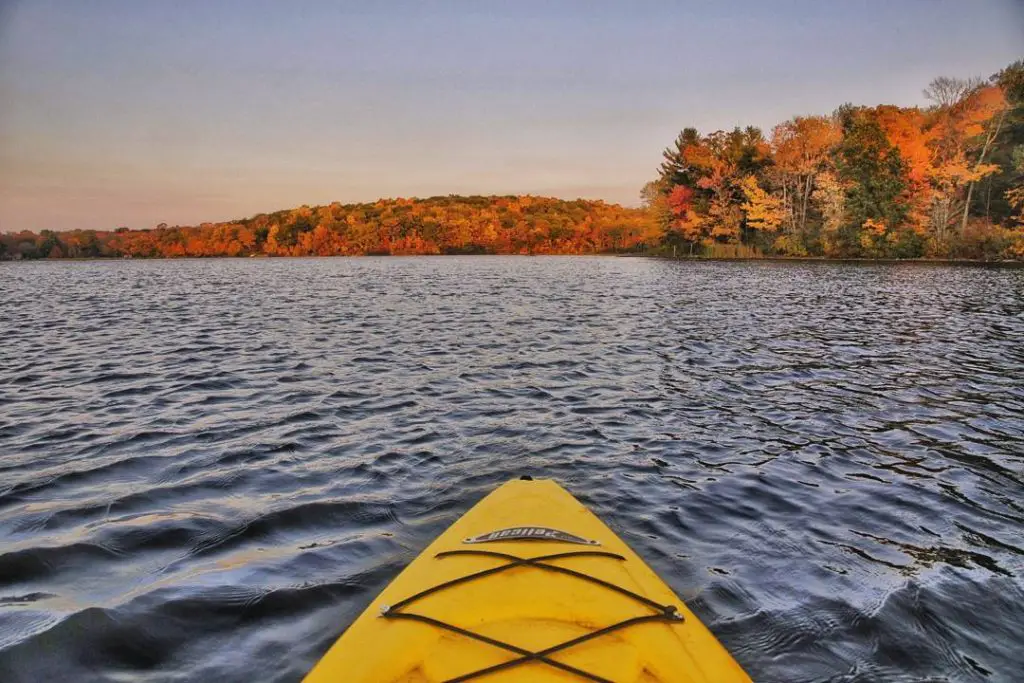 Mount Tom State Park, located in Litchfield, has an easy lake for paddling and kayaking, with very few caves, nooks, or rocky surprises. Only non-motor boating is allowed on the lake, so it makes for a quiet, leisurely paddle or swim.
The only downside is that private properties surround the lake, so you need to maintain a 100-foot space around those properties' shores. 
However, a kayak rental place is close to a rental area, along with a put-in for your kayak or paddleboard and public beach area. 
Bluff Point State Park
Bluff Point is the last significant piece of undeveloped land on the Connecticut coast, where it juts out into Long Island Sound. Its beach is nearly a mile long and ends in Bushy Point, a tiny, rocky island.
The Bluff Point boat launch allows you to go out sea kayaking, paddling, or even fishing for shellfish, which you will need a permit to catch. While out on the water, you might run into some high points and even spot some jellyfish. 
Bear in mind that you're canoeing or paddling on open water, so be mindful of the tide and stay close to shore if you can.
Housatonic River
The Housatonic River starts with some moderate whitewater but turns into flatwater the rest of the way. Once the water quiets a little, you might hear the cars at Lime Rock Racetrack. The water level rises from time to time when a nearby dam opens, so be careful about running your canoe or kayak into shallows. 
The scenery is lovely the whole way, with some steep hills and herons and osprey standing in the shallows. The water is a little murky, but it should not mar the experience. It certainly doesn't for all the fishermen you'll see catching trout, bass, and perch along the river's edge. 
You might see fishermen trying to catch flying fish in one of the most popular flying fishing spots in New England under Cornwall Bridge. 
Squantz Pond State Park
Open year-round in New Fairfield, Squantz Pond State Park sports a huge pond suitable for all kinds of water sports and plenty of forests to explore. A note of interest is that once the park reaches full capacity at 250 vehicles, it will close the rest of the day.
Jetskis and powerboats are allowed on the lake, so exercise caution and stay close to shore when possible. One side of the pond is peppered with private homes, while the other is forest, so you'll have a nice view either way. 
If you want a quick little jaunt on the water, it's nice for a day trip out into nature.
Connecticut River Paddlers Trail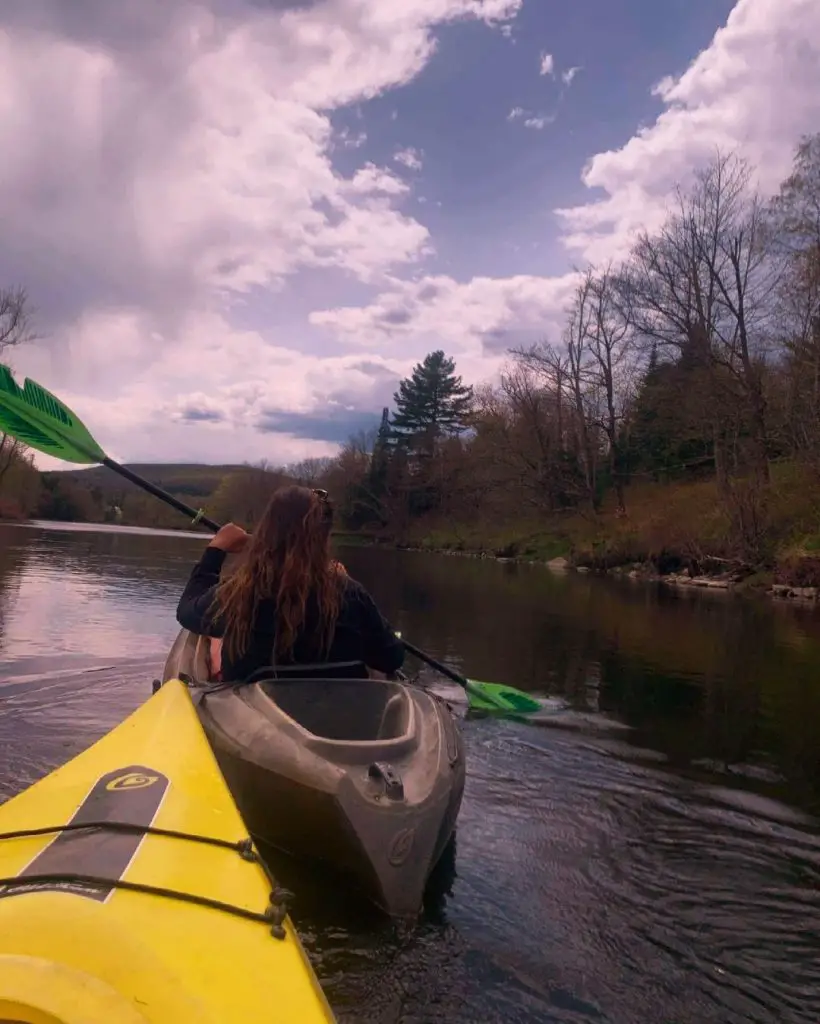 Although most of the Connecticut River is ripe for boating or canoeing, the Paddlers Trail is best equipped to provide a comfortable experience. The river itself passes through four states, has hundreds of access points, and at least 50 primitive river campsites. The Paddlers Trail, though, spreads from New Hampshire's Great North Woods south to Long Island South.
It's a long journey, so there are plenty of outfitters along the river that provide maps and other resources for navigating the river. No recreational motorized vehicles are allowed on the Trail, so it should make for a nice contemplative ride down the river.
Mansfield Hollow State Park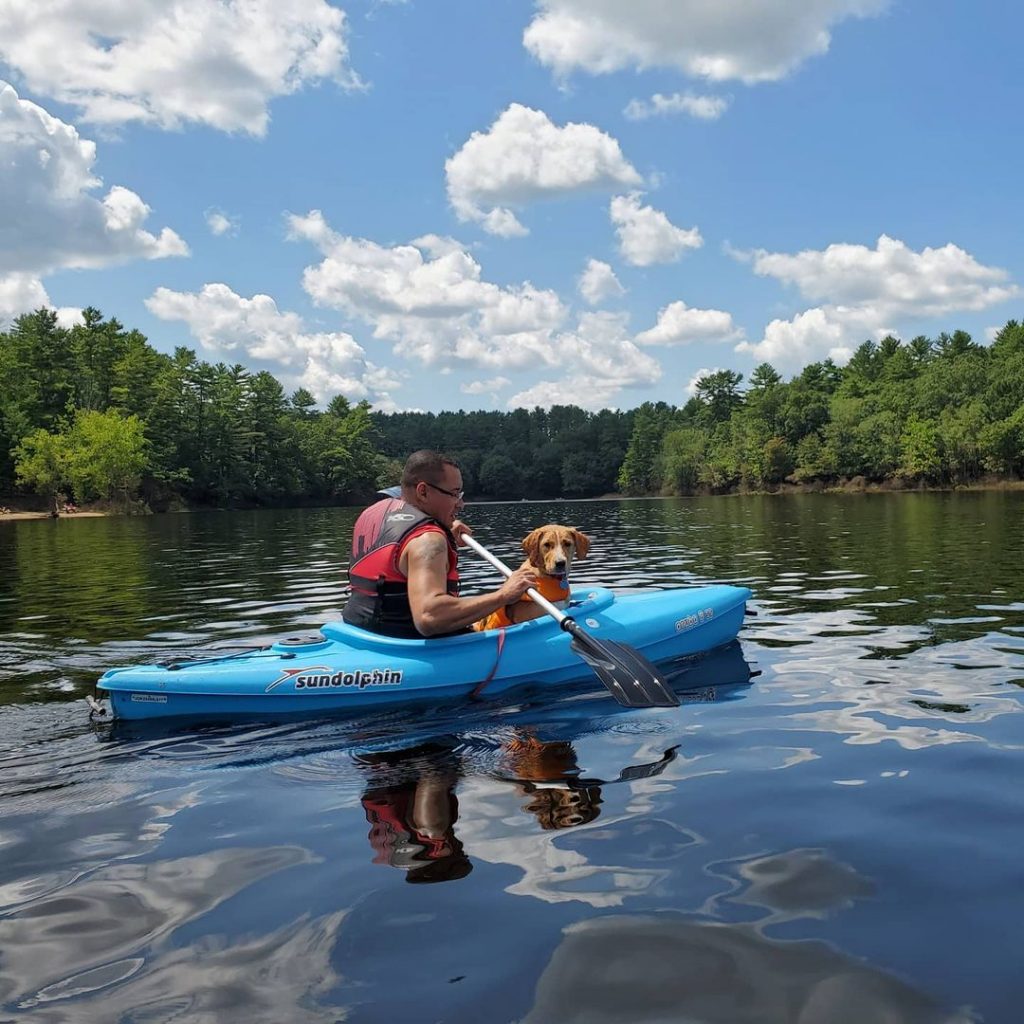 Sometimes a simple pond and some quiet woods are all you need to unwind. A 500-acre lake in the park's center serves as a nice spot for a quiet paddle or canoe. 
While there is no swimming allowed (the water is partially used for public consumption), the scenic woods on either side of your watercraft should be enough to put you at ease.
Eagle Landing State Park
If you want to do a little kayaking and look out for some bald eagles at the same time, you might have found your next park. Several successful conservation efforts have enabled the bald eagle population to surge in the area, resulting in some nice bird tours in the wintertime.
Consider visiting the nearby Chapman Pond Preserve, where the eagles regularly visit. You might even see a golden eagle along the lower Connecticut River.
Photo Credit: Andrew Mace via Flickr CC2.0