Whether you're a first-time kayaker or an experienced paddler, the natural state has something in store for you. There is endless scenery and miles of rivers to explore, as well as plenty of Arkansas state parks with boat rentals, cabins, and more. 
For your convenience, we've narrowed it down to a few of our highest recommendations! 
Cossatot River State Park – Natural Area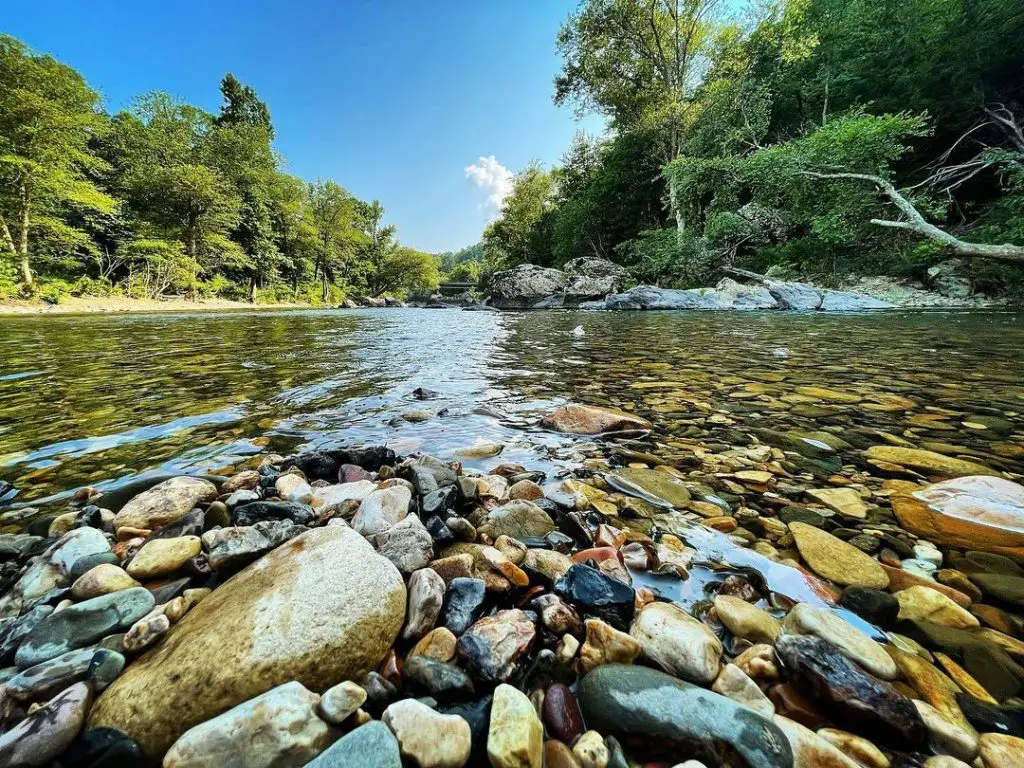 Looking for a challenge? The Cossatot River has the perfect opportunity for whitewater rafting! After a rainfall, it can reach class IV rapids. 
On a normal day, however, its water level ranges from class II to class III, so less-experienced tourists can still kayak here from time to time. 
If you're planning for a multi-day trip, you can bring along a tent and stay overnight at the state park's campgrounds. 
Bull Shoals – White River State Park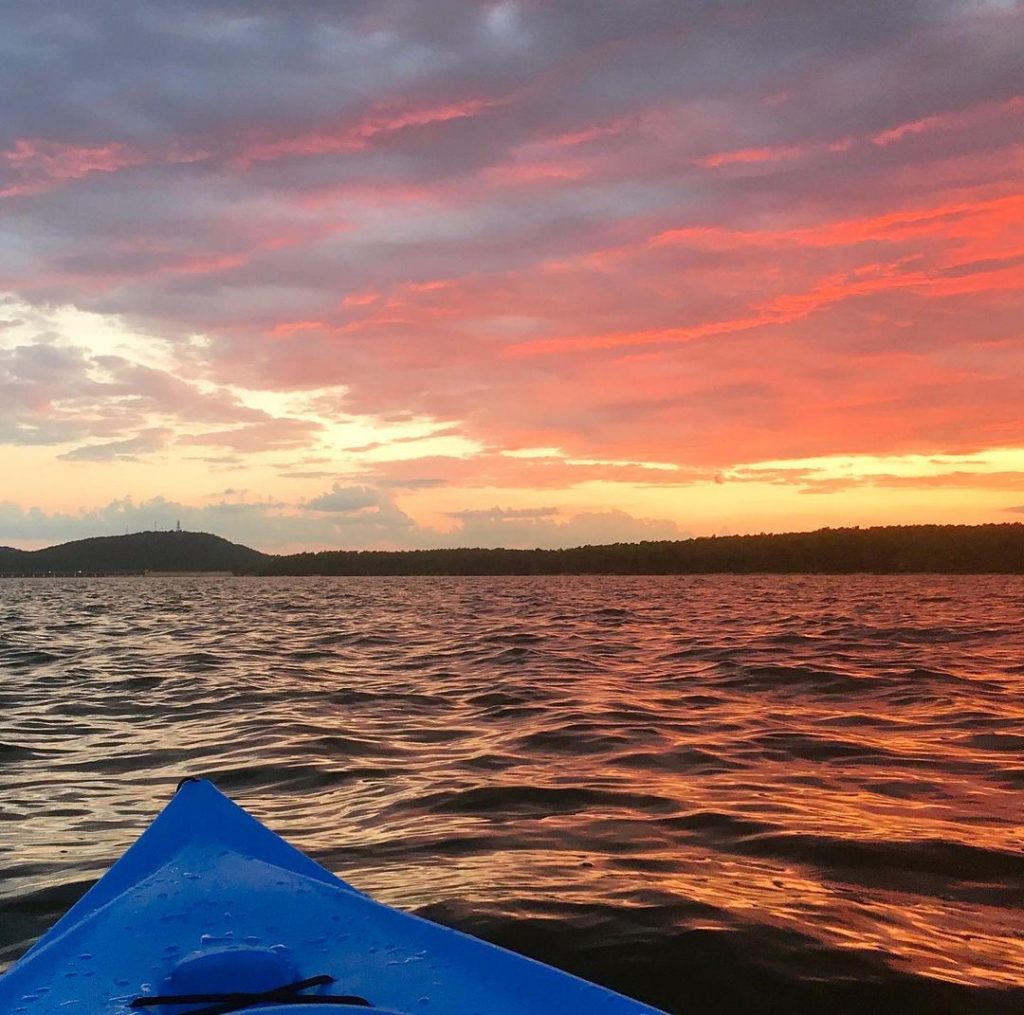 You'll be getting an eyeful of stunning scenery when you paddle through Bull Shoals. 
While this river is a main attraction for fishers, it's also a great opportunity for people kayaking for the first time. It tends to have low rapids, and you can even rent a kayak for the day if you don't have your own. 
For those who'd like to stay overnight, this park offers high-class campsites and RV rentals.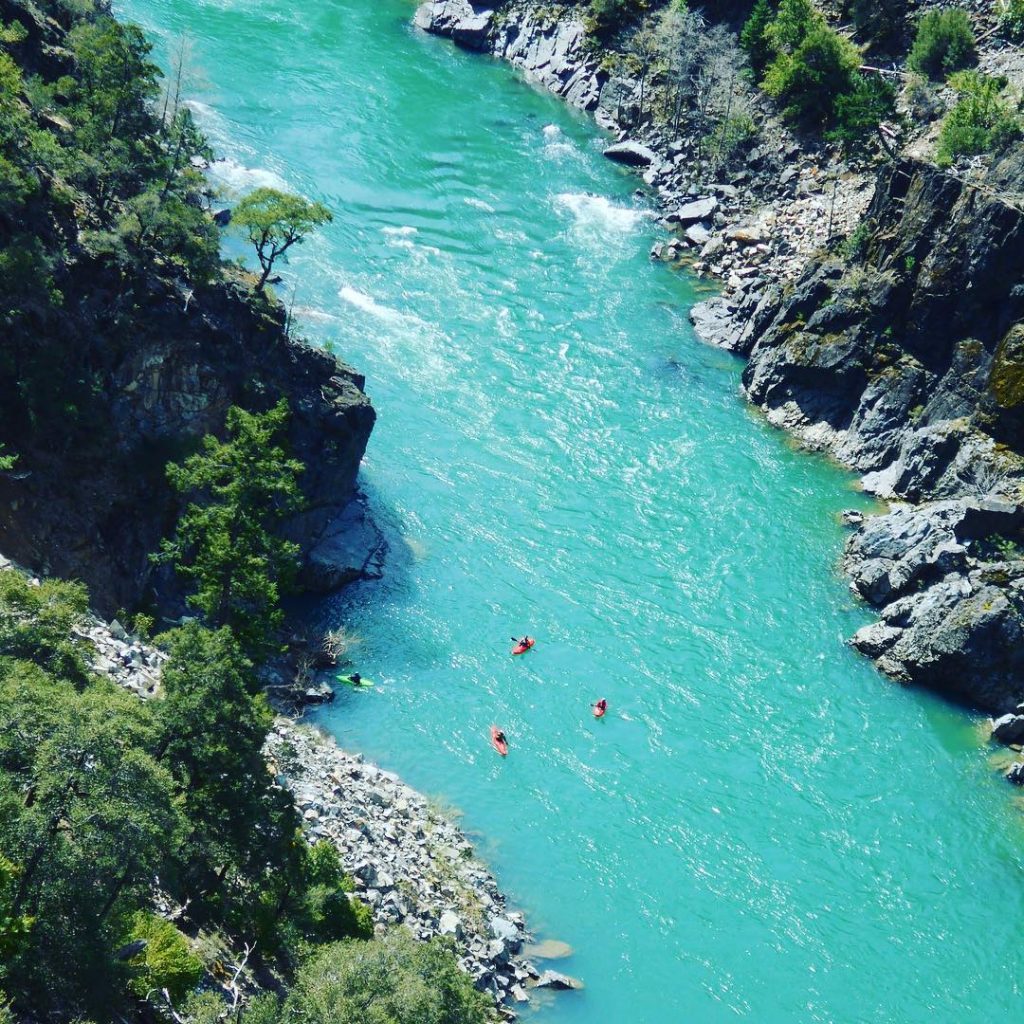 Despite its name, the Illinois river starts far up in the Ozark Mountain region. It's a bayou that splits up into four different streams and has class II and class II whitewater rapids. 
As you make your way through this river, you can expect to see plenty of wildlife, forests, and wide-open landscapes. 
Lake Ouachita State Park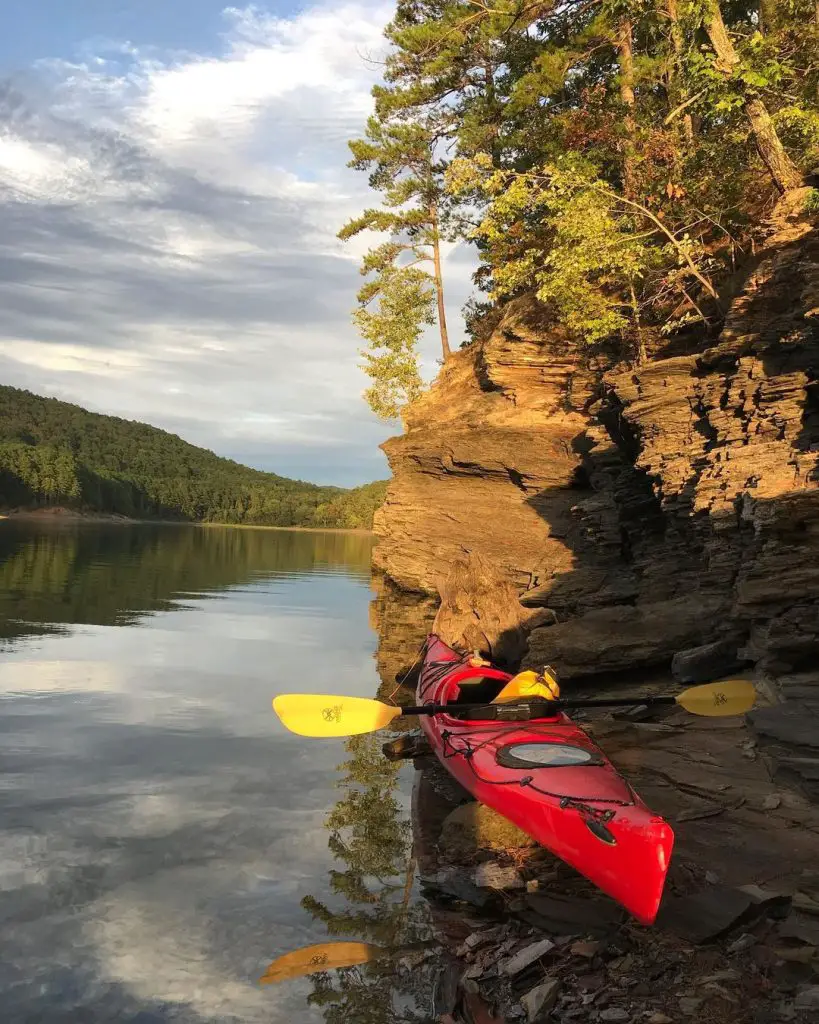 Kayaking, canoeing, fishing, scuba diving — if it's a water-related activity, you can probably do it in Lake Ouachita, also known as the biggest lake in Arkansas. 
This lake is full of stunning scenery. As you paddle through the water, you'll see the national forests, avian wildlife, and an excellent view of the Ouachita Mountains, so be sure to bring along your binoculars. 
It also provides kayak tours year-round as well as fully-stocked cabins, so you can pack lightly. 
Beaver Lake State Park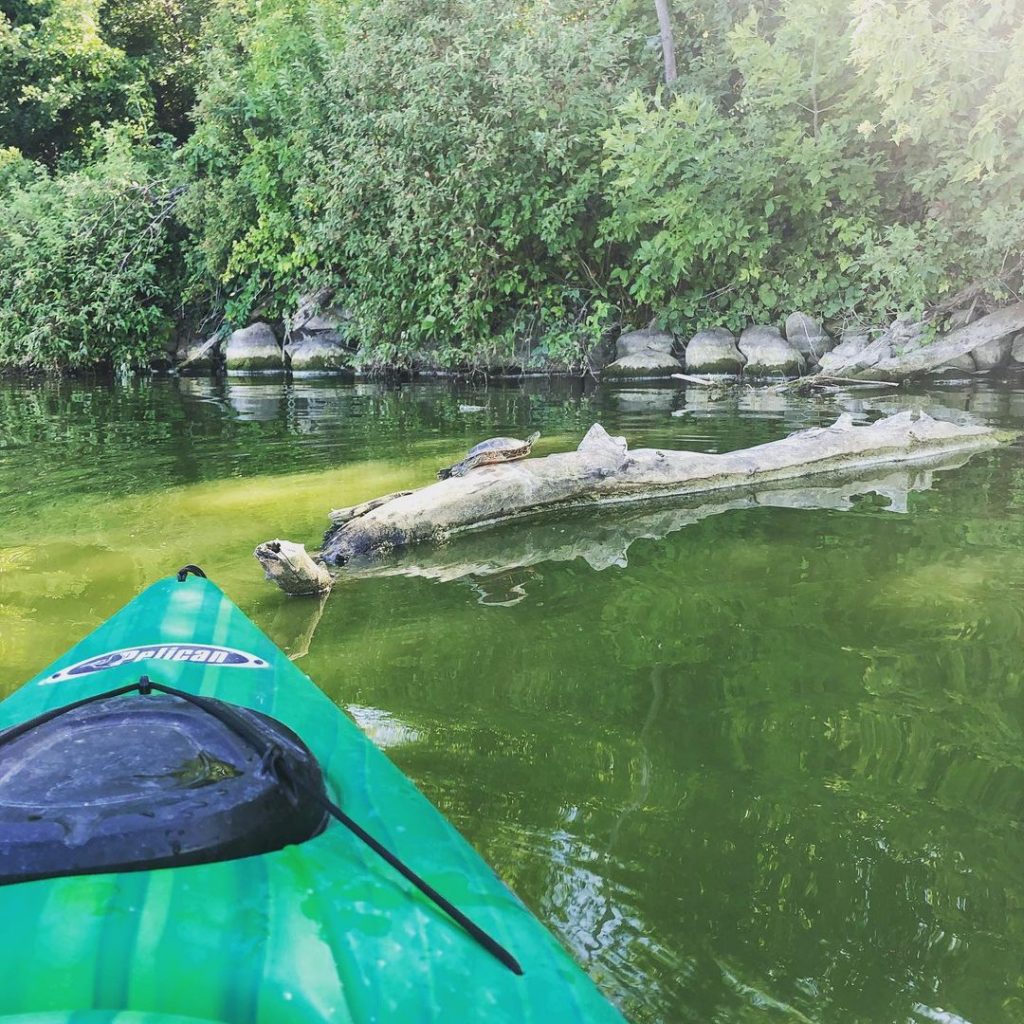 For those looking for a quiet and peaceful kayaking vacation, you'll want to make a trip to Beaver Lake. Located in the Ozark Mountains, this calm lake is great for flatwater kayaking. 
Its crystal-clear water allows excellent viewing of the marine life that resides in Beaver Lake. Expect to see various species of catfish, bass, and more. 
Two thousand acres of campgrounds surround this beautiful lake, but if you're not one for camping, there is a huge selection of hotels not too far away. 
Big Piney Creek 
At ten miles long, Big Piney Creek is a fun opportunity for kayakers and canoers alike. Rapids can reach up to class III — earning nicknames such as "Cascades Of Extinction" and "Roller Coaster" — so this may not be the best opportunity for beginners. 
As you paddle down this creek, you will see plenty of rushing waterfalls, native wildlife, and flora along the way. Don't let yourself get too distracted, though — the rapids vary throughout the route, and there are a couple of obstacles that you'll need to stay mindful of. 
Caddo River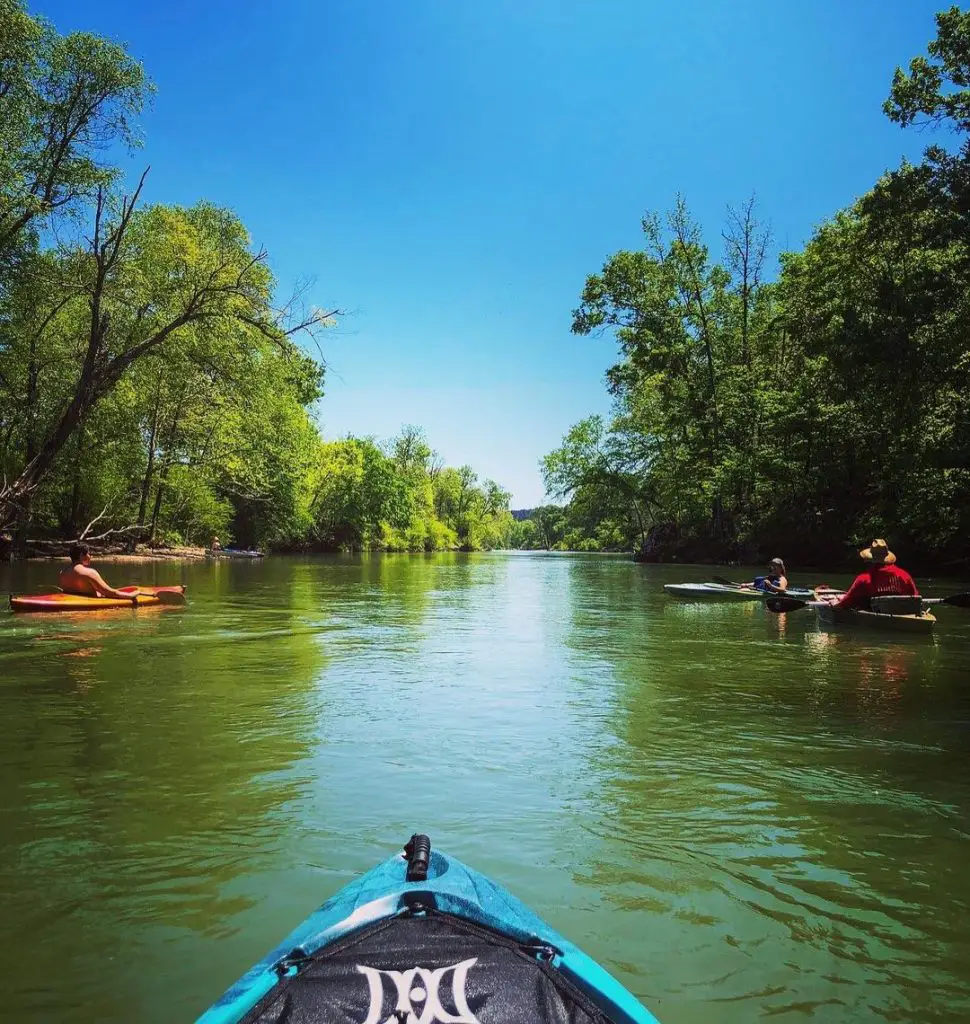 The Caddo River is an 82-mile tributary connected to the Ouachita River. It's a growing tourist spot for water sports like canoeing and fishing, and its class I and II rapids are excellent for kayaking. You'll also have a pleasant view of the Ouachita Mountains. 
You can rent a boat for up to two days, and their kayak rentals come with life jackets and paddles. 
Arkansas River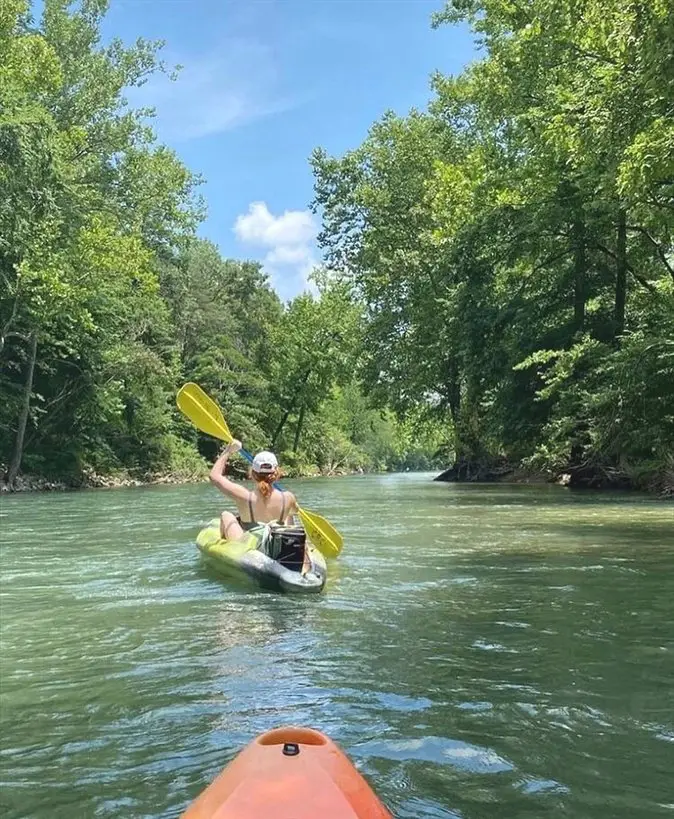 Located in Little Rock, the Arkansas River is a popular spot among white water rafters throughout the country. 
Depending on which part of the river you visit, beginners can have a peaceful float trip through the calmer areas. You can also find kayaking tours and get a view of the scenery surrounding the river. 
Experienced kayakers can expect a challenge in whitewater sections such as Pine Creek and the Royal Gorge, which can reach up to class V rapids. 
Mulberry River 
If you're looking for an off-season kayaking trip, the Mulberry River is your best bet. It's best to visit sometime between October and June. Its water level is at its best after a good amount of precipitation. Be sure to bundle up if you visit during autumn or winter, as the Ozark Mountains can get rather cold. 
The Mulberry River provides forty miles of water surrounded by beautiful scenery. You'll have a stunning view of the surrounding forests and mountains as you paddle through the water. 
The rapids can change depending on the segment you're in, so stay alert! 
Buffalo National River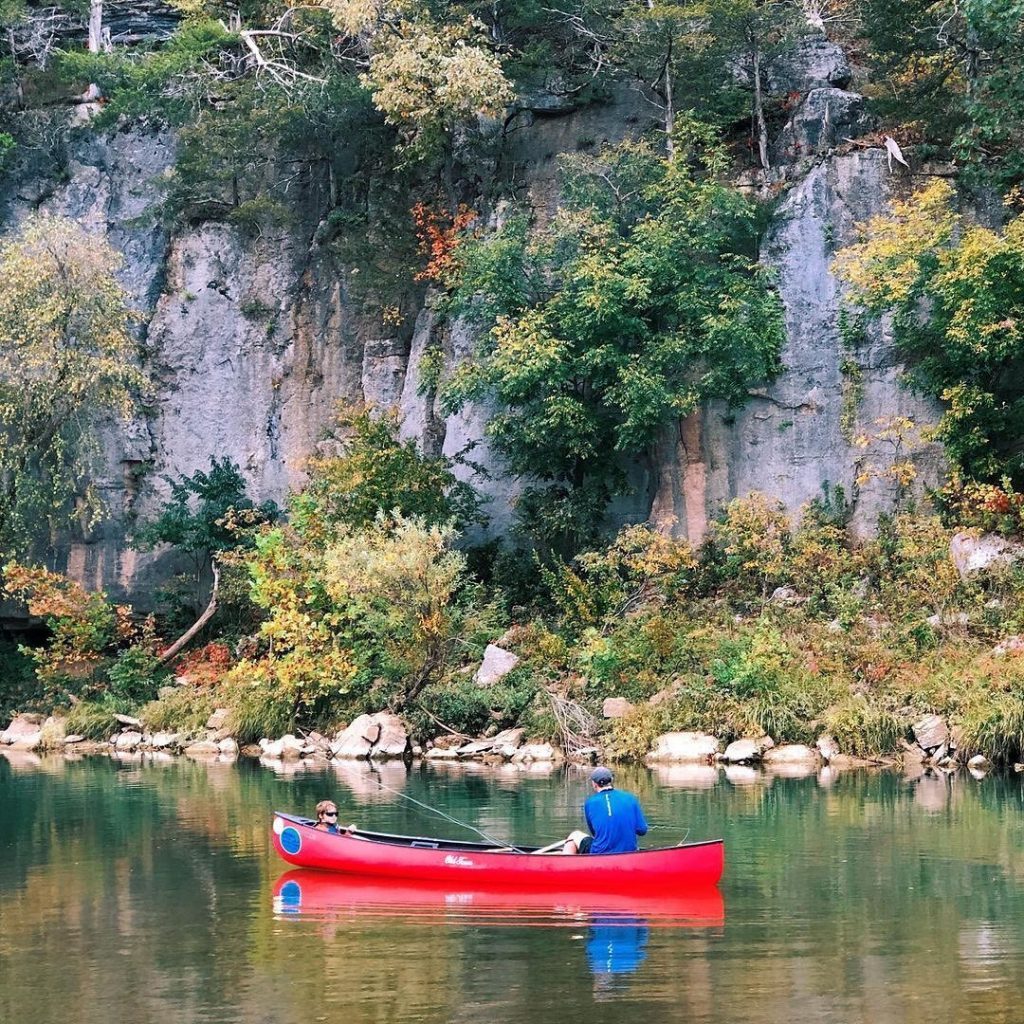 The Buffalo National River is America's first national river, and it's also one of the most popular attractions for Arkansas kayaking. With 151 miles of high-level water, this river is ideal for whitewater rafters. 
However, your experience with this river depends on the rainfall; if Arkansas is having a dry summer, the river won't have the rapids you'd get in years with more precipitation. z
The national park also allows dogs in designated areas, so you won't have to worry about leaving your pet at home! 
Kings River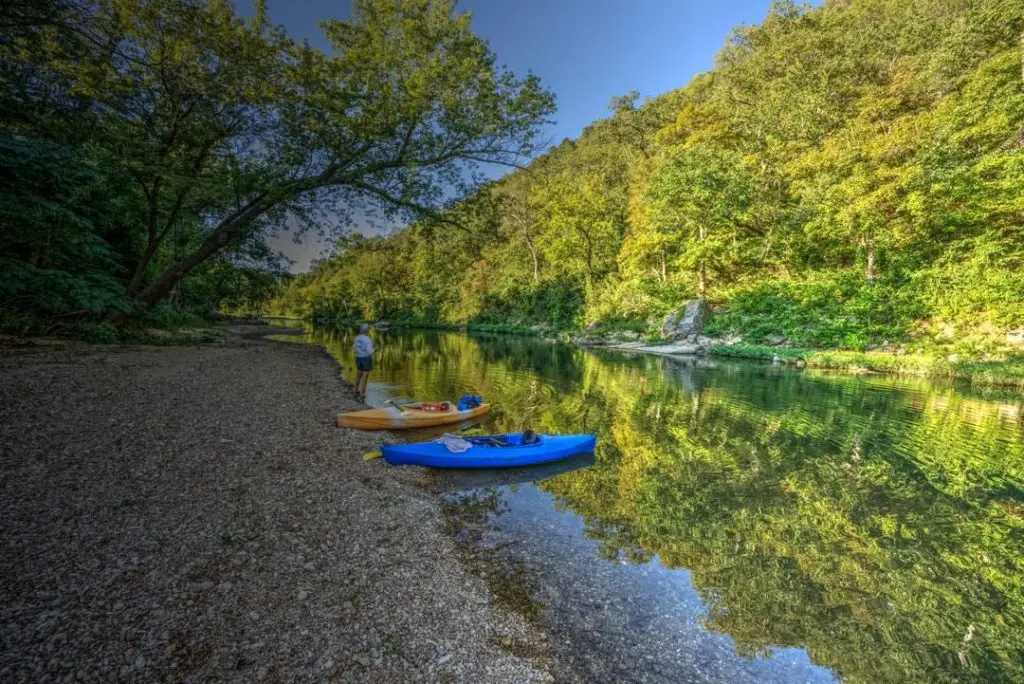 The Kings River begins in Arkansas and runs all the way to Missouri. It's a popular tourist hotspot in Eureka Springs and has opportunities for water sports such as canoeing, fishing, and of course kayaking. 
King River Outfitters can also provide river canoe rentals, life jackets, and shuttles for transportation. 
The Spring River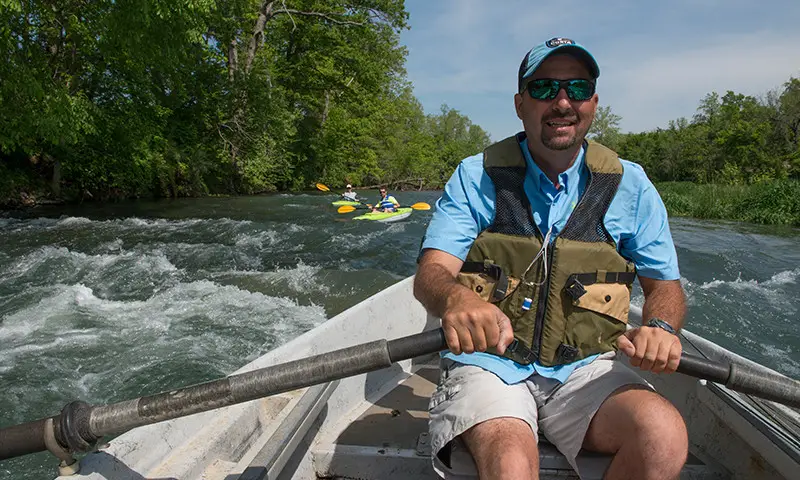 Flowing into the Mammoth Springs, the Spring River is an excellent spot for beginning kayakers. Its rapids range from class I and II, so you can expect some varying water levels, but nothing too extreme. 
Keep an eye out for the occasional drop here and there. The river is often cold, so this location is best reserved for floating trips rather than swimming. 
Closing  
No matter what you're looking for, there are opportunities abound all throughout Arkansas. With just a little bit of planning, you can book a vacation that you'll remember for years to come! 
Photo Credit: Casey Eisenreich via Flickr CC2.0